Designing and creating
Students often wish to study Design because they know what the curriculum at Woodbridge involves, and how creative they, and the subject can be – it most definitely appeals to those who wish to design and create. But not only that, with applications that might include: fashion, furniture, product design, digital media graphics, architecture and possibly engineering, aeronautical and automotive, these skills and learnings can also offer real advantage as students progress through School towards the future of their choice. Students learn about both traditional and future design techniques; both graphic communications and 3D design.
Students are encouraged to think and explore beyond the normal realms of creativity, learning and applying a variety of techniques and processes in order to expand their skill-set and to help communicate their design ideas through different mediums.
Graphic Communication is the process of designing visual material to convey information, ideas, meaning and emotions in response to a given or self-determined brief.
3D Design is the design, prototyping and modelling/making of primarily functional and aesthetic products, drawing upon intellectual, creative and practical skills
Alongside the physical design involved in the subject, students also have the opportunity to consider the entire journey of a product; from concept through to manufacture; to explore packaging, branding and marketing. This journey ensures students are able to understand the entire life-cycle of design, encouraging greater understanding and delivery of the creation and manufacture of their own products. But not only this, understanding this level of detail in relation to design ensures students are armed with a range of transferrable skills, which can open the door to a variety of industries and careers.
For students from Year 11 through to 13, studies also focus on the deliberation and purchase of materials through to the consideration of pricing, students are continuously encouraged to think and explore beyond the physical object being created, and to develop quite specific transferrable skills. With inspiration from online resources, students are encouraged to design items they would desire for themselves – which inspires creativity in a very unique way, rather than asking for conformity and templated designing.
The graphic communication course offers students the opportunity to develop their skills in both hand generated and digital techniques. Exploring both traditional and modern methods enables students to create a wide variety of design responses, which may include developing concepts for company branding and promotion, packaging design, interactive design such as webpages and apps, game concepts, illustration and so much more.
Key skills to design today's modern world
With the opportunity to study both 3D and graphic communication in Years 7 to 9, students are able to experiment with metal work, woodwork, enamelling, laser cutting, 3D printing and digital artwork in Adobe Creative Cloud to name but a few. The search for opportunities to introduce students to new concepts and ever-changing industry trends, is constant.  Traditional skills are taught alongside those new to the Design industry, and wherever possible students are exposed to future concepts and ideas.
Leatherwork and Silversmithing
Recently Woodbridge has become one of only a few schools in the area to offer Leatherwork and Silversmithing as part of the curriculum from Year 9 onwards through art and design, design and graphics and 3D design; GCSE and A Level. 
Leatherwork
Students are given the opportunity to personalise their own leatherwork by selecting from an array of textured leather hides, finishing with coloured thread of their choice and embossing their initials. Students also learn how to use and make templates, dye cut with press knives for mass production using a hydraulic press and hand stitch using traditional techniques and hand tools used in many industries including fashion, automotive, equestrian and product design.
Silversmithing
A variety of professional silversmithing techniques and processes are taught, including annealing and silver soldering.
Students have the opportunity to learn how to measure and fit their own bespoke sterling silver band, with the option to create a signet ring or a stacking ring choosing their own gemstones.  They will also be taught how to create a bezel and set their stones using traditional metal hand tools, polishing and buffing their final piece to a high shine.
Experimenting with metal-work techniques on such a small scale encourages a number of transferable skills including precision, dexterity and accuracy, the applications for which are significant and could include careers involving surgery or precision engineering for example.
A unique experience 
Our teachers have first-hand experience and have completed a range of courses in order to share and pass on learnings and techniques in Silversmithing and Leatherworking. Woodbridge is unique in being one of only a few schools in the area to able to offer these learnings, and enable students to gain qualifications in subjects not ordinarily taught in secondary school.  Teachers remain constantly in touch with future trends, aware now more than ever that students will be living in a more digital media future.
Exhibitions and displays
Exhibitions of student's work and examples of current projects from all year groups are regularly displayed. We also have an annual end of year exhibition which is open to the public, showcasing the work of our three-dimensional and graphic communication students, from both GCSE and A Level.
Aspiration through inspiration
Students are not only inspired and motivated in their aspirations and creations by our teachers, but through regular hosted talks from industry professionals, and workshops with external companies. For example, Bentley Advanced Materials, a company that supplies the film industry, visits our classrooms regularly to showcase a number of innovative moulding and casting materials.  Students have the opportunity to develop their materials knowledge as well as have fun exploring the practical functions of a number of these materials.
We also run regular trips to museums, design shows, exhibitions, companies and community projects.
Connections
Woodbridge Boat Yard
West Suffolk College
Bentleys Advanced Materials
We are constantly searching for and researching connections with appropriate industry professionals, such as graphic designers and architects. Our focus is on the traditional, modern and future trends of the design industry.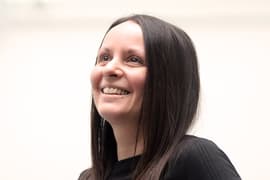 Meet the staff
Daniela Cracknell (Head of Design)
Having worked as a junior designer for Bauer Media at Q Magazine in London, Daniela worked with senior designers, editorial staff and photographers, gaining a wealth of experience. She has a BA (Hons) degree in Graphic Design gained at Norwich University of the Arts, with a focus on Design for Publishing.
Before beginning teacher training, she began her career as a Learning Support Assistant before gaining her QTS and PGCE in secondary education. With a particular interest in typography (the art of arranging letters and text) and subsequently having a specialism focused on editorial design and printed/visual outcomes, she is incredibly passionate about teaching her subject. In particular, Daniela is keen to keep the curriculum current, alongside forging connections with industry professionals in order to inspire and encourage students. As well as working as an occasional freelance graphic designer, Daniela takes the time to navigate projects from a student's perspective, to ensure she can understand and teach all abilities as well as providing opportunities to stretch and challenge her students.
Mike Hardman (Design Technician)
Mike is responsible for supporting teaching staff with preparation, setting up and checking equipment ahead of and during lessons.
With a BA Degree in Design and Technology, a BA Degree in Geography, PGCE in Design Technology and MA in Education, Mike has taught and worked in schools throughout his career; he brings a wealth of skills and expertise to the Design department and is an invaluable resource for staff and students.
The latest news
All of the latest Design news from Woodbridge School.
Children from Years 5 and 6 at St Mary's and Mellis Primary schools spent time in our Design department last…
The Art Department Summer Exhibition coincided with the Design Show last week, a wonderful combination of creativity, perception and exceptional…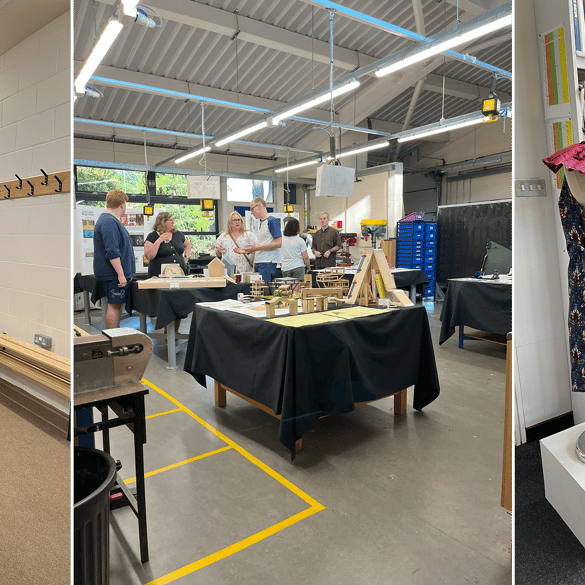 Year 12's James, Faith, Kat and Ollie, along with Raph, Lucy, Lulu and Kira were tasked to develop a product…
Year 10 DT students spent a whole day in our design department earlier this week; learning and exploring a range…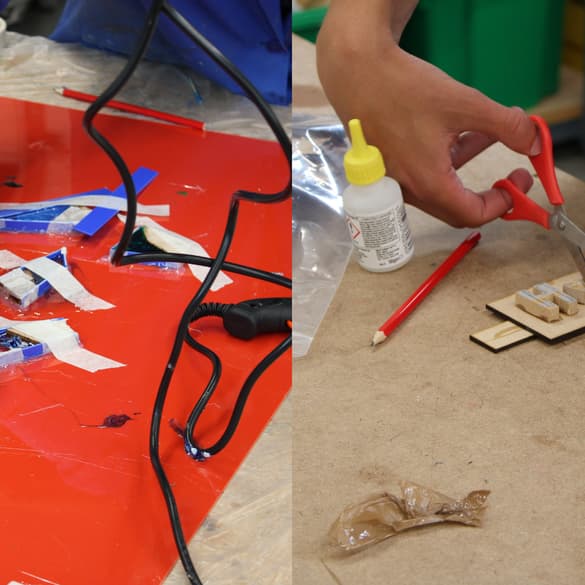 Want to see for yourself?
In addition to our open days, we welcome visits from parents and children looking for the right foundation for life ahead. We'll be happy to show you around and answer any questions you have about our School, staff and the support we offer our students.
Set up for life
Want to book a visit or make an enquiry? Please get in touch.