Academic Results
Woodbridge School's unique curriculum delivers the perfect balance of life skills, creative challenges and academic excellence. Every year, we see students achieving results that delight universities, employers, their teachers and themselves!
GCSE results
Out of 66 students
A level results
Out of 67 students in total
GCSE results
Out of 102 GCSE students in total
A level results
Out of 77 A-Level students in total
GCSE results
3 students
straight 9 grades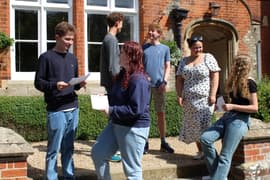 Case studies
Our students' results and wellbeing are testament to the enthusiastic, passionate and caring approach from all of our staff.
Students have worked incredibly hard in and outside of School, and their excellent results are proof of that commitment.
All of my teachers were exceptionally supportive and always encouraged me to strive for the best results possible.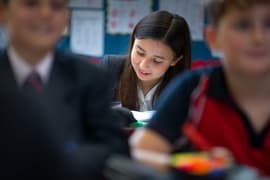 Our curriculum
Our staff draw students into their subjects and encourage them to learn by conveying their passion, making lessons as accessible as possible and always being available to provide further explanation.
To find out more about the subjects covered in our curriculum, download our options booklets.
Explore the process
Students get to learn, push themselves, grow as people and achieve fantastic results in a truly outstanding environment and educational community.
Prep School
See how we cover all the academic essentials for our early years pupils and set them up for success in Senior School.
Senior School
A balanced all-round education helping students make the right choices when considering their GCSE options.
Sixth Form
Providing both the independence and more advanced approach to specialised subjects in preparation for university.
Want to see for yourself?
In addition to our open days, we welcome visits from parents and children looking for the right foundation for life ahead. We'll be happy to show you around and answer any questions you have about our School, staff and the support we offer our students.
Set up for life
Want to book a visit or make an enquiry? Please get in touch.