Academic Results
Woodbridge School's unique curriculum delivers the perfect balance of life skills, creative challenges and academic excellence. Every year, we see students improving on the last and achieving results that delight universities, employers, their teachers and themselves!
GCSE Results
Out of 66 students
A Level Results
Out of 67 students in total
GCSE Results
Out of 102 GCSE students in total
A Level Results
Out of 77 A-Level students in total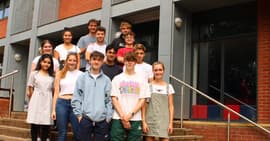 Results
While it's difficult to truly assess the impact of the Covid-19 pandemic on our students' wellbeing, thanks to our staff's enthusiastic approach to remote schooling and the dedication of our students, we were delighted to witness another year-on-year increase in those achieving the highest grades at GCSE and A Level in 2021.
Woodbridge has suited me, as everyone knows each other and as a result you are much closer to staff and other students. It's a more personal experience and flexible to you as an individual.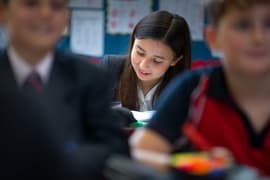 Our curriculum
Our staff draw students into their subjects and encourage them to learn by conveying their passion, making lessons as accessible as possible and always being available to provide further explanation. To find out more about the subjects covered in our curriculum, download our options booklets.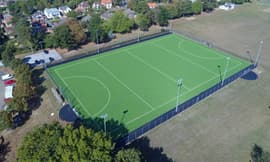 The Setting
Students get to learn, push themselves, grow as people and achieve fantastic results in a truly outstanding environment and education community. Take a virtual tour around the School to find out more.
Explore the process
Students get to learn, push themselves, grow as people and achieve fantastic results in a truly outstanding environment and educational community.
Prep School
See how we cover all the academic essentials for our early years pupils and set them up for success in Senior School.
Senior School
A balanced all-round education helping students make the right choices when considering their GCSE options.
Sixth Form
Providing both the independence and more advanced approach to specialised subjects in preparation for university.
A note about independent school league tables
Woodbridge is one of 68 leading independent schools who do not submit results to league tables. There are many reasons for this:
they encourage the deselection of young people at key points in their education and Woodbridge School believes in opportunity for all.

they award the same points for all subjects. Mathematics, the sciences and modern foreign languages – which many of our candidates study – are up to two grades more difficult than media studies, health and social science.

they encourage schools to force-feed pupils an unnecessary number of A levels to boost a school's points score. There are very few university courses that ask for four A levels, and none that count general studies.
Want to arrange a visit?
An in-person tour around Woodbridge School puts everything in perspective and allows you to hear first-hand from a student about their experiences here. Click below to get in touch and arrange an appointment.
Set up for life
Want to book a visit, make an enquiry? Please feel free to get in touch
Sign up to receive the latest news and events in the Woodbridgian Weekly