A Day in the Life at Woodbridge Pre-Prep
Our youngest students in Reception and Years 1 and 2 thrive in a safe, nurturing environment where they can feel confident in themselves and truly flourish. On a daily basis, we help them rise to new challenges, seek new experiences and learn from every outcome – both seeing the value of mistakes and enjoying every achievement.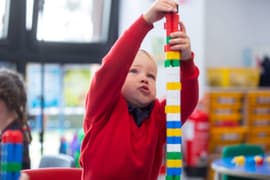 The atmosphere and ethos
Pre-Prep is an integral part of Woodbridge School, giving children a positive transition into School life while providing a family atmosphere, with all the vibrancy, support and close community that suggests.
During their time with us, your children will understand the value of their innate curiosity and find a passion for learning – vital to success and happiness in our modern world.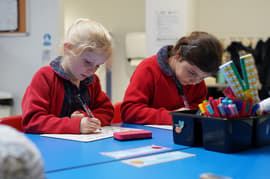 Learning
All activities in Woodbridge Pre-Prep are aimed at establishing a warm, enjoyable approach to gaining new skills, finding new insights and learning how to work (and play!) well together. Children get to experience their first steps in numeracy, literature, history, the natural sciences and knowledge of the wider world. Specialist teaching from Reception in Forest Schools, drama, music and PE enhances the children's development from the very beginning. Teaching staff build exceptional relationships with children, conveying their sense of passion, excitement and enthusiasm for all fields.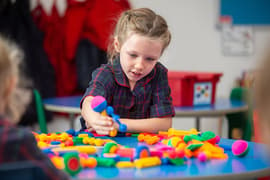 Pastoral care and wellbeing
We understand the extraordinary trust parents place in our safe, nurturing environment and we work hard every day to ensure that those under our care are happy, content and comfortable within themselves.
Mindfulness is a recurring theme throughout life at Woodbridge School – learn more about it via the link below.
Thank you for giving our son the opportunity to discover and learn, to have fun, to explore, to play, to find himself once again – and know that he can trust and be trusted, enjoy and be enjoyed, smile and find contentment.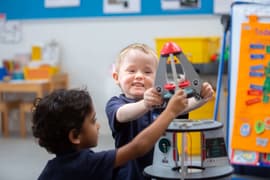 Creativity and sports
Creativity is a huge part of daily life at the Pre-Prep. Throughout the course of a day, children will get opportunities to stretch their imagination, try new experiences and surprise themselves in the fields of art, music, dance, role-play, personal exercise and in team games designed to both bring out their individual talents and reveal the value of working together to share in achievements.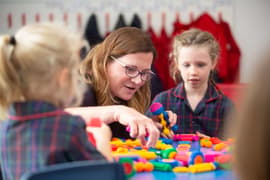 Beyond the classroom
Children in the Pre-Prep are introduced to a wide range of co-curricular activities that support their School day routine and contribute to them becoming well-rounded young people.
Take a look at all the games, interests and activities available at our lunchtime and after-school clubs that further help pupils develop confidence and self-esteem.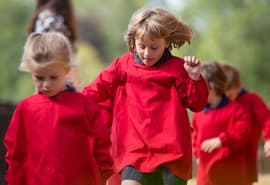 Wrap-around care
For those that need longer school hours we offer an early drop off from 8.00am for children as well as the Mini T Club, an after school club which runs from 4.30pm – 5.00pm and includes a light tea.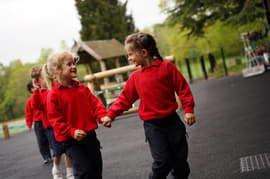 Break and lunch times
Breaks and lunch times are obviously big highlights for all students.
As well as allowing time for their minds to rest, it's also a chance to have fun with friends, let off steam, indulge in physical activity or join in with any lunchtime co-curricular activity.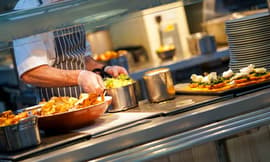 Nutritious meals
Children sit together for lunches prepared by our dedicated catering staff, who provide both firm favourites and delicious new items on the menu to try.
These nutritious, tasty meals are created using fresh ingredients sourced from suppliers local to the East Anglian region to minimise our carbon footprint and maintain the highest quality.
Want to see for yourself?
In addition to our open days, we welcome visits from parents and children looking for the right foundation for life ahead. We'll be happy to show you around and answer any questions you have about our School, staff and the support we offer our students.
Set up for life
Want to book a visit or make an enquiry? Please get in touch.