Pre-Prep: Academic Life
Woodbridge Pre-Prep nurtures children through their first steps in numeracy, literacy, history, geography, Spanish, engineering and the wonder of the sciences. Spanish is taught by a specialist teacher from Reception, and engineering, in the form of  our bespoke programme 'Little Builders', is taught by the specialist subject teacher in Pre-Prep before they move to full engineering lessons in Year 3. At every step, our staff inspire children to develop their curiosity, gain knowledge and improve their talents, leading with enthusiasm and excitement.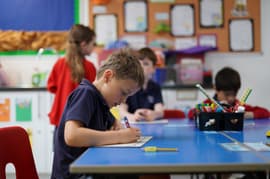 Inspiring our youngest students
Everything we do at Woodbridge School Pre-Prep is underpinned by our commitment to five key objectives:
Putting numeracy and literacy at the heart of our learning programme
Encouraging a love of learning
Developing a child's imagination, creativity and sensitivity
Fostering self-esteem, self-discipline and self-confidence
Helping each child to become self-aware and, through this awareness, to work easily with others.
We follow the Early Years Foundation Stage Curriculum which leads into the National Curriculum, which – together with the wider curriculum – offers a broad, balanced education to our early years and younger students. To achieve all of this, we have small classes and a team of skilled Early Years Practitioners and Key Stage One specialists who understand how young children learn.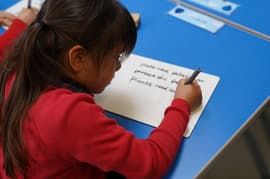 Reception
Managing the transition into school
Children entering Reception often come from a variety of different nursery settings. The teachers will visit each child at their nursery before they join Reception to talk to nursery staff and the children to ensure a smooth transition.
An afternoon in the summer term is dedicated to new students and their families. Here, parents have the opportunity to meet one another before their child starts school, while the children are able to spend the afternoon with their teacher in the classroom. Children will also be invited to social occasions such as theatre performances, Mini Sports Day and Summer Concerts.
The children are taught by experienced Early Years staff who value each unique child. Classes are kept small to ensure children are well nurtured, with individual needs being met. Focused teaching and observations ensure that good progress is made by all children across the Early Years curriculum. Children are taught by specialist teachers in Spanish, PE, Drama and Music.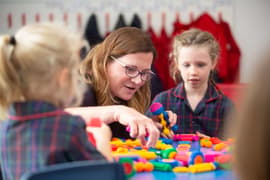 Year 1
Topic-based learning
Topic-based learning is an exciting and fun way for children to learn about new subjects across the curriculum, giving them the opportunity to learn in a hands-on, more memorable way for greater depth. For example, the topic 'In the Garden' allows children to build mini-beast homes in our extensive school grounds and visit the local 'Foxburrow Farm' for a day of pond-dipping and mini-beast hunting. Meanwhile, in Art, the children look at the work of wildlife artists, and create beautiful 3D mini-beasts in DT.
Throughout Year 1, the children enjoy daily phonic sessions where they are taught to word build, decode and sight-read a wide range of vocabulary. This is then applied in spelling and all forms of written work. The focus is to ensure the children use the correct letter formation, and as appropriate to their development, they are taught how to join letters and develop a fluid handwriting style.
The children are taught maths in a fun, practical way using the outside environment whenever possible. Maths is taught daily and within some lessons the children will have access to tablets and the computer suite to reinforce and enhance their learning.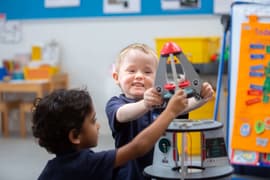 Year 2
Continuing to build on their skills
Topic based-learning continues, with topics such as fire, earth and water presenting exciting opportunities to learn about the planet, different countries, the Stone Age and and even the chance to make our own volcanoes in the classroom! We also cover the Great Fire of London, with the children taking part in a special fancy dress "Fire of London" day to experience a slice of 1666 life.
Children receive two music lessons a week. Other than any private lessons within School, this will be their first taste of playing and practising an instrument. Parents are invited to a small concert to showcase these early performance skills.
Children have many more opportunities to build confidence in Year 2, as parts in school performances become bigger and public speaking in class is more frequent. This means children are already able to stand up in front of an audience possessing key performance and delivery skills as they enter Prep.
Year 2 students are encouraged to become more responsible and are all given prefect roles. From playground monitors to manning the water fountain they really enjoy rising to this challenge. Children also start to understand the independence and self-motivation encouraged in the Prep and Senior School, with older students inspiring the Pre-Prep students to do their best.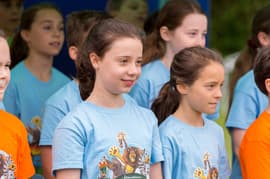 Supported by creativity, sports and real life experiences
A broad curriculum, underpinned by literacy, numeracy, and ICT skills, also provides opportunities to develop the child's creativity and self-expression.
Art, Music, poetry, Drama, Sport, Forest School and Spanish all feature within the school day, as well as a range of after school activities including chess, ballet, tennis and singing.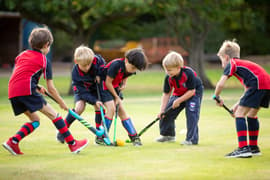 Trips and events
Throughout their time in Pre-Prep, children get to see many visitors to school and trips to see new places.
These have included the Penguin Experience at Colchester Zoo, the Christmas Experience at St. John's Church, Walk around Woodbridge, Easton Farm Park, Southwold, the Owl Visit, theatre companies, artists, pond dipping activities, the Science Rocket Factory, dedicated book/art days, the Fire Service, Police, dental hygienist and the Aldeburgh Lifeboat.
These valuable experiences are an important part of the children's learning and provide a better understanding of the world around them.
Want to see for yourself?
In addition to our open days, we welcome visits from parents and children looking for the right foundation for life ahead. We'll be happy to show you around and answer any questions you have about our School, staff and the support we offer our students.
Set up for life
Want to book a visit or make an enquiry? Please get in touch.