The benefits of the natural environment
Set in the beautiful grounds of Woodbridge School Prep is our wonderful Forest School area, a fantastic space shaded by tall trees with a variety of different surfaces and areas that contrast with one another, children have the opportunity to see, touch, use and experience the natural environment; reinforcing learning through play.
Being outside has very definite mental health benefits for children, as well as advantages in terms of the development of gross motor and sensory skills. Experiencing the variety of natural materials found in the Forest School area, as well as observing nature children can see how different materials behave and feel.
Children have regular sessions with our Forest School teacher, Mrs Cox-Olliff every week. During this time spent outside in all weather, in contrast to other lessons at Woodbridge School Prep, Forest School doesn't have a specific learning objective or outcome that's seen as a definite destination of learning during children's time there.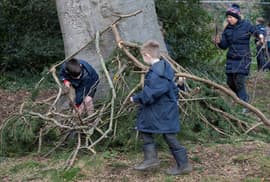 Learning through play
Play is learning, children can just 'be' in the outdoor environment and make decisions of their own about how they use and experience the space. Forest School sessions provide children with the opportunity for self-directed play, in Reception children are offered various toys that enable play including pegs and string, animal toys and craft materials; they use their imagination to lead play independently.
By Year 1 children have more of an idea of what they want to do in the Forest School space, what they want to be when they're there – some want to do one thing the entire time other want to fill that time with as many different activities as they possibly can, it's a very personal experience and journey.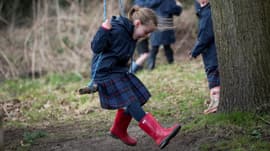 Continuous development
Specific spaces and elements have been and continue to be developed in Forest School, including our wilderness area which sits adjacent to the woodland area, offering another dimension for children to experience.
With waist-high tall grass which grows in the summer children can move to and around that area to play together or they can be alone and perhaps look at the grass, lay down and listen to the breeze moving the grass, make daisy chains or catch grasshoppers. Areas of Forest School can also be used at different times of the year for seasonal celebrations or in recognition of specific times in the calendar such as Halloween, Christmas and Diwali.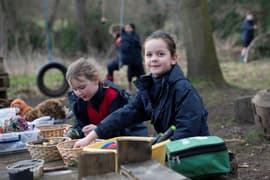 Learning about risk and how to manage it
Children come together around our fire circle in Forest School, fully supervised but given the opportunity to learn about risk and how to manage it. Right from Reception through to Year 6, children are given rules, taught how to look out for themselves and each other around it, and shown how to recognise when actions and behaviours need to stop.
Naturally outside children find objects and materials on the ground, they are allowed to play with them but not to cause harm to themselves or others with them; they learn to recognise when play needs to stop in order to keep themselves and others safe. Forest School teaches vital life skills through play and experience, in a safe, supervised and nurturing environment.
Forest School clubs
Children in Years 3, 4, 5 and 6 at Woodbridge School Prep can take part in Forest School club, which takes place on Monday and Thursday lunchtime and after school on a Monday. From natural play, campfire cooking and crafting with natural materials to working with tools or even playing games in the dark during winter months, the club provides children with the chance to spend more time in Forest School in addition to regular EYFS and KS1 lessons, which are part of the curriculum.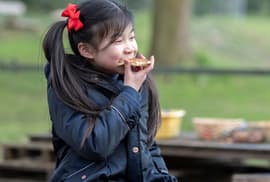 Our outdoor classroom
Alongside Forest School, Woodbridge School Prep is lucky enough to have an area where teachers and children can move in and out of to continue or enhance classroom learning. Our outdoor classroom area offers children the opportunity to break out from indoors and use the natural environment to enhance learning and lessons; from counting with leaves found on the ground, and dividing groups of pinecones that have fallen from the trees, to poetry writing inspired by our beautiful cherry tree – these are just a few examples of how teachers and children enjoy and use this space.
Our School is beautiful and spacious, but so are our grounds and being able to continue lessons and learnings outside has proven to encourage fresh thinking, collaboration and a chance to experience and put into practice what they are learning rather than just hear about it.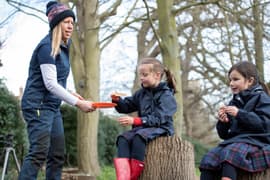 Meet the staff
Sara Cox-Olliff (Forest School Teacher)
Specially trained Forest School (and Outdoor Learning leader) and a volunteer at Suffolk Wildlife Trust as part of the charity's Wilder Schools initiative, Sara spends time visiting other Forest Schools locally, observing the way in which the space is planned out and used in order to ensure Woodbridge School Prep offers children every chance to make the most of our own natural environment. Adapting and developing the space constantly to ensure the children's experience is the best it can be so that our children can benefit in every way possible from Forest School. Regular Continuous Professional Development (CPD) both locally and nationally ensures Sara continually extends her knowledge and skills for both outdoor learning and Forest School; this ensures the very best provision for children.
Want to see for yourself?
In addition to our open days, we welcome visits from parents and children looking for the right foundation for life ahead. We'll be happy to show you around and answer any questions you have about our School, staff and the support we offer our students.
Set up for life
Want to book a visit or make an enquiry? Please get in touch.