Building stamina, persistence and success
The benefits of long distance running on both mental and physical health are well documented and the school works hard to instil a passion for this activity at all levels. Cross Country running is a sport where Woodbridge School athletes compete with the very best in England.
Format
We run training sessions for all ages in the School grounds every Tuesday, Thursday and Saturday throughout the year, even in the holidays. Our most senior athletes train every day, with recovery and long runs along the spectacular River Deben. Many of these athletes also compete for national level clubs around the country.
Competitions
Woodbridge School runners compete at all levels in the Suffolk Schools cross country, the Woodbridge 10k, English schools cross country and the Cross Country Cup.
Special events
On our Senior School site we are proud to host events in our excellent grounds. We regularly host cross country competitions including the third round of the Suffolk Schools, the Regional round of the Cross Country Cup and in 2019 we hosted the National Finals of the Cross Country Cup.
Notable achievements
Over the last two years, almost 2,000 athletes from 62 Suffolk Schools have competed at the Suffolk Schools Cross Country Trials. In both years, Woodbridge School's athletes accounted for over 20% of the final 48 athletes selected to represent Suffolk at the English Schools Cross Country Championship. We have won the East Regional points league table for the last five years, winning the Regional League Championships at the NSEA Championship in 2019.
Connections
We enjoy connections with Suffolk Schools Athletics and Cross Country Association, Ipswich Harriers, Shaftesbury Barnet Harriers and Woodbridge Shufflers. Additionally, the School site hosts the annual Ekiden, a Japanese relay race, one of only a few in the country.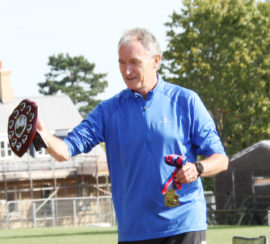 Meet the staff
Mark Goddard
An excellent Cross Country coach, Mark Goddard competed at a national level in both South Africa and England, on the track, roads and Cross Country.
Want to see for yourself?
To arrange an appointment to view the school, request a prospectus or make any other enquiry, please click below.
Set up for life
Want to book a visit, make an enquiry? Please feel free to get in touch
Sign up to receive the latest news and events in the Woodbridgian Weekly