A Day In The Life at Woodbridge School Prep
A Woodbridge School Prep pupil's typical day is, first and foremost, focused around an engaging and inspiring programme of academic learning, but it is also just as likely to include creative skills, team sports, forest school, engineering, mindfulness activities, music or one of a host of clubs for co-curricular interests.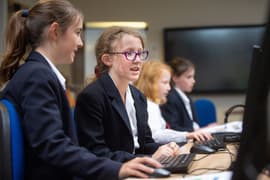 The atmosphere & ethos
The sense of community and support throughout the School sets the perfect tone for our Prep pupils to fully develop and thrive. Children routinely work cooperatively together, sharing ideas and skills, gaining new experiences, accepting mistakes and taking joy in achievements. Every child feels safe, valued and ready to take on the next stage in their development.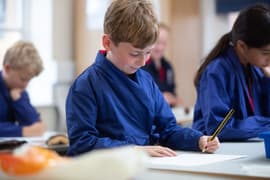 Study
Children are taught in small class sizes, often with specialist subject teachers, allowing for more interaction between teachers and pupils, and a greater focus on the work. While academic studies are closely linked to the National Curriculum, with children exploring the core subjects of English, Mathematics, Science and ICT, we also ensure pupils develop a love of learning and an enthusiasm for a broad range of topics, setting them up perfectly for Senior School.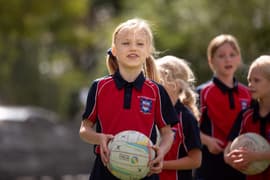 Pastoral care & wellbeing
Mindfulness is a constant theme throughout life at Woodbridge School, and we take great care to ensure every child's wellbeing. While children's self-belief and self-worth are a natural outcome of our values, philosophy and the way we teach, with one-third of our staff across the School trained as Youth Mental Health First Aiders, we are able to give pupils all the support they need to take on life's challenges. Learn more on our main Pastoral Care & Wellbeing page.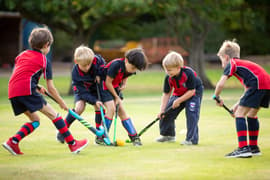 Creativity & Sports
Hand-in-hand with focused numeracy, literacy and science skills, children are given opportunities on a daily basis to stretch themselves in drama, music and physical exercise. The enthusiasm for creativity, games and competitive sport allows them to develop their individual talents and express themselves across a range of activities, breeding a greater sense of self-worth, recognition and fulfilment.
The initial appearance of Woodbridge School Prep as a small, in-town school belies our extensive sports fields, all-weather pitches and fully-equipped multipurpose sports hall. Our strong links with the Senior School mean senior games staff attend sessions at the Prep to help coach the children, providing expert guidance and ensuring continuity when children move up to the Senior School in Year 7.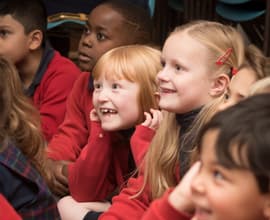 Beyond the classroom
Every day, there'll be a club or group, either during lunchtime or before or after school, where a child can spend time developing their interests and talents. Success, both inside and outside of the classroom, is vital in making children feel secure and happy. See what activities are available.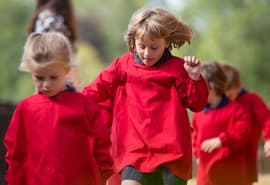 Wrap-around Care
For those that need longer school hours we offer an early drop off from 8am for children as well as the T Club, an after school club which runs from 17.00-18.00 and includes a light tea.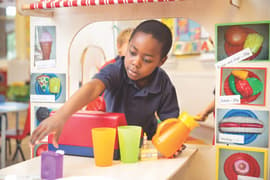 Break times
All pupils obviously relish the freedom at breaks and lunch times, where they get the chance to give their minds a rest from academic study and have fun with friends, let off steam, indulge in physical activity or take part in any of the lunchtime extra-curricular clubs.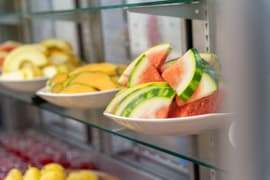 Meals
Children sit together for lunches featuring both firm favourites and delicious new items to try, all prepared by our dedicated catering staff. Every nutritious, tasty meal is created using fresh ingredients sourced from local suppliers in the East Anglian region to minimise our carbon footprint and maintain the highest quality.
She's grown so much academically and personally and that is thanks to you… for supporting her through everything.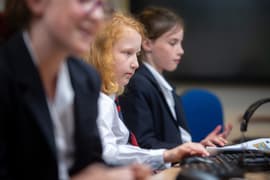 Online safety & security
Online e-safety and security is taken very seriously at Woodbridge School. We make sure students have the skills to deal with any situation that may occur, and relevant updates about technology are communicated to both parents and students. We have confidence that the digital devices and resources that are part of our daily lives can be used safely and effectively.
Want to see for yourself?
We'd be delighted to show you around. To book a visit, make an enquiry or find out how to get to Woodbridge School, please click below.
Set up for life