Excelling in both track and field
Throughout their time at Woodbridge School, students will participate in many forms of Athletics where they can discover new skills, develop techniques and enjoy the friendly house competitions, sports days and, if they choose, represent the School at competitions.
Format
Lower School students learn the fundamentals of long-jump, high jump, shot put, javelin, discus, short and long distance running, and hurdles.
From Year 9, students can refine their skills and understand how to push themselves and discover their full abilities. Students take part in Athletics during games, PE and additional clubs.
Competitions
The School takes part in a variety of competitions both between local schools and regionally. Students who show great capability in a particular discipline are supported and stretched to be the best they can be and enjoy their talents.
We always enter individuals and teams in Local, Regional and National competitions and our annual Sports Day is a wonderful demonstration of all that our students can achieve and is a fantastic day for both students, staff and parents.
Notable achievements
In 2019, Woodbridge School had 40 athletes qualify for the County Field and Track Championships, winning six Golds, seven Silvers and six Bronzes. In the East region qualifier for the National Preparatory Schools Athletics, the school holds the records for Girls U12 discus and javelin, U13 1500m, discus and javelin and U14 1500m.
Our students also had five podium finishes at the 2019 National Preparatory Schools Athletics Championships. Over several years, we have set new personal bests on our Sports Day; another 13 in 2019.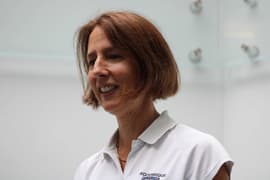 Meet the staff
Alison Scahill (Head of Athletics)
With over 30 years' experience of teaching PE and Sport across all key stages, from Reception to Sixth Form, in the UK and abroad, Alison also worked for eight years as a School Sports Coordinator responsible for developing PE in primary schools.
Want to see for yourself?
In addition to our open days, we welcome visits from parents and children looking for the right foundation for life ahead. We'll be happy to show you around and answer any questions you have about our School, staff and the support we offer our students.
Set up for life
Want to book a visit or make an enquiry? Please get in touch.