When can I visit?
We encourage you to visit on a working school day for a private family visit, as well as for an Open Day. You are welcome to visit more than once, with or without your child.
How many pupils are there at Woodbridge School?
There are over 700 pupils at Woodbridge School Prep and Senior School, with a 50:50 boy/girl split.
Is there Saturday School?
Lessons take place Monday to Friday and there is no Saturday school. If students are part of sports teams there may be fixtures on a Saturday. Boarders will take part in various exciting activities at weekends.
Do you offer bursaries?
We are proud to have a number of pupils supported by bursaries. Bursaries are means tested and available for day pupils in Years 7, 9 and 12 based on entrance exams and interviews. If you are interested in finding out more about the Bursary process please contact the Admissions Team in the first instance, via email at admissions@woodbridgeschool.org.uk.
Our family has an Old Woodbridgian (OW) connection…
We love to hear from our Old Woodbridgians (OWs), and watching their children also enjoy a Woodbridge education. If families have a connection with a house, do let us know and we will do our best to accommodate pupils joining that house and following the tradition.
What will a visit involve?
The Head, Mrs Mitchell, will take you on a tour of the Prep School to see the school in action and meet children and staff.
What co-curricular activities are available at Woodbridge School Prep?
From cookery, chess, engineering and ballet children have many opportunities to extend their existing skills or knowledge and to try something new.
What time does the school day start and finish?
Children can arrive from 8.00am and join the early room. Registration begins at 8.20am with morning assembly at 8.45am. Pre Prep finish at 3.30pm, with homework club until 4.30pm and Prep finish at 3.50pm, with homework club until 5.00pm.
How do you practice mindfulness at Woodbridge School Prep?
Mindfulness is practiced throughout the school in the classroom and around the school. Mrs Mitchell is always very happy to speak with parents about how staff and children practice mindulness throughout the school day and beyond.
Senior School and Sixth Form
What will a visit involve?
A private visit usually includes a tour with a Sixth Form student as well as meeting with the Head to discuss your child's education in more detail.
Does Woodbridge School offer boarding?
Yes, boarding is available for Year 7 upwards for weekly boarding and Year 9 upwards for full boarding. Boarding is available to pupils within the UK and those from overseas.
Does Woodbridge School have an Oxbridge programme?
Yes, the Head of Scholars and Oxbridge is responsible for overseeing development for intellectual high-fliers. She provides detailed support to potential applicants throughout Year 12 (including help with personal statements, preparation for entry tests, suggestions for wider reading and co-ordinating essay competition entries). In Year 13 applicants also receive tailored interview practice to support their ambitions.
Lower down the School, there are a variety of activities designed to stimulate a zest for knowledge and exploration. These vary from logic problems to artistic appreciation or a mock law-trial. The weekly Scholars' Programme for Year 7-8 is intended to foster the intellectual hunger which is vital for Oxbridge success.
In the previous few years, Woodbridge students have achieved a strong record of success in a wide range of essay competitions, including the Trinity Law Essay Competition, the Newnham English, the NCH English, Data Science and IR/Politics competitions, the John Locke Philosophy and Economics competitions, and the Peterhouse Vellacott History competition.
Woodbridge students have recently won places to read Classics (Latin and Greek), English, Natural Sciences, Law, Education, History, and Spanish and French at Oxford and Cambridge.
What happens when my child finishes GCSEs?
A student is considered to naturally leave the school only at the end of Year 13 and not at Year 11 (where a term's notice is required).
What are the entry requirements for Sixth Form?
Sixth Form offers are conditional on students achieving the minimum entry requirements of 6 Grade 6 and 2 Grade 5 results at GCSE.
When does the school day start and finish?
The Senior School day begins at 8.40am and finishes at 4.10pm. The buses leave after clubs at 5.15pm Monday-Thursday and 4.15pm on a Friday.
How does the timetable operate?
The timetable operates on a two-weekly cycle. Each Friday, lessons 6 & 7 are allocated to games for Years 7 and 8 and the Seckford Scheme for Years 9-13.
When do pupils take part in Combined Cadet Force (CCF)?
From Year 9 pupils can take part in CCF as a Seckford Scheme activity. They will have an introduction to this towards the end of Year 8.
How do 'Tutor Groups' and 'Houses' operate?
Each pupil joins a Tutor Group and this is the group that they will register with every morning and share three tutor periods of 20/25 minutes a week. In the Lower School a Tutor Group consists of 13/14 Year 7 and 8 pupils, with an approximate 50/50 split of year groups.
Pupils are also placed in Houses: Annott, Burwell, Seckford and Willard but two tutor groups have a mixture of two houses. They have inter-house competitions and remain in the same House throughout the School.
How is progress monitored?
There are grade sessions every half term with a written report once a year. Parents' evenings are in the Michaelmas term and the Trinity term. Alongside class assessment and testing (the format of which depends on subject), there are some more formal exams at the end of the year.
Is there a Virtual Learning Environment (VLE) at Woodbridge?
We operate a Bring Your Own Device (BYOD) system in School and use Microsoft Teams and OneNote. For further information on BYOD, please visit the Parent Hub.
Are there Parent Reps?
Yes – Parent Reps exist for all year groups and their primary purpose is to organise social events but they also act as a useful point of contact for advice and support. Reps meet with the Head during the academic year and will be asked to gather parent feedback regarding any specific issues that may arise within the parent body. Stand-alone parent groups are also formed for the organisation of larger social events and if you would like to volunteer for anything please do get in touch.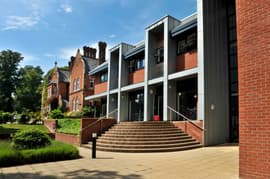 Getting to Woodbridge
Woodbridge School is nestled within the historic Suffolk town of the same name, just a short walk from the ancient guildhall, Shire Hall and market square.
See our location on Google maps.
Click here to see directions and information for travelling to the School by road, rail, bus or air.
Want to book a visit or make an enquiry? Please get in touch.