Music for Pre-Prep
Throughout School children from our Pre-Prep have access to a range of opportunities , activities outside of their curriculum lessons, the opportunities are vast and varied, tailored to suit all levels of talent and interest.
From Reception to Year 2, children have two curriculum music lessons per week. In addition to this, outside of this teaching the School also offers a number of additional music activities and opportunities.
Instruments and clubs
There are lots of opportunities for children to explore , understand and familiarise themselves with instruments and music, as well as a club to extend their learning further.
Year 1 Ocarina
A small group that meets every week to learn about and play the Ocarina, a wind musical instrument similar to a flute; requiring only moderate breath it's ideal for this age group and for many can be their first experience of learning a musical instrument. Ocarina club is offered as part of our extra curricular club offering which children can choose to join each term. All resources and instruments are provided.
Pre Prep music club
Each week after School, our Pre Prep music club meets. Open to children from Reception to Year 2, the club is an opportunity to experience and learn about musical instruments, singing and music in general.
Instrumental lessons
Starting from Year 1, children are able to take individual instrumental lessons during the School day. A limited range of age-appropriate instruments are offered at this stage. Individual lessons are taught by one of our Visiting Music Teachers and last for 30 minutes.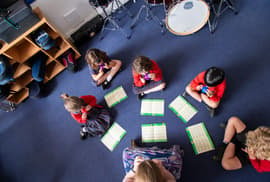 Pre Prep Performances
There are various opportunities for Pre Prep children to perform to their peers as well as parents and other visitors to School.
Michaelmas Term
All children in Reception, Year 1 and Year 2 participate in our Nativity production during the Michaelmas term.
Lent Term
During Lent term children in Reception and Year 1 hold assembly performances; for some this is their first chance to perform on their own to others – and although it can be quite nerve-wracking, it's also an exhilarating experience for children as they are rewarded by the enjoyment felt and expressed by their audience.
Trinity Term
All children in Reception, Year 1 and Year 2 participate in a celebration of their year during the Trinity Term, with Year 2 taking the lead as they come to end of their time in Pre-Prep.
Alongside these opportunities lunchtime concerts are regularly held (two per term). These smaller concerts give those children learning an instrument to showcase their progress to a small, invited audience. These concerts are held in the Ambrose Room.
Dawn Chorus
Every Friday morning from 9.30 until 10.15am Dawn Chorus takes place offering parents and grandparents the chance to bring smaller children along for a fun-filled half hour of music and song. No payment is required as this event is offered free by the School, but bookings must be made in advance via our Dawn Chorus page.
On Thursday mornings Dawn Chorus takes place via Zoom for a number of local nurseries; interested organisations can register their interest by emailing Karen Virr, PA to the Prep Head via prepheadpa@woodbridgeschool.org.uk.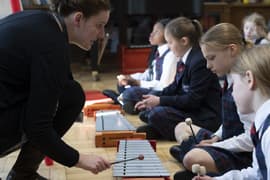 Meet the staff
Sarah Petts (Head of Music)
Music is taught by Sarah Petts, whose own philosophy of music is that, "All children can learn and experience instruments and music at Woodbridge School Prep, they're naturally inquisitive and keen to see, hear and feel music in all its forms. One of the most wonderful parts of my teaching is recognising, supporting and finding opportunities for those children who wish to learn an instrument or sing over and above what is taught in School and our clubs and cocurricular musical activities, performances and individual lessons are a direct response to that ever-increasing demand. I believe music should be a part of everyone's life, and that children should be given every opportunity to experience and engage with it; the benefits are vast and support children's learning in so many ways."
Want to see for yourself?
In addition to our open days, we welcome visits from parents and children looking for the right foundation for life ahead. We'll be happy to show you around and answer any questions you have about our School, staff and the support we offer our students.
Set up for life
Want to book a visit or make an enquiry? Please get in touch.