Sixth Form: Academic Life
Students at Woodbridge Sixth Form get to explore their subjects in greater depth, in a programme that provides the ideal balance of support and independence. With one eye on the next stage of their education or career, we help students to set themselves on the right path towards their goals.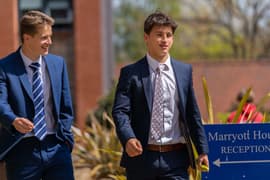 Targeting your future path
A levels at Woodbridge allow you to focus on your interests and to target a future career. We work with you to identify which A Levels are right for you, whichever subject you want to pursue beyond school.
The A level courses we teach not only open the door to a huge range of degree course options, they are also highly respected by those outside higher education. The aim is to choose a group of subjects that fits your ability and interests while keeping as many doors open as possible.
Choices of subject
Many combinations of subject choices are available at Woodbridge School, and making your final decisions can be a daunting prospect. Your choice will be very personal to you, depending on your aspirations.
The Russell Group offers useful advice on A level choices; if you would like to find out more go to: informedchoices.ac.uk.
Learning support
While Woodbridge Sixth Form encourages independent study, we maintain a diligent learning support scheme to help students as and when they may need more guidance, insight and advice.
Especially if they have progressed up from our Senior School, our supportive tutor system will recognise each student's aptitudes and help them to make the most of their time and talents.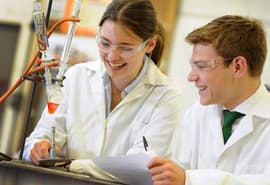 Academic PE
Academic PE is a well-respected academic A level and provides insight into the amazing world of sports performance. Offering students the opportunity to perform or coach sport, as well as develop knowledge, the course provides assistance in enhancing performance through the application of theory.
Art
Art is 100% coursework and embraces all disciplines from traditional to contemporary and all media including 2D, 3D, fashion and digital artforms. The focus of the course at A level is to enable students to become skilful and fulfilled practitioners, rather than just making art to suit an assessment matrix.
Biology
Biology provides the opportunity for students not only to study but understand and link their learning to everyday life; these topics range from the examination of microscopic organisms to entire ecosystems, from genetics, cells and their components to the exploration of evolution and natural selection. Biology encompasses study of life itself.
Business
A level business aims to give students a broad understanding of how businesses function effectively. The standard functional divisions within a firm, such as finance, marketing, production and human resources, are studied in their own right, as well as business applications and models that are relevant today.
Chemistry
Chemistry is the study of chemical reactions and trends in behaviour of elements and compounds. Covering a wide variety of concepts such as the structure of the atom, the interaction of matter and energy, how to control reactions, patterns in the Periodic Table and understanding Carbon-based molecules.
Classical Civilisation
The study of ancient Greek and Roman civilisation, classical civilisation A level covers a wide selection of disciplines including literature, archaeology, history and art.  Providing an understanding of some of the oldest and most interesting and engaging art and literature ever produced, students taking this course will gain a deep insight into the world of the ancient Greeks and Romans, learning and appreciating how this historical civilisation underlies our modern cultural outlook.
Computer Science
If you enjoy solving problems and have a mathematical and logical brain, an A level in computer science may be the course for you.  Learning the fundamentals of computation and algorithms, from computer programming to networking and databases, computer science is a challenging and fast-paced subject.  Students will learn a range of skills and be provided with access to the tools required to do so.  The course is based fundamentally on problem solving and solution development, breaking down a big problem into individual programmable steps.
Design
An exciting, diverse and innovative course, A level design encourages students to think and explore beyond the normal realms of creativity, learning and applying a variety of techniques and processes in order to expand their skill set, as well as to help communicate their design ideas through different mediums.  Appealing to many students, including those who wish to design and create, offering the opportunity to learn about both the traditional and future design techniques, the course covers both graphic communication and 3D design.
Drama
Studying drama provides students with a broad set of skills that are in demand across many industries and careers, including teamwork, working well under pressure and meeting deadlines as well as encouraging and increasing creative/critical thinking.  Students will improve their ability to self-motivate, negotiate and manage conflict, as well as develop presentation and verbal communication skills, key attributes and abilities to have beyond Sixth Form.
EAL (English for Speakers of Additional Languages)
Recognising that students come from a variety of backgrounds with differing mother tongues, the main objectives of teaching EAL at Woodbridge is to facilitate communication as well as provide a platform for improvement of English in all language skills.  As well as facilitating the necessary qualification to access higher education, EAL helps develop cultural and geographical awareness.
Economics
Economics is the study of how individuals, industries and businesses allocate resources, exploring historical and contemporary events as well as potential future challenges.  The course is organised around the traditional distinction between microeconomics (the study of firms, individuals, and their interaction in markets) and macroeconomics (the study of the economy in aggregate looking at growth, unemployment, inflation, international trade and government policy in relation to these areas).
English Literature
Studying spoken and written words, alongside the different ways in which writers use and manipulate language to create effects, affect an audience and evoke emotions, English literature A level develops exceptional communication skills in students as well as the ability to structure an argument, analyse and compare texts, contextualise, and think critically.  Engaging with a rich variety of literature, English literature A level enables students to experience a greater depth and breadth of study, with flexible content encouraging independent reading around core texts, and research skills.
EPQ
The Extended Project Qualification is a single piece of work of a student's choosing that requires evidence of planning, preparation, research and independent learning, students are responsible for choosing and designing an extended piece of work.  Alongside this is the opportunity to develop and apply decision-making skills, problem solving skills, initiative and enterprise presentation skills.  The learning experiences can be used to support personal aspirations for higher education and career development.
Further Maths
Fundamentally further mathematics relies on students being able to do everything from the mathematics A level course and then builds a large amount of additional mathematics on top.  And while it must be taken along with mathematics to give two A levels, studying further mathematics enables students to further develop mathematical and statistical problem solving, interpretation skills and data analysis; these skills transfer to almost every subject studied alongside this A level as well as life beyond Sixth Form and university.
Geography
Dealing with vital issues such as climate change, migration, environmental degradation, social issues and their impact as well as natural hazards, geography could be one of the most important and relevant A levels to study.  Providing insights into the world around us as well as tackling highly contemporary issues that face us all, geography A level is split into two halves:  human and physical, with two further units including geographical debate and investigative geography.
History
A level history considers and covers the political, economic, social and cultural issues of different eras and cultures.  Covering enough breadth and depth to enable students to develop a good understanding of historical events in their own context, history provides the information and inspiration to encourage students to question why particular events happened and why decisions were made.
Latin
Latin offers a stimulating mixture of language work and literature read in the original.  As students develop their linguistic skills, they become increasingly confident translating from Latin.  At the same time, the greater complexity of the passages tackled allows a deeper exploration of Roman society and culture than was possible at GCSE.  Coupled with the in-depth study of set-texts, students thus explore a wide range of topics from the manipulation of religion for political ends to why Romans told each other the legends of Early Rome.
Mandarin
Billions of people across China and the rest of the world speak Mandarin, and in fact it's believed to be the most widely-spoken language across the globe.  Mandarin A level also offers students the opportunity to learn about and appreciate the culture, values and beliefs of those speaking the language, and immersing themselves in the culture, literature and arts is as much a part of the course as learning the language itself.
Maths
To study mathematics is to investigate a system built up over 6,000 years that allows us to understand the universe, predict the future or just ensure that we always win at card games!  The A level course has its primary focus on the pure mathematics that underpin our scientific understanding of the universe, the calculus and trigonometry that are the foundation of everything built in modern society and the numerical analysis behind computing.
Modern Languages (French and Spanish)
Before the professional opportunities arrive, there are many academic benefits of learning a language at A level, including enrichment and improvement of culture, comprehension and critical thinking.  Referring to French or Spanish, modern languages A level at Woodbridge enables students to become competent in speaking, listening, reading and writing in their target languages.
Music
A highly regarded, exciting and rewarding A level, music is a varied and interesting course, combining both academic study and creativity, based around learning and developing three key skills: performing, composing and listening, and appraising.  Building upon knowledge of musical theory, students will obtain a solid understanding of the fundamental principles of performance, refine practical skills, study and practice composition and the expand their knowledge of music history through listening and appraisal.
Photography
We offer an innovative curriculum set around key points of extra-curricular intervention, industry experience and collaboration.  Beyond practical skills we are looking to identify, celebrate, hone and distil creativity, work ethic, cognitive agility, steadfastness and forward planning.  A successful photographer will need to be adaptable, passionate, skilful, analytical, independent, imaginative, organised and resourceful.  The manner in which we teach therefore, aims at the continued development of all of these skills. 
Physics
From learning about the interaction of the smallest particles, to the way the Universe has evolved, students will also study topics which are directly related to everyday life, as well as studying the technology which inspired the digital revolution.  The course content covers the basis of how things work, from the constituent parts of atoms to the structure of the Universe.
Psychology
Psychology is the scientific study of human (and animal) behaviour and the thoughts and emotions that influence behaviour.  It is concerned with all aspects of behaviour: the way people think, act, react and interact.  Psychology is a challenging A level subject, but it is also one that is fascinating and varied.  You will learn how different theoretical perspectives can help us to understand and explain human behaviour – both typical and atypical forms of behaviour.
Religious Studies
Helping to develop a holistic understanding of religion, religious studies facilities enquiry into, and develops insightful evaluations of, ultimate questions about the purposes and commitments of human life, especially as expressed in philosophy, ethics and religion.  Students are encouraged to question the nature of reality and the place of religion within our world, developing skills in explanation, critical analysis, evaluation and debate.
Sociology
The study of society, sociology looks at how people interact in groups, examining social behaviour from a variety of perspectives.  From how social behaviour originates and then develops, to the ways in which people are organised into groups according to distinction, sociology students can expect to discover and discuss identity, social class, gender and race as well as culture, ethnicity, sexuality and disability.
A Level subject options
Here you can find a short introduction to each of our A Levels at Woodbridge Sixth Form.
For more in depth information on each subject as well as an overview of studying at our Sixth Form, please download our guide below.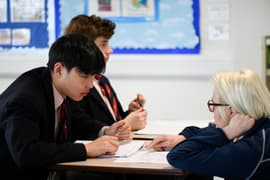 Selecting subjects
Your choice of subjects will obviously be a very personal decision. Our dedicated A level options guide goes into each subject in detail, and also provides a complete overview of life in Sixth Form and the application process.
If, after reading the guide, you have any doubts or difficulties in deciding what you want to study for A levels, please seek advice. We are always happy to discuss your possible pathways and indicate which subjects might be most suitable for you personally.
The Russell Group also offers useful advice on A level choices; feel free to read their guidance at: informedchoices.ac.uk.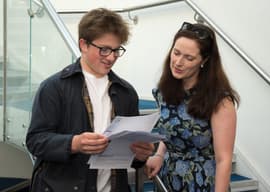 Results and outcomes
Having worked incredibly hard, our Sixth Formers come together at the end of their two years of studying to receive and celebrate their results and achievements.
Sharing their onward journeys, hopes and aspirations for the future, as well as their grades, our students' excellent results are testament to the hard work and commitment shown and recognised throughout their time at Woodbridge.
Want to see for yourself?
In addition to our open days, we welcome visits from parents and children looking for the right foundation for life ahead. We'll be happy to show you around and answer any questions you have about our School, staff and the support we offer our students.
Set up for life
Want to book a visit or make an enquiry? Please get in touch.