Sixth Form – Academic life
Students at Woodbridge Sixth Form get to explore their specialised subjects in greater depth, in a programme that provides the ideal balance of support and independence. With one eye on the next stage of their education or career, we help students to set themselves on the right path towards their goals.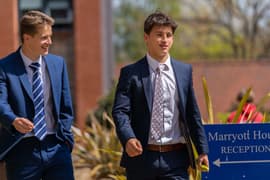 A levels targeting your future path
All A Levels offered at Woodbridge are equal. Most are in the group called 'facilitating subjects', which will give you a solid basis to proceed to study the subject, or a related area, to degree level at university. Others are more 'specialised subjects' aimed towards a more specific area of study, usually in creative or technological fields.
The A level courses we teach can not only open the doors to a huge range of degree course options, they are also highly respected by those outside higher education. The aim is to choose a group of subjects that fits your ability and interests while keeping as many doors open as possible. Although, do not try to keep every door open; it can't be done.
Facilitating subjects
Subjects such as English Language or Mathematics, while being an introduction to further study in their own fields, also allow you to apply for degrees in more specialist areas such as Law. Desired grades in two facilitating subjects and one other are enough to ensure an offer from the Russell Group universities.
Specialised subjects
We also offer a range of subjects at A Level that may be seen as more specialised, but are certainly not less respected or easier to study. Be aware that if you take two specialised subjects you may be reducing your options beyond school. However, we know that for higher education courses in the Arts, two of your A Level subjects may indeed need to be in more specialised fields.
The choice of subject is clearly a very personal one, depending on what you envisage for your future and the steps you need to take to get there. The Russell Group offers useful advice on A Level choices; if you would like to find out more go to: www.informedchoices.ac.uk/.
Learning support
While Woodbridge Sixth Form encourages independent study, we maintain a diligent learning support scheme to help students as and when they may need more guidance, insight and advice. Especially if they have progressed up from our Senior School, our supportive tutor system will recognise each student's aptitudes and help them to make the most of their time and talents.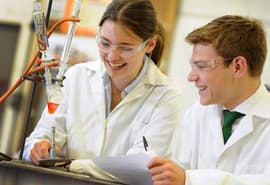 Biology
The latest resources will be utilised including new exam-board approved textbooks, microscopes, centrifuges, PCR and gel electrophoresis equipment. Practical work including fieldwork and the use of ICT is an integral part of the course. The A Level course is delivered by two experienced A Level teachers. This offers pupils specialist knowledge with variety in teaching style and delivery of the course. Biology opens the way to a wide range of degrees including Medicine, Veterinary Science, Zoology, Botany, Biochemistry.
Business
The department aims to develop students' interests in the world of Business, enhance their confidence and self-reliance and, of course, to achieve academic success. Studying Business need not necessarily lead to the study of a Business-related degree at university, although a large number of students taking the Business course do proceed to this type of course. Universities offer a wide range of courses that combine Business studies with other subjects such as Modern Languages, Economics, ICT and even Engineering. These combinations of technical skills and understanding of the Business world are positive selling points in a competitive employment market.
Chemistry
We have an excellent range of practical equipment for use in synthetic and analytical Chemistry. The latest textbooks are used and a wide variety of other materials from sources such as the Royal Society of Chemistry are included to enhance knowledge and understanding. The A Level course is delivered by two experienced teachers per class, offering students specialist knowledge and variety in teaching style and delivery of the course. Our students have gone on to study a huge variety of courses for many different careers, including: Medicine, Forensic Science, Veterinary Science, Research, Law, Biochemistry, Food and Nutrition, Teaching/Lecturing, Pharmacy, Industrial Chemistry, Engineering, Molecular Modelling and many more.
Classical Civilisation
Classical Civilisation combines well with English Literature, Religious Studies, History and Latin, or could provide a contrast with other subjects (e.g. sciences) in order to broaden your education. If you have been successful at Classical Civilisation, you will have proved that you can enter upon a new area of study and learn the technical vocabulary and skills that are appropriate to it. You will have shown that you can write clearly and express complex ideas in a concise, logical and well-organized way. Classical Civilisation could lead on to a degree in Classical Studies, Ancient History, Archaeology, or English at university. It may well be of interest to students considering Architecture. Many doors will be open, and the skills developed through this course will be applicable in a range of employment areas, while your knowledge of Greek and Roman culture will always remain with you
Computer Science
We have an excellent range of practical electronic and physical resources for use in Computer science. The latest research from the British Computer Society. The course looks at the fundamentals of programming, data structures and Big Data building on skills learned at GCSE. Our Computer Science A Level students have gone on to study a variety of subjects at university level and beyond – Computer Science, Mathematics, Computer technology, forensics and others. Many of our students go straight from university into highly-paid employment with international corporations such as Shell or Crédit Suisse.
Design
Our A Level students use and develop their skills in contextual research and have the opportunity to experiment with appropriate processes and techniques to refine the chosen concept into a final outcome. Students are expected to take leadership of their work under the careful guidance of their teachers and should develop their work independently outside of the classroom. Students can develop a strong portfolio during this course in readiness for most Design related BA Hons degrees. Past students have entered BA Hons courses such as Architectural Design, Product Design, Fashion, and Design for Print. For students who wish to gain a further year building upon existing work a Foundation Art & Design course is usually the recommended route.
Drama
Fast-paced, dynamic and aspirational teaching and learning sits at the heart of every drama lesson. Students will explore drama through the ages with Sophocles' Antigone, work on theatre analysis from professional performances and use their skills to communicate Berkoff's 21th centaury play Metamorphosis. Students are supported to make theatre they are passionate about, to be inquisitive and adventurous in their thinking and ambitious in their creative execution. All written tasks are underpinned by clearly structured seminar style lessons, with regular written tasks preparing students for the demands of the written exam.
Economics
There is bound to be a degree of formal teaching in a subject that is new to all students. However, once economic principles have been understood, lessons will frequently involve discussion and application of theory through interactive methods and more formal written questions. Students are encouraged to think for themselves and practise the application of economic theory to real world issues. The use of relevant economics and news sources are actively encouraged. Graduates in Economics earn more on average than other graduates. An understanding of resource allocation and the workings of the economic system are essential to modern Business of any size or form.
English Literature
The course enables students to enjoy reading and discussing English Literature, and to increase their understanding of what the study of literature involves. The emphasis is on developing the confidence to respond independently to a wide range of texts in depth, through close reading, a variety of critical approaches, and an appreciation of the contexts in which literary texts are written and understood.  As the students develop an understanding of modern critical theory, for example, they will also be helped to improve their writing in order to capture the depth and complexity of the ideas raised in discussion and through reading and analysis. 
Fine Art
A successful Year 13 artist will need to be adaptable, passionate, skilful, analytical, independent, imaginative, organised and resourceful. We do not have a 'house style'; it is imperative that at each stage of the course students seek to develop their own artistic personality. It is commonplace that our Year 13 exhibition shows a mixture of hand crafted outcomes and digital art; sculpture and installation alongside painting, photography, film, textiles and drawing. Woodbridge School's ethos regarding the need for students to forge ahead in becoming more resilient, reflective, better at communicating, more imaginative and unafraid to be an individual have particular pride of place in this department. These are core attributes for any workplace.
Geography
Each unit is delivered by teachers who are experienced in their fields. A wide variety of methods is used with up-to-date resources including videos, maps, photographs, textbooks and ICT packages. Field work is an integral part of the course and the local environment is used extensively. Geography is the best subject on Earth! That is what it is all about: your world, what it is like, the issues that it faces, the impacts that you have on it and that it has on you. The A Level course is delivered by two A Level teachers per class, offering students specialist knowledge and variety in teaching style and delivery. An A Level in Geography can lead to a rich variety or career paths and adventures.
History
History puts the human experience at the heart of everything we learn. Emphasis is placed upon discussion and debate; lessons may include research exercises but focus upon the need to form and promote robust arguments. Teacher-led whole-class presentations encourage students to ask questions and discover more; they include an expectation that students will contribute, or take a lead, in sharing their own findings. Students will also embark on a wide range of skill-specific tasks to ensure that their inner historian can emerge and flourish. Preparatory study will centre primarily upon reading, taking notes, preparing for seminars, and writing essays and document responses.
Latin
Much of the grammar for A Level has been covered at GCSE, but this is thoroughly revised and extended, with the aim of developing fluency in reading more challenging passages. Students read a range of Roman authors in the original Latin to build confidence in their awareness and understanding of vocabulary and grammar. Students also study prose and verse set texts (normally Cicero and Virgil) in depth, including extended reading in English, which gives a further insight into Roman culture. Close analysis of the authors' use of language extends students' skills in literary criticism and their ability to evaluate texts critically. This immensely transferable skill is highly respected by university admissions tutors of all disciplines. It is also highly valued by employers including legal firms and the civil service.
Maths
The course is delivered by two teachers, one focusing on the pure math side of the course, the other on applied math (statistics and mechanics). Students are provided with a hard copy of the textbook and access to an online interactive copy. There are many subject clinics on offer so plenty of opportunity for extra support. Mathematics A Level is a hugely sought-after qualification and Russell Group universities have listed it as one of their facilitating subjects that equip students with the skills and knowledge to undertake courses at some of the most competitive universities. The problem-solving skills that it develops are applicable to most aspects of modern life and it is perhaps most important for potential applicants to economics, engineering, scientific and computing courses.
Further Maths
The Mathematics and Further Mathematics course is delivered by either two or three teachers, using computer simulations and software where appropriate to aid a student's understanding. There are many subject clinics on offer so plenty of opportunity for extra support. This is a challenging and stimulating course aimed at the best young mathematicians. The Mathematics covered is required not only for Mathematics degrees but is also hugely beneficial for some science, computing and engineering courses. An A Level in Further Mathematics will give the student a major advantage over those who have not studied it and will lead to a much more advanced understanding of Mathematics.
Modern Languages (French and Spanish)
Language skills support success in many academic courses (with study abroad through the EU Erasmus scheme) and those, along with other advantages such as cultural sensitivity, lead to success in a wide variety of professional careers. Grammar is reviewed in the first instance, and topics relating to aspects of society, culture, multiculturalism and political life are taught and consolidated in a variety of ways. Film and literature are also examined and students are expected to research a topic of their own choice which is discussed in the oral. Students will have twelve lessons per fortnight shared by two language teachers, plus one lesson per week with a native speaking language assistant.
Mandarin (Pre U – Cambridge International)
China's economy is booming and business leaders are looking for people who can speak the language and operate successfully in a Chinese cultural context. Mandarin teaching is shared by two teachers (language and culture), plus one lesson per week with a language assistant who is a native speaker of the target language. Although we focus on Grammar, students are encouraged to research about Chinese culture as well as the language itself. An English version of the Mandarin literature will be examined along with a cultural topic. Students are expected to research a topic of their own choice which is discussed in the orally with their tutor. International businesses tend to hire people who speak more than one language. 
Music
Music is a varied and interesting A-level subject which develops a plethora of music skills: performance, composition, harmony, aural, analytical skills and essay writing techniques. The subject is taught holistically with several disciplines being exercised within one lesson to ensure that we develop the whole musician and encourage high-end thinking, making connections between learning. Whilst there is a good level of practical activity in the course, through performance and composition, you will also learn to analyse the music and gain a deeper insight into the social and historical context of its creation as well as the mechanics behind the harmony.
Photography
Initially class time is filled with short challenges which are open to interpretation but  stretch the technical possibilities of the artists. Meanwhile the homework is designed to maximise the artistic freedom of the students. We have a tremendous photographic studio and every week students are given a different word to respond to in whatever photographic manner they choose. Support is given and an idea of how much work to produce is proscribed but the direction of the artists' work is in their own hands. Many of our cohort leave for art/photography based degrees, but not all. Our aim is to open doors for our artists, to allow them to be themselves and to function on a commanding level practically and conceptually.
Physics
Professions in engineering, energy, scientific research, medicine, dentistry, meteorology, and more, are all enhanced by having an A Level in Physics. Many non-scientific careers value the analytical abilities and problem-solving skills that an A Level in Physics develops. Teaching will be shared between three experienced teachers in our well-equipped laboratories. The emphasis will be on practical work, observation and data collection, leading to understanding the underlying concepts and using knowledge and information in problem-solving. 
Physical Education
As both a practical and academic subject this A Level specification will equip students with both a depth and breadth of knowledge, understanding and skills relating to scientific, socio-cultural and practical aspects of physical education.
Psychology
The format of Psychology learning is student-centred where students will be asked to research topics and to report back, perhaps in a presentation alongside teacher-led discussion. This is often accomplished in small groups and small research projects to demonstrate ideas or concepts and learn the methodology are enjoyed. About a quarter of those who study Psychology at A Level at Woodbridge go on to study Psychology at university; Criminal Psychology is currently very popular. Other courses pursued are Education, Nursing, Business, Advertising and Marketing as well as law enforcement and the armed forces. Not surprisingly, the study of psychology equips you for any profession in which you might have to deal with other people!
Religious Studies
The new revised course allows students to explore three key areas that together could be described as theology. Philosophy of Religion, religion and Ethics and New Testament studies. The course helps develop a holistic understanding of religion and it facilitates enquiry into, and develops insightful evaluations of, ultimate questions about the purposes and commitments of human life, especially as expressed in philosophy, ethics and religion. The A Level encourages students to make connections so that in each field of study they understand the influences over time of developments in religious beliefs and practices, the philosophy of religion, religious ethics and/or textual interpretation.
Sociology
The new revised Sociology specification has a central focus on contemporary UK society; however this can often be understood through the study of other cultures too. You will learn about the two core threads that run through many areas of social life: socialisation, culture and identity and social differentiation, power and stratification. By the end of the course you will understand the significance of conflict, consensus, social structure and action and be able to apply sociological research methods to the study of each unit. You will be encouraged to have an active involvement with the research process, in other words carry out small-scale sociological research to find sociological explanations for these issues as well as engage in theoretical debate.
The Extended Project Qualification (equivalent to half an A Level course)
An EPQ offers students the exciting opportunity to explore in depth a topic in which they have a strong personal interest, often a subject they are hoping to study at university level and beyond. By carrying out research into their chosen project students must demonstrate independent learning, careful planning, and presentation skills in order to succeed. As competition increases for entrance to universities, students need now more than ever to evidence skills desirable in any undergraduate. It is therefore easy to see why the EPQ is so highly regarded by universities. An EPQ offers students UCAS points equivalent to half a full A Level and will certainly provide an interesting topic for university applicants called for interview.
English for Speakers of Additional Languages (EAL)
Students whose mother tongue is not English, are prepared for the appropriate English language examinations to give them a qualification for entry to British universities. The focus is on development of grammar, vocabulary and the language skills of listening, reading, writing and speaking. In addition they are supported in their specific subjects by relevant vocabulary lessons and development of their essay writing skills, if necessary. Lessons are also timetabled to include help for university entrance in Year 13.
When time permits, students are encouraged to research and participate in excursions to places of cultural, social or historic interest as well as being given the chance to celebrate and share festivals in their own culture as well as those of other students: e.g. Chinese New Year and Hallowe'en.
A Level subject options
Students will typically take three A Levels, but exactly which subjects they chose will be down to their personal talents, university preferences and plans for their lives after education.
Character.
Determination.
Kindness.
Community.
Character.
Determination.
Kindness.
Community.
Character.
Determination.
Kindness.
Community.
Principles.
Excellence.
Inclusion.
Engaged.
Curious.
Principles.
Excellence.
Inclusion.
Engaged.
Curious.
Principles.
Excellence.
Inclusion.
Engaged.
Curious.
There's a definite step back from staff. You're not spoon-fed. You have to work independently, take it seriously and work hard. The support is there if you need it, but you're encouraged to take control.
Support choosing subjects
Your choice of subjects will obviously be a very personal decision. Our dedicated A Level options guide goes into each subject in detail, and also provides a complete overview of life in Sixth Form and the application process.
If, after reading the guide, you have any doubts or difficulties in defining what you want to study for A Levels, seek advice. We are always happy to discuss your possible pathways and indicate which subjects might be most suitable for you personally.
Further advice
The Russell Group offers useful advice on A Level choices; feel free to read their guidance at: https://www.informedchoices.ac.uk/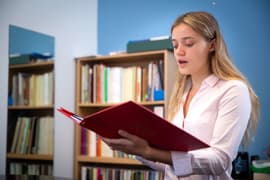 Results & Outcomes
Schooling may have been disrupted during the Covid-19 pandemic, but 2020 saw our Sixth Form students yet again achieving impressive results, with another year-on-year improvement in grades. Find out more about their results and the paths they chose to follow beyond Sixth Form.
Want to arrange a visit?
An in-person tour around Woodbridge School will put everything in perspective and allow you to see first-hand the love and enthusiasm students feel towards their time here. Click below to get in touch and arrange an appointment.
Set up for life
Want to book a visit, make an enquiry? Please feel free to get in touch
Sign up to receive the latest news and events in the Woodbridgian Weekly