Woodbridge Senior School
We provide exceptional academic teaching and support for students aged 11-16, guiding them through some of the most important stages of their education. Our all-encompassing programme of learning and self-discovery delivers a real sense of purpose for every student and creates a solid foundation for the rest of their lives.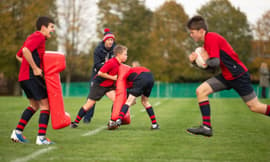 Day in the life
The warmth and sense of community around our school sets the perfect tone for our students to develop and thrive.
As well as a range of insightful and challenging lessons, an average day for a member of our Senior School can involve sports, drama, creative arts, cadet training or one of the many clubs and societies on offer. A Woodbridge student can wear many hats, and do so with style.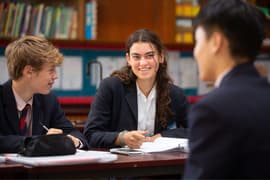 Academic
Senior School is where students get to learn about every available subject before deciding which they will choose to take further for GCSE study, and later to A levels.
Our dedicated teaching staff inspire students with their passion for each of their specialised fields, encouraging an appetite for learning and enabling students to discover where their strengths lie.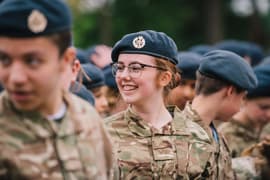 Beyond the classroom
Building a sense of teamwork, stretching a student's idea of what's possible, cultivating a sense of companionship, respect and community, evolving creative thinking and developing skills to take forward in life.
All this and more comes out of the range of activities students can undertake in addition to their academic studies.
You get so much support from the school, making sure that you understand what you want to do, that the subjects you're doing are catering towards what you want to do later on in life.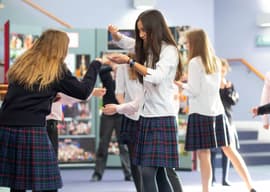 FAQs
There are a number of questions we often get asked. We answer as many as possible here, but if you have a new question feel free to get in touch.
Want to see for yourself?
In addition to our open days, we welcome visits from parents and children looking for the right foundation for life ahead. We'll be happy to show you around and answer any questions you have about our School, staff and the support we offer our students.
Set up for life
Want to book a visit or make an enquiry? Please get in touch.