Michaelmas Term 2023
Inset Day (Staff Only) Friday 1 September
Boarders welcome week begins Friday 1 September
Inset Day (Staff Only) Monday 4 September
Induction day for Senior School pupils Tuesday 5 September
Term begins at 8.40am Wednesday 6 September
Half-term begins at 4.00pm Friday 20 October
Boarders return Sunday 5 November
Term recommences at 8.40am Monday 6 November
Term ends at 1.00pm Friday 15 December
Lent Term 2024
Inset Day (Staff Only) Wednesday 3 January
Boarders return Wednesday 3 January
Term begins at 8.40am Thursday 4 January
Half-term begins at 4.00pm Friday 16 February
Boarders return Sunday 25 February
Term recommences at 8.40am Monday 26 February
Term ends at 1.00pm Thursday 28 March
Trinity Term 2024
Inset Day (Staff Only) Monday 22 April
Boarders return Monday 22 April
Term begins at 8.40am Tuesday 23 April
Half-term begins at 4.00pm Friday 24 May
Boarders return Sunday 2 June
Term recommences at 8.40am Monday 3 June
Term ends at 1.00pm Friday 5 July
Michaelmas Term 2024
Boarders welcome week begins Saturday 31 August
Inset Day (Staff Only) Monday 2 September
Inset Day (Staff Only) Tuesday 3 September
Induction day for Senior School pupils Wednesday 4 September
Term begins at 8.40am Thursday 5 September
Half-term begins at 4.00pm Friday 18 October
Boarders return Sunday 3 November
Term recommences at 8.40am Monday 4 November
Term ends at 1.00pm Friday 13 December
Lent Term 2025
Inset Day (Staff Only) Monday 6 January
Boarders return Monday 6 January
Term begins at 8.40am Tuesday 7 January
Half-term begins at 4.00pm Friday 14 February
Boarders return Sunday 23 February
Term recommences at 8.40am Monday 24 February
Term ends at 1.00pm Friday 4 April
Trinity Term 2025
Inset Day (Staff Only) Tuesday 22 April
Boarders return Tuesday 22 April
Term begins at 8.40am Wednesday 23 April
Half-term begins at 4.00pm Friday 23 May
Boarders return Sunday 1 June
Term recommences at 8.40am Monday 2 June
Term ends at 1.00pm Friday 4 July
Updated: September 2023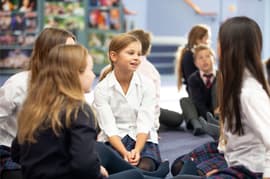 Parent Hub
Other important dates in our schedule that you may wish to note in your diary for trips, sport events, open days, theatre productions and more can be found on our online school calendar calendar.
Want to see for yourself?
In addition to our open days, we welcome visits from parents and children looking for the right foundation for life ahead. We'll be happy to show you around and answer any questions you have about our School, staff and the support we offer our students.
Set up for life
Want to book a visit or make an enquiry? Please get in touch.