Riding and jumping at the top of their class
With specialist coaches for show-jumping and dressage, our teams have qualified and competed in every national final for these areas, as well as Eventers' Challenge and 'Jumping With Style'.
Format
Our dedicated and successful Equestrian squad train weekly, and pupils have easy, local access to the high-quality equestrian facilities at Martley Hall, near Woodbridge.
Competitions
The equestrian teams meet and compete in many competitions across the country throughout the year, including but not limited to the NSEA Eventers' Challenge and 'Jumping with Style', displaying excellence and professionalism in all their events.
Notable achievements
Senior School rider Ada Marson has earned herself a cap on the GB team!
Our Senior School Equestrian team, competing at the Forest Edge National Schools Equestrian Association Show in September 2020, jumped all 11 of their rounds clear, a fantastic achievement.
One of our riders has been selected to represent East Anglia In The U18's British eventing team.
Additionally, all our riders have qualified for the NSEA National Championships at Hickstead  All England Jumping course.
Connections
We enjoy and maintain excellent relationships with local riding centres Martley Hall and Beechwood Stables.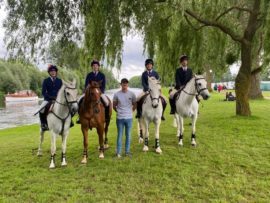 Meet the staff
Jake Hall
Jake runs a professional show jumping yard and competes regularly to Foxhunter-level British Show jumping. Jake coaches from young/novice through to competitive British Show Jumping and British Eventing riders.
Want to see for yourself?
To arrange an appointment to view the school, request a prospectus or make any other enquiry, please click below.
Set up for life
Want to book a visit, make an enquiry? Please feel free to get in touch
Sign up to receive the latest news and events in the Woodbridgian Weekly