Senior School: Academic Life
Students in Woodbridge Senior School progress through a comprehensive curriculum, gaining knowledge across the entire breadth of academic study before choosing the specialised subjects they wish to take beyond year 9 to GCSE level and beyond. Whatever their talents, they get exceptional support every step of the way.
Teaching for success
Students at every level gain enormously from our unique and innovative approach to teaching.
Our methodology enables students to not only acquire essential knowledge, but also be empowered to learn better, retain information and become more independent, through metacognition and self-reflection.
Creative and critical thinking
We provide each student with the essential intellectual skills needed for later study, including the ability to think critically and logically, capturing imagination and allowing for diversity of interests. 
All academic subjects are important and help to develop different areas of the brain; for example, English develops the ability to use language precisely and creatively, whilst History and social sciences require that students are able to research and then construct clear, logical arguments based on their findings. In the creative arts, students are given extensive opportunities to create their own direction, and languages, students build intelligence, empathy, and understanding of different cultures.
STEM subjects
Science, Technology, Engineering and Mathematics are exceptionally strong at Woodbridge. These subjects will allow students to fully embrace the ongoing technological revolution and are thus vitally important to students' lives and careers. We deliver lessons that inspire students to think in an original and creative way.
Languages
Students are also strongly encouraged to learn languages, with French, Spanish, Mandarin, Latin, Greek and Japanese all available. Students in the Senior School start from a very broad base of languages and can then study them further as a specialist subject.
The Junior Oxbridge programme
Our academic scholars and other high achieving students benefit from an all-through programme which runs from Year 7 right up to support for Oxbridge applications in Years 12 and 13. It is a calibrated, stimulating and collaborative programme built into the academic timetable, and it is designed to drive intellectual growth, promote original thinking and retain academic hunger.
Academic enrichment sessions span a wide range of topics including Archaeology, Engineering, Cryptography, Music and Art appreciation, logic problems, debating and much more. All academic scholars attend the programme, while other students with a zest for knowledge and intellectual exploration (as shown by their achievement and effort in class) may be invited to join the sessions.
Students who are aspiring to the most competitive universities are strongly urged to enter national essay competitions. Entries are co-ordinated by the Head of Scholars, and, in recent years, Woodbridge School has achieved an impressive series of successes in a range of subjects.
Learning support
Woodbridge School maintains a diligent learning support scheme to help students across the academic spectrum – from the highly gifted to those who need extra assistance in class. Our well-proven tutor system identifies each student's aptitudes and abilities, encouraging them to make the most of the opportunities offered through a personal development plan.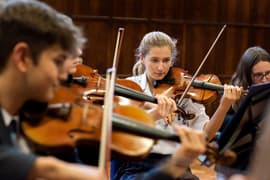 GCSE options
Students will typically take 10 GCSEs, but exactly which ones will be down to a number of factors. While many subjects are compulsory or highly recommended, there are opportunities for students to also play to their individual skills, talents or goals.
Sometimes, students have queries or difficulties making decisions over which subjects to study for GCSE. Teachers and learning support staff will be available to offer advice and indicate which courses may be most appropriate for individual students, and why.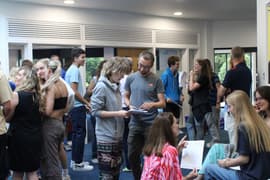 English Literature and Language
The Literature course will cover a variety of skills and texts including a twentieth century novel (for example 'Of Mice and Men'), a selection of poetry (ranging from Shakespeare's 'Sonnet 116' to Sujata Bhatt's 'Search for My Tongue'), and a modern play as well as one text from our literary heritage. The English Language course will extend your writing skills and teach you how to write for a different range of purposes and audiences.
Science
Studied as either all three separate subjects (Biology, Chemistry and Physics), or a Combined Science Trilogy course worth two GCSEs. Through practical and theoretical learning both forms will study Cell biology and Bioenergetics, Atomic structure and Quantitative chemistry and Energy and Forces amongst many other topics. Science can lead to myriad careers such as journalism, teaching, research and maybe even finding the next Pandemic cure.
Maths
Our Maths GCSE gives pupils a foundation in mathematical skills and develops their knowledge and understanding of how to use and apply mathematical techniques and concepts to solve problems. It includes content such as number, algebra, probability and shape and space as well as additional advanced topics such as calculus with real depth on functions and set theory.
Modern Languages
The key word at GCSE is authenticity; you will use language needed for real situations that you will encounter in the country under study, either on an exchange visit or beyond school. Practice in all four skills using topic specific material will hence be at the heart of every good language lesson. Lessons are varied and enjoyable, using a wide variety of resources and materials, with increasing emphasis on examination techniques as the course progresses.
History
You will debate concepts and ideas, learn to construct arguments in written and oral form and also how to share them in the most effective way. You will examine a wide range of sources, establishing what their meaning is and how valuable they are.  You will be invited to share your opinions, but must base them upon well selected and effectively deployed evidence that reflects a balanced approach to the issue and that leads ultimately to well-rounded judgements.
Geography
An ideal subject for developing a wide range of skills. You will learn how to research information from a range of sources and present it in a variety of ways both written and in diagrams. You will learn how to question, investigate, interpret and apply. You can develop experience of manipulating data, using statistical techniques, spreadsheets and graphic packages. Exciting field work will help you organise your own time, and work co-operating with others, supporting you in further study as well as in the world of work.
Business Studies
The syllabus looks to develop a knowledge and understanding of the business environment whilst developing skills such as numeracy and literacy in order to present and interpret information. The course will study the influences of marketing and finance as well as operations and human resources on business. Written exams test business knowledge, comprehension of business concepts, analysis and evaluation.
Religious Studies
Religious Studies develops analytical, critical and open-minded thinking across the spectrum of philosophy, ethics and beliefs. You will develop verbal and written reasoning, communication skills and mental agility. Your ability to converse with tact and understanding and inspire those who define themselves by their culture and beliefs is becoming an essential component of sensitive leadership and management, wherever you find yourself.
Latin & Greek
The new Latin GCSE provides an excellent mix of language, literature, archaeology and history and is excellent preparation for further study in a range of disciplines – literature, history, modern languages and linguistics. The rigour and skills developed in acquiring Latin provide a sound basis for careers in which the close reading and analysis of texts is a pre-requisite, such as law or the civil service. Greek is available as a separate subject and the course is similar to Latin.
Music
Music is a dynamic subject that has broad application in the 'real-world'. Musicians tend to be busy and organised people and many continue to play and sing throughout their lives whether professionally or as an amateur. Music develops your practical skills as well as helping you to build creative approaches to problems and situations. Along with the practical learning of an instrument you will learn how to listen in a detailed way to a variety of styles and genres and how to articulate your interpretations both orally and through written work.
Drama
The emphasis of this course is very much on practical exploration. All drama lessons are built around the 'Create, Perform, Evaluate' model, and you will be given the opportunity to explore different plays and devise your own work. The drama staff are there to guide and support you when preparing for the practical and written examination, and strive to make lessons as interactive as possible, embracing the kinaesthetic style of learning drama encourages.
Art, Craft and Design
During lessons you will be engaged with practical, creative work from the outset. New techniques are learned as well as ways of thinking and looking. Making and expressing your ideas are at the forefront of the course. You are supported to generate the body of work that best satisfies their own creative ambitions and passions and best meets the exam board assessment criteria. GCSE Art, Craft and Design is both challenging and rewarding; an opportunity to explore and define yourself creatively.
Computer Science
Computer scientists have an almost unparalleled opportunity to pursue careers in science, computing and mathematics, with the skills that the increasingly systems-driven world demands. You will study Systems architecture, network security, ethics within computing computational thinking and programming. Students are given the opportunity to undertake a programming task(s), either to a specification or to solve a problem (or problems), during their course of study.
Design
We offer both Graphic communications and 3D Design as separate courses. In a combination of portfolio work and externally set assignments students will learn to analyse and evaluate existing products, about artists, designers and architects, undertaking focused tasks to develop and demonstrate communication, modelling, and relevant processes and techniques. You will learn how to develop and refine ideas, and plan and produce prototype products and design concepts by using IT/CAD/CAM (computer-aided design and computer-aided manufacturing) in the design and manufacture of products and concepts.
Physical Education
The course has both theoretical and practical elements. You will study applied anatomy and physiology, use of data in sport sport psychology as well as practical performances in three different activities. GCSE Physical Education develops transferable skills that employers are looking for and can lead to a wide variety of employment opportunities in such areas as teaching, coaching, officiating, recreational management, leisure activities, the fitness industry and the Armed Forces.
Photography
GCSE photography is divided into two parts: the Personal Portfolio and an 'Externally Set Assignment' The Portfolio is almost entirely independently driven by the student, supported and structured by the teacher; however, Year 10 does start with two key areas of focus; in camera skills and post production. The creative arts are the most diverse field of employment that exists and good grades at GCSE can lead the way to an art A level.
Results and outcomes
Coming together to celebrate their results in School with teachers and classmates, students congratulate one another on excellent results and share their hopes, aspirations and plans for future pathways.
Their hard work and commitment will be recognised as they move onto the next step of their lives and studies.
Want to see for yourself?
In addition to our open days, we welcome visits from parents and children looking for the right foundation for life ahead. We'll be happy to show you around and answer any questions you have about our School, staff and the support we offer our students.
Set up for life
Want to book a visit or make an enquiry? Please get in touch.