Sixth Form: Young Enterprise
A chance for students to create a business of their own and learn all about the opportunities, processes and risks involved, the Young Enterprise competition is a truly invaluable experience. Every year, a team from Woodbridge Sixth Form comes up with a new enterprise and pits their business talent against teams from other schools regionally and nationally.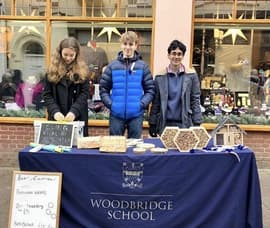 Ground-breaking ideas
Young Enterprise is a national business competition open to every school in the country. Their research found that students taking part had better prospects for future earnings and were more successful in their careers, and that Young Enterprise had a more positive impact on students' skills development than any other factors at school – including work experience, co-curricular activities and classroom activity. In a very challenging job market for under 25s, Young Enterprise is a 'must have' on the CV.
The programme involves setting up and running a business from September to June in Year 12. The students make all their own decisions, manage their meetings, appoint directors and sell their goods. This experience provides them with skills that will set them apart in the competitive environment beyond school. Their company will enter the Young Enterprise competition and compete with over 35,000 students nationally. Woodbridge School companies have reached the regional finals numerous times in recent years and the national finals twice in the last decade.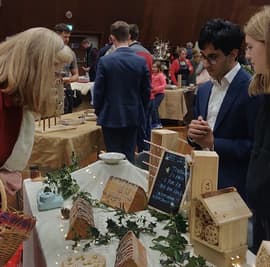 Regional and national finals
Competition within the Young Enterprise initiative can be intense. Learning how to identify opportunities in the market, research their target customers, evolve ideas from first sparks to fully-fledged concepts and then consider the methods and costs of production, distribution and marketing is just one side of the equation.
The team entering the Young Enterprise competition will also need to learn how to write a winning competition entry submission, create an eye-catching trade stand, present their products to an audience with flair and impress judges in a business interview. All of which will teach them innumerable lessons, build character, foster deep friendships and make their forthcoming university applications all the more impressive.
If this seems daunting, remember students will have a wealth of previous experience to draw on, and will be able to study past entries to examine where things went right and understand what pitfalls to avoid.
Want to see for yourself?
In addition to our open days, we welcome visits from parents and children looking for the right foundation for life ahead. We'll be happy to show you around and answer any questions you have about our School, staff and the support we offer our students.
Set up for life
Want to book a visit or make an enquiry? Please get in touch.