Skills for life
After their first year Cadets will have completed their basic training and they are then able to progress to the more advanced specialist service training tailoring it to their individual interest.
After gaining their advanced syllabus awards the senior cadets may become eligible for promotion within their relevant section and become instructors to the junior Cadets. Cadets are encouraged to attend Summer Camps, Adventure Training and the numerous courses run by the three parent services, all of which contribute to the overall development of the Cadet. Some of these courses provide an opportunity for foreign travel.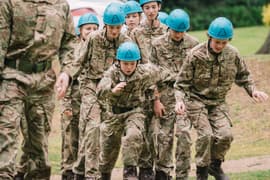 Activities
The wide variety of activities on offer include:
Cadet Leadership Course
Military Exercises
Initiative Tasks
Power Boating
Rock Climbing
Navigating
First Aid
Flying
Signals
Sailing
Cooking
Canoeing
Abseiling
Parachuting
Orienteering
Physical Training
Survival Techniques
Competition Shooting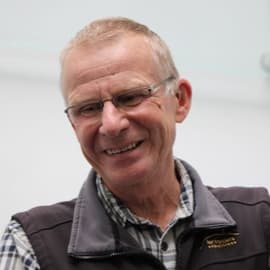 Meet the staff
Kevin Stollery
A former soldier having served 24 years in the 1st Battalion Royal Anglian Regiment, Kevin Stollery our School Staff Instructor (SSI) has served in Germany, USA, Canada, Norway, Australia, Belize and Bermuda.  Achieving the rank of Warrant Officer, he's also completed five tours of Northern Ireland and one in Bosnia.
Born and raised in Caple St Andrew in Suffolk, Kevin joined Woodbridge School 22 years ago in 1999, and alongside his SSI role is also Head of shooting, running the school's Rifle Club, Assistant Manager and Coach for Senior Games for the DofE, and tutor for Years 7 and 8.
Unsurprisingly Kevin has a keen interest in target rifle shooting, but also enjoys ball sports including football, cricket and rugby as well as running.  A dedicated sportsman, he's completed the Edinburgh Marathon and achieved a personal best of 3 hours 45 minutes in the London Marathon in the past, not only a personal achievement but a charitable one, running to raise money for the Army Benevolent Fund.
Want to see for yourself?
To arrange an appointment to view the school, request a prospectus or make any other enquiry, please click below.
Set up for life