Skills for life
The CCF offers life-changing experiences through a disciplined structure that enables students to develop powers of leadership by means of training that promotes responsibility, self-reliance, resourcefulness, endurance, perseverance, and a sense of service.
Based on the traditions, values, and standards of their parent services, the CCF provides challenging and enjoyable activities for students which enable them to develop fundamental life skills – helping improve self-confidence, preparing them for life and helping them reach their full potential at School and beyond.
Although non-compulsory, almost all students choose to participate as their Seckford Scheme activity; the Seckford Scheme is an integral part of School life on Friday afternoons, and academic lessons finish at lunchtime to enable students to challenge themselves in a non-academic environment. Current CCF numbers are well over 200.
The CCF follows a syllabus, much like any other subject in School, and students can join from Year 9, with an induction taking place towards the end of Year 8 during which students enjoy a taster session of each section, helping them to make their choice as to which section of join.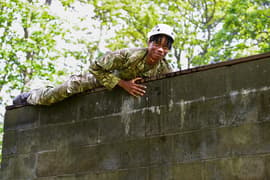 Training, courses and camps
The CCF syllabus also holds specific criteria that must be achieved and/or met in order for cadets to progress. After their first year, cadets will have completed their basic training and will then have the opportunity to progress to the more advanced specialist service training, tailoring it to their individual interests. After gaining their advanced syllabus award, senior cadets may become eligible for promotion within their relevant section and become instructors for the junior cadets.
Cadets are encouraged to attend summer camps, adventure training, and the numerous courses run by the three parent services, all of which contribute to the overall development of the cadet, with many of these courses providing the opportunity for foreign travel. There are also many opportunities for students to participate in sailing/motorboating/kayaking expeditions and courses, with yacht expeditions which have travelled to Scotland and Biscay and to undertake motorboat cruises to places such as the Channel Islands.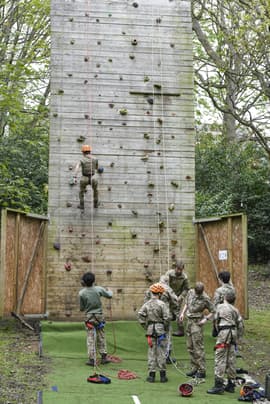 CCF Army camps and courses
Beckingham
Adventure training camp Capel Curig, North Wales
CCF RAF camps and courses
Inskip
Adventure training camp Capel Curig, North Wales
CCF Royal Navy camps and courses
Summer Camp at RHS
Band Camp
Adventure training camp Capel Curig, North Wales
Cadet Naval Wings Flying Course
Overnights
There are a number of opportunities to complete overnight training, camps and courses. Camps run throughout the summer holidays for each service and we also run our own adventure training camp in North Wales.
CCF Royal Navy overnights and camping
June: Local activity days and camping
October: Field Day, Portsmouth
CCF Army overnights and camping
June: Local activity days and camping
October: Field Exercise
CCF RAF overnights and camping
June: Base visit or field exercise, various locations
October: Field Exercise
All three CCF section syllabuses are closely linked with the Duke of Edinburgh's Award scheme and many of the activities cadets undertake can be useful in terms of skill and ability.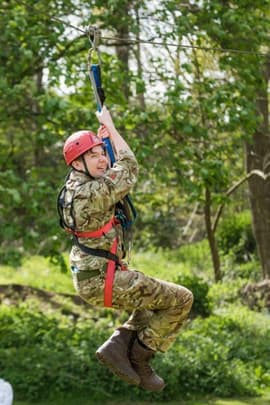 Activities
As part of CCF, students have access to a wide variety of activities and courses, including:
Cadet Leadership Courses
Military Exercises
Initiative Tasks
Power Boating
Rock Climbing
Navigating
First Aid
Flying/Gliding
Signals
Sailing/Canoeing/SUP
Cooking
Canoeing
Abseiling
Parachuting
Orienteering
Physical Training
Target Rifle
Low Ropes
Zip Wire
Paintball
Bush Craft
Trim Trial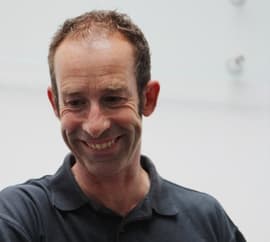 Meet the staff
Andy Garvie (Contingent Commander)
Our Contingent Commander, Andy Garvie, previously served 22 years in the 1st Battalion Royal Anglian Regiment. During this time, he worked in countries including North America, Canada, Australia and Croatia, and has taken part in expeditions to Morocco, Nepal and Peru. Andy has also completed an ascent of Mount Aconcagua in Argentina.
Alongside these impressive achievements, Andy also teaches games, mindfulness, is our GAP student co-ordinator, and a Year 7 and 8 tutor.
A keen bird watcher, Andy's biggest passion is fitness, particularly natural movement, so it will be no surprise to learn he's a keen cyclist, runner, and a qualified mountain leader, alongside being an L1 mountain bike leader and Pilates instructor.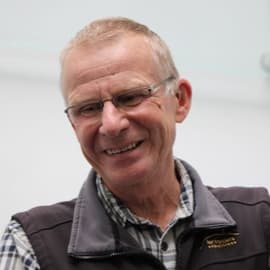 Kevin Stollery (School Staff Instructor)
A former soldier, having served 24 years in the 1st Battalion Royal Anglian Regiment, Kevin Stollery, our School Staff Instructor (SSI), has served in Germany, USA, Canada, Norway, Australia, Belize and Bermuda. Achieving the rank of Warrant Officer, he's also completed five tours of Northern Ireland and one in Bosnia.
Born and raised in Capel St Andrew in Suffolk, Kevin joined Woodbridge School in 1999, and alongside his SSI role is also Head of shooting, running the school's Rifle Club. He also helps with Duke of Edinburgh and senior games and is a tutor for Years 7 and 8.
Unsurprisingly Kevin has a keen interest in target rifle shooting, but also enjoys ball sports, including football, cricket and rugby, as well as running. A dedicated sportsman, he's completed the Edinburgh Marathon, and achieved a personal best of 3 hours 45 minutes in the London Marathon; this was not only a personal achievement but also a charitable one, as he ran to raise money for the Army Benevolent Fund.
The latest news
All of the latest CCF news from Woodbridge School.
Last Friday was our first Field Day of the year at School, and all students took part in a range…
Our traditional Field Day took place last Friday, with students taking part in various activities including Year 7's swinging through…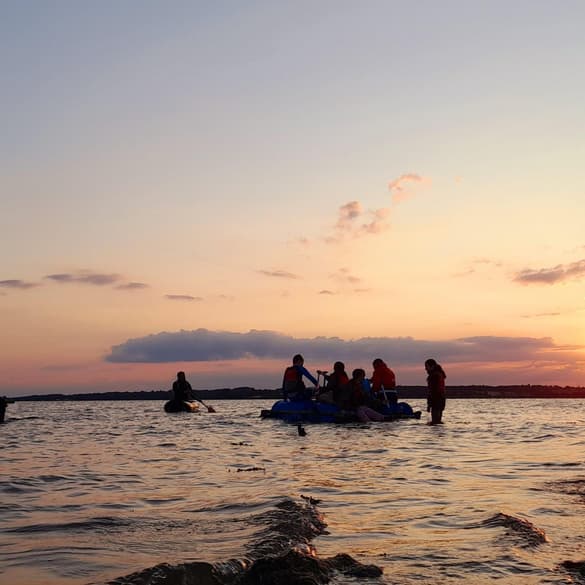 Last Friday, 5 May 2023, our annual CCF inspection took place with Miss Norman and our Senior Cadet, Year 13's…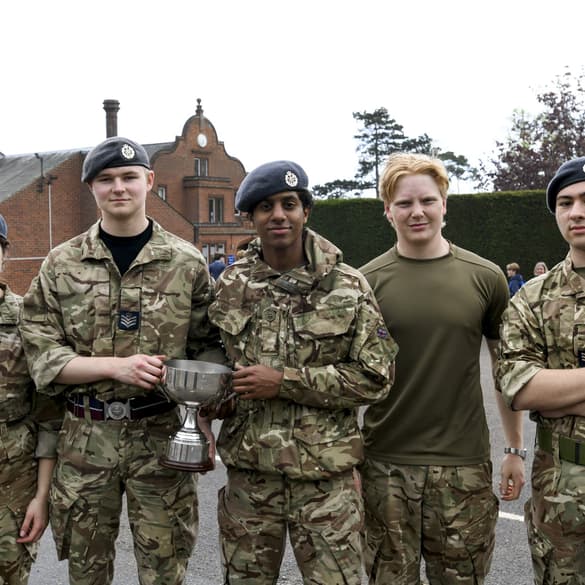 Responding to a request from the Army for cadets to assist with a Gold DofE award ceremony at Buckingham Palace,…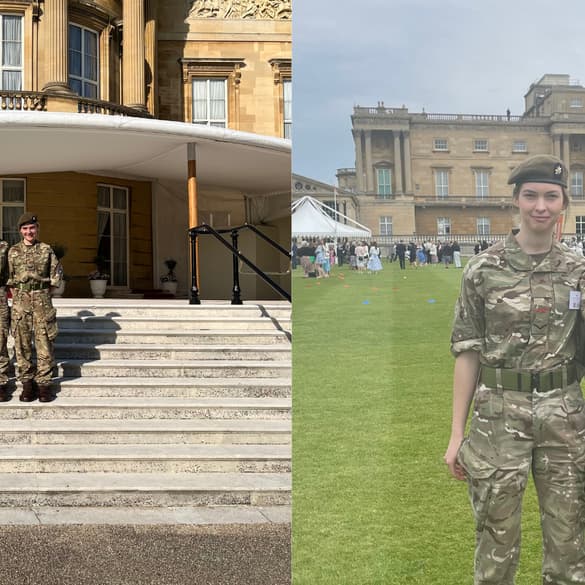 Want to see for yourself?
In addition to our open days, we welcome visits from parents and children looking for the right foundation for life ahead. We'll be happy to show you around and answer any questions you have about our School, staff and the support we offer our students.
Set up for life
Want to book a visit or make an enquiry? Please get in touch.