Woodbridge School Prep
We provide children of primary school age with a warm, stimulating environment, instilling them with a love of learning and a sense of fun and mutual support. Children get to develop new skills, grow in confidence and understand the fundamentals across a broad range of core subjects.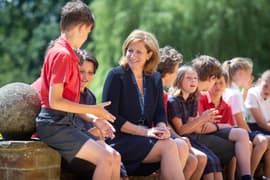 Welcome from our Head
Welcome to Woodbridge School Prep where the saying 'happy children learn best' is absolutely at the heart of what we do in an exceptional educational environment in which children from Year 3 through to Year 6 can flourish together and as individuals.
Working together as a family, with all the vibrancy, support and close community that brings, we work hard to ensure that those under our care are consistently encouraged to seek out adventure, rise to challenges, accept the value of mistakes and enjoy everyone's achievements.
Our School is a special place and I would be delighted to invite you to visit our community, and allow me to show you round so that you can see and feel for yourselves the atmosphere the children and staff create together.
Nicola Mitchell
Head, Woodbridge School Prep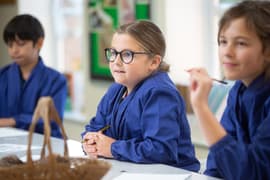 Day in the life
In addition to an engaging and inspiring programme of learning, a Prep School pupil's typical day might involve creative skills, music, team sports, forest school, engineering, food technology, mindfulness activities or one of the many clubs for hobbies and interests.
The sense of community and support around our School sets the perfect tone for our younger students to fully develop and thrive.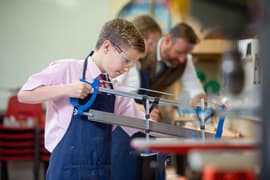 CLICK
CLICK stands for: Communication, Leadership, Initiative, Collaboration and Kindness – the set of positive characteristics that run through every activity at the Prep School.
Complementing the School's ethos and values, we celebrate, teach and use these attributes to help pupils develop learning habits and life-long skills in order to embrace all tasks and challenges with passion and determination.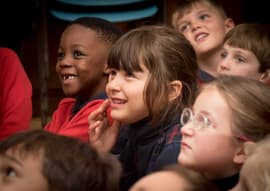 Learning
Prep School is where children get a firm grounding in the foundations of all core subjects before progressing to Senior School.
Whether maths, English, languages, history, the arts, wellbeing or more, our passionate teaching staff bring a sense of fun, engagement and enlightenment to every topic. Children finish their time at Prep School with a healthy, positive attitude to learning, excited to find out more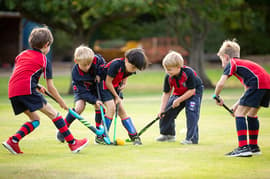 Sports
Sport is as huge a part of life at our Pre-Prep and Prep School as it is in the Senior School.
From regular lessons during which basic ability and understanding are taught, to the nurturing and development of specific sporting skills.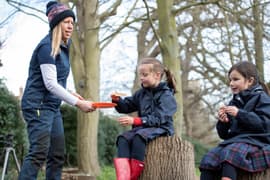 Beyond the classroom
At Woodbridge School Prep we embed opportunities for learning beyond the classroom into the curriculum on a regular basis.
Our extensive grounds are a huge 'outdoor classroom' hosting scientific exploration, mathematical adventure and environmental discovery as well as plentiful sporting and play space.
Our learning horizons encompass the rich geographical and historical treasures on the doorstep of the beautiful River Deben and bustling market town of Woodbridge, as well as day and residential educational visits across East Anglia.
Want to see for yourself?
In addition to our open days, we welcome visits from parents and children looking for the right foundation for life ahead. We'll be happy to show you around and answer any questions you have about our School, staff and the support we offer our students.
Set up for life
Want to book a visit or make an enquiry? Please get in touch.