Sport
In addition to an inspiring academic curriculum, Woodbridge students enjoy an enviable range of sporting activities with a focus both on the traditional and the new, and are able to play a variety of combinations, in line with preferences.
Continued investment in our facilities and resources also ensures students are able to enjoy and maximise their experiences and training. Facilities such as our state-of-the-art all-weather Astro turf pitch, developed floodlit tennis and netball courts, and our strength and conditioning gym alongside our beautifully maintained grass pitches and outstanding cricket squares, means students have access to the very best facilities and resources in School. Combined with our experienced, highly qualified, dedicated and passionate teachers and coaches, each student has every opportunity possible to gain a positive, fulfilling experience within Sport at Woodbridge School.
Our aim and focus for Sport at School is to create an environment in which everyone can enjoy themselves as well as thrive; developing a life-long love, understanding and appreciation of sport and physical activity. With all of this in mind, we have introduced an increased number of choices within the curriculum for students, allowing them to concentrate on their preferences, whilst still being challenged with new experiences.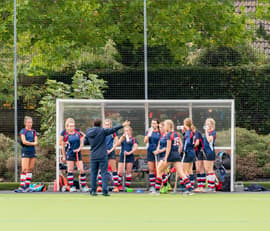 Coaching ethos
We look to use the power and influence of sport to develop each and every student as a whole, rather than just as a young sports man or woman. Receiving coaching for each different aspect of sports practice enables them to grow and compete to a very high level – if this is what they wish to do.
We encourage and support all of our students to participate in sports, identifying their preferences, skills and strengths – no matter what their ability. This enables them to gain and develop knowledge and understanding of physical health and the advantages of sport throughout their lives, not just at School.
Our team of dedicated, highly skilled and passionate teachers and coaches introduce students to technical development, tactical thinking, personal discipline, an understanding of team strengths and the ability to develop a true love and appreciation of sport and physical activity and an appreciation and understanding of the linked benefits to health. It is also our aim to ensure students enjoy taking part in sports.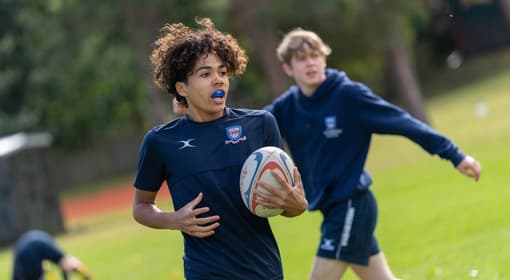 Rugby
Rugby is an integral part of our sports offering, and we fully support the value that it adds to many of our students. Rugby teaches physicality, skill, resilience and respect. Safety is of course of paramount importance and our highly qualified, experienced coaches take every step possible to ensure a safe, enjoyable and developmental environment for all those who want to play.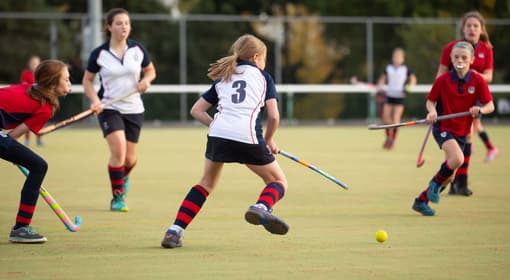 Hockey
Every student has the opportunity to develop their team play and skills to the max, both technical and specialist, no matter if they have played every day in the past or not at all. With a double-Olympian and former international and national league players on the coaching staff, students have gone onto play at county level and higher.
Football
An exciting addition to all other sports on offer at Woodbridge School, Football is available to all age groups for both boys and girls. Led and managed by former academy coaches and guests from the professional game, students receive high level technical and tactical development in group as well as individual settings.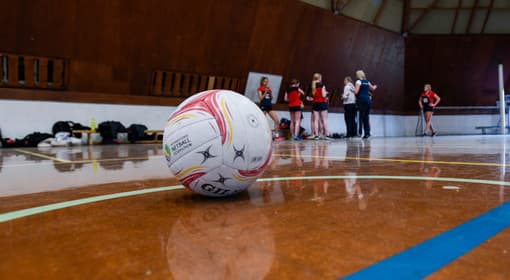 Netball
With a focus on development of skills and knowledge as well as officiating and coaching, students are supported by an ex-international player, coach and umpire. We focus on students as individuals, ensuring they enjoy playing the game as much as they do learning the skills. Students have gone on to play at county level and higher.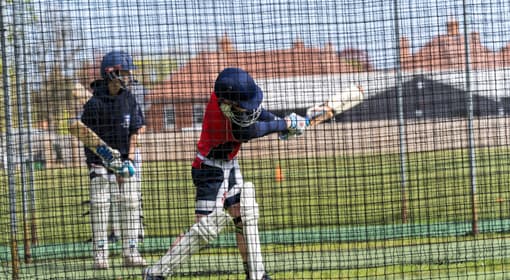 Cricket
The School's historic pavilion overlooks a beautifully-kept pitch and nets, where students play as well as receive year-round group and individual coaching from ex-internationals and prominent Suffolk coaches. We are extremely proud that we also have a number of students in School who currently play for County Cricket; both in boys' and girls' squads.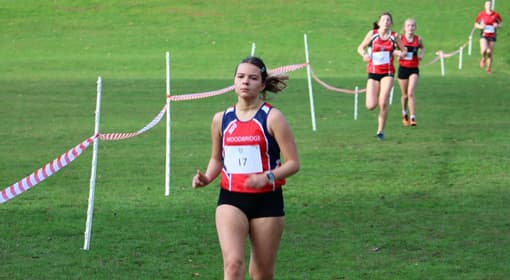 Cross Country
With success at county, regional and national events, as a School we compete with the very best endurance runners in England. Our esteemed coach, himself a former international runner, trains our running group to attain stamina and perseverance; to compete at the highest level. Cross Country appeals to every age and ability, supporting overall health and fitness.
Athletics
Students participate in many forms of Athletics at School; discovering new skills, developing techniques and enjoying friendly events as well as competitions. Motivation, hard work and coaching support have helped students to progress to both regional and national athletics finals, and become county and national champions. Students receive coaching by expert staff in various disciplines.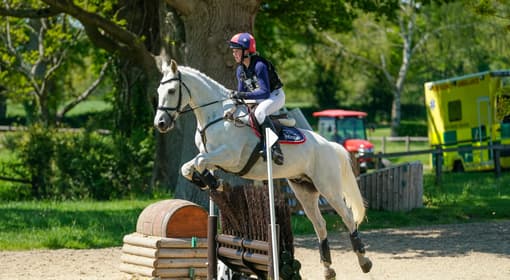 Equestrianism
Equestrian lessons and training are available for students who have experience of working with horses and riding, and are able to transport their own horse(s). Talented riders gain the skills to qualify and compete in national finals for Dressage, Jumping With Style, Eventers challenge and Show Jumping, as well as other major tournaments, and train weekly on a Tuesday evening.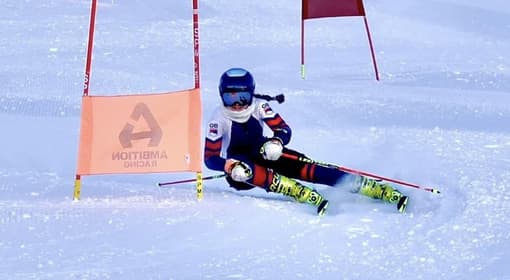 Skiing
Established skiers are offered well-managed trips, to superb skiing locations where they receive further training from some of the most experienced coaches in the field. They can also take part in weekly race training at the Suffolk Ski Centre, and also have the opportunity to represent the School in area and National competitions. The School is home to a number of highly accomplished skiers.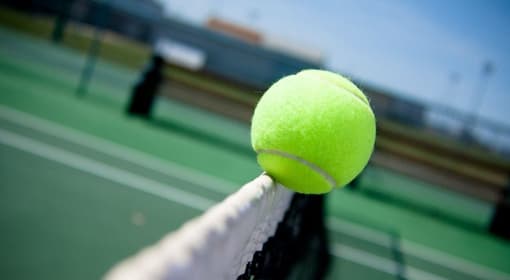 Tennis
With fabulous extended and floodlit tennis courts, students have the opportunity for individual tennis coaching throughout the year as well as team play during games lessons. Students represent the School in various competitions and events, as well as in our own championships which take place each summer. Tennis at Woodbridge School is open to all levels of play and skill.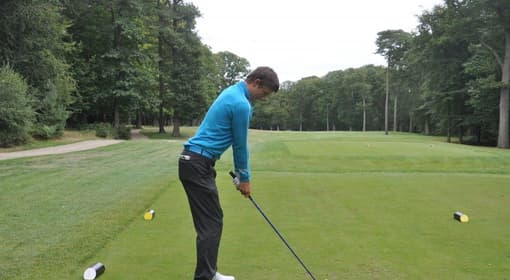 Golf
Offering coaching from PGA professionals as well as the opportunity to practice and play at local courses, Golf is a developing sport. For those who play regularly as well as beginners, we have access to Ufford Park offering an all-year-round driving range and course. Students compete in competitions throughout the year.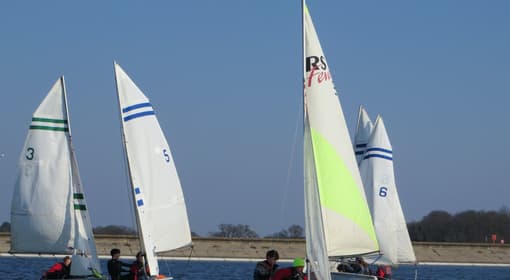 Sailing
Sailing is a games option offered to students from Year 9 upwards and is open to beginners as well as those with more experience and skills. With access to facilities at nearby Alton Water in Suffolk, which stretches across 400 acres, students spend time improving skills and techniques on the water, as well as working towards and achieving formal qualifications in the sport.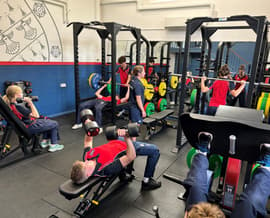 And there's more!
In addition to the above, we offer strength, conditioning and fitness training in our School gym, as well as the opportunity to take part in other sports such as basketball, badminton, volleyball, shooting and pilates in our co-curricular clubs.
"Leading, developing and inspiring sport at Woodbridge School means ensuring students are supported and given the opportunities and skills to make the absolute most of every challenge they are presented with – as individuals in terms of their personal physical development and as a School in terms of our community. We will continue to nurture and build partnerships with clubs and sporting individuals to help broaden and strengthen our sports experience and offering to students, as well as provide them with the chance to collaborate as a team, meet others, learn new skills and enjoy what they do ensuring they have a positive experience within sport at Woodbridge School."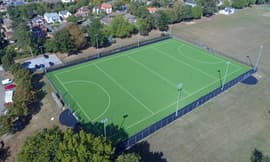 Sports facilities
Woodbridge students get to develop their individual talents and team skills in some of the finest facilities in the region.
To take a closer look at the School's top-class amenities, click through to our section dedicated to exploring the School.
Sports Leaders
From Year 11 students can choose to become Sports Leaders as part of our Seckford Scheme activities which take place on Friday afternoons. Learning and demonstrating important life skills such as organisation, planning, effective communication and teamwork through the medium of sports, Sports Leaders enjoy increased self-confidence from taking responsibility for their own and others' learning and enjoyment. Leading physical activities to nursery, primary and Year 7 and 8 children and students, Sports Leaders also work with older generations, planning and organising events, as well as supporting School events such as Open Day and Sports Days.
Sports Leaders work towards the nationally recognised Level 3 qualification, learning practical teaching and coaching skills, all of which are strong evidence that can be referenced when applying for work or university. Level 3 offers 16 UCAS tariff points, and at age 18 students can lead groups of people in sports and recreational activities unsupervised.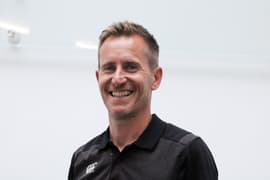 Meet the staff
Ralph Pruden (Head of Sport, Fitness and Health)
Having worked as a PE teacher all his career, Ralph's BSC Honors PGCE in Secondary PE from De Montfort University in Bedford enabled him to begin his career at Farlingaye as a PE teacher, before moving on to Cornard Middle School as Head of PE as well as Head of Year.
A Junior Rugby coach for Woodbridge Warriors, Ralph also managed Suffolk Schools Girls Football for a decade before becoming Women's Manager at Ipswich Town Football Club and being appointed as Head of Education there.
Having helped set up and integrate the relationship between the football club and the football programme at St Joseph's College, Ralph moved to direct football within the independent school based in Ipswich, where he developed and managed the school's football programme for students, including establishing the nationally recognised provision for girls.
Ralph joined Woodbridge School as Head of Sport, Fitness and Health looking to continue to improve, develop and evolve the sport offering in School.
Want to see for yourself?
In addition to our open days, we welcome visits from parents and children looking for the right foundation for life ahead. We'll be happy to show you around and answer any questions you have about our School, staff and the support we offer our students.
Set up for life
Want to book a visit or make an enquiry? Please get in touch.