Skills for life
A popular activity for ambitious students interested in learning more about how the UN operates, Woodbridge School is one of only a few that offer MUN as a co-curricular activity at Senior School. Offering the opportunity to develop leadership, problem solving, research and writing skills as well as increasing confidence and ability in public speaking, MUN also assists students with the development of skills that enable them to provide solutions that are acceptable to a majority of people; and as such includes skills in negotiation, conflict resolution and co-operation. Skills for life.
Students engage with the most urgent global issues, from environmental issues and climate change to new areas of discussion such as space exploration and social issues including human rights, LGBT rights, health and diseases. MUN doesn't simply focus on the developed world, but instead looks at the planet in its entirety.
The concept of MUN
The basic concept of MUN is simple, students are allocated a country (which is usually not their own country), tasked with researching in advance ahead of representing what is believed to be that country's views on specific subjects. From this, MUN members hold a series of lively debates and through this medium learn about and begin to understand more about important international issues. It's also an opportunity to learn more about reasoning behind decision which have impacted countries and communities to date, such as historical or religious reasons.
No experience is required, training will be provided. MUN suits busy students very well, especially should students hold a tenacity for being organised and getting things done! Research is a bit part of MUN and the more research conducted, the more benefits can be found, particularly at conferences.
MUN conferences
MUN is a popular activity for those wishing to learn more about how the UN operates; many of today's leaders in law, government, business and the arts, including the UN itself, participated in MUN as students. Guides and workshops, provided by the UN itself, teach students about making accurate simulations; by visiting conferences and sharing first-hand knowledge of and about the UN students not only learn but are encouraged to take real action to support UN values.
The earliest known MUN conference took place at the UN in Geneva in 1953, shortly after the Second World War. Its mission was to ensure that the youth of the day did not make the same political mistakes as their ancestors! Today, as we grapple with serious problems such as wars, climate change, human rights abuses, terrorism and rising debt, MUN is more relevant than ever.
Learning how to manage the world
There are huge benefits to participating in Model United Nations; here are just a few:
Citizenship – interactive learning about global issues and democratic systems
Experience – the opportunity to specialise in either economic, environmental, human rights, health or international security issues
Public Speaking – honing your confidence and debating skills
Tolerance and Compromise – learning to see things from others' perspectives
Personal Skills – informal lobbying as well as formal speaking
Leadership Skills – experienced pupils can take a leading role.
No experience is necessary – you'll receive training along the way! The more research you do, the more you will get out of the conferences.
Particularly relevant for students in their last two years of Senior School, universities value MUN extremely highly when considering applications; however students of all ages are encouraged to join and learn – participants can take part in a series of different MUN conferences which can begin in any year at School.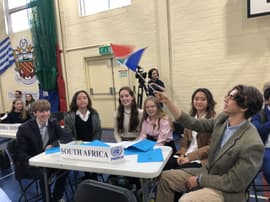 It's debateable
You can expect to have lots of fun while arguing the points made by villain states as well as those that 'play by the rules'. It's a license to not be politically correct in many ways, as students are expected to take the view and standpoint of countries which they may themselves not agree with personally and it's a real chance to learn more about human rights issues around the globe.
It's always lively and exciting and students debate in exactly the same style as those who would be doing so in UN assemblies and committees. Students are expected to provide researched debating arguments for and against different scenarios and situations, as well as listen to their opponents. Taking different perspectives and understanding viewpoints that students might normally not share at all, MUN provides many of the skills needed in School, at university and beyond.
From engaging with newspaper articles and websites in a way students might not otherwise, MUN also encourages development of not only academic, but also intellectual skills.
The latest news
All of the latest MUN news from Woodbridge School.
Students were at the MUN Manchester conference last Friday and Saturday, which took place at Cheadle Hulme School. Two of…
The inaugural meeting of the Model United Nations (MUN) club was held on Tuesday. The debate commenced with a notably…
On Sunday 26 and Monday 27 February, Year 8's Maxim, Year 9's Bea S and Jack, Year 11's Martha, Skyla,…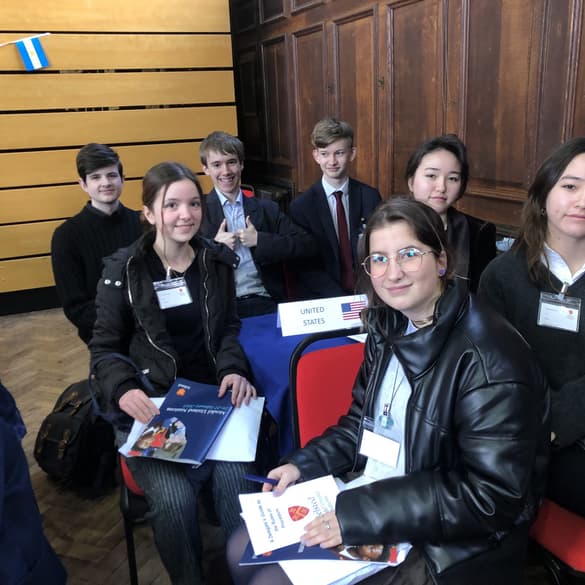 Our Woodbridge School MUN Society travelled to RHS for the ROYMUN conference last weekend. Year 12's Kitt reported on the…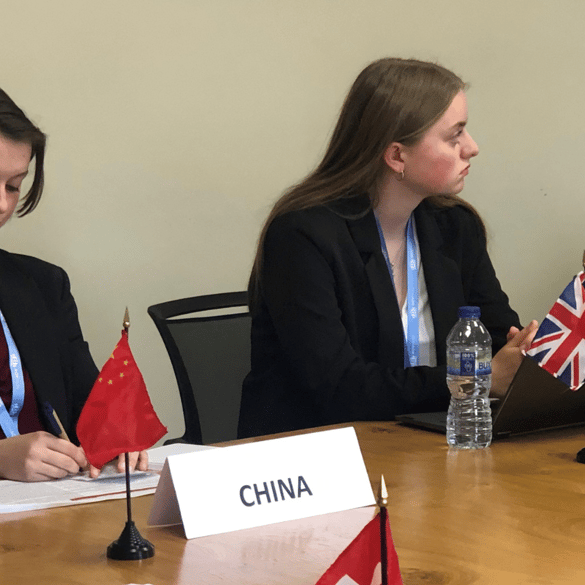 Want to see for yourself?
In addition to our open days, we welcome visits from parents and children looking for the right foundation for life ahead. We'll be happy to show you around and answer any questions you have about our School, staff and the support we offer our students.
Set up for life
Want to book a visit or make an enquiry? Please get in touch.