Results and destinations
Every year, Woodbridge Sixth Formers celebrate their achievements together and look forward to a rich variety of bright futures. Seeing how their results open doors to the next stages of their lives is possibly the most rewarding part of our role at the School, and we're proud of every single one of our students. Learn more about recent results below.
Exam results
Despite the pandemic, last year saw another improvement on the previous year.
2021 A Level Grades
Out of 67 A Level students:
33% A*
65% A*-A
87% A*-B
95% A*-C
Most common grade was A*, followed by A.
Ten pupils scored straight A* grades (out of 67 in the year)
39% of the year group scored straight A grades. (26/67)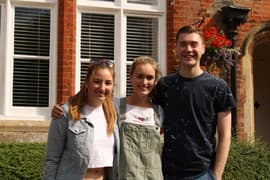 2021 Case Studies
You can read about some of the student stories behind our 2021 A Level results in our case studies, available to view online or download.
Go for what you want to do, rather than what you're good at or advised to do. If you're actually interested in the subjects then it makes the workload easier and your determination to succeed is stronger.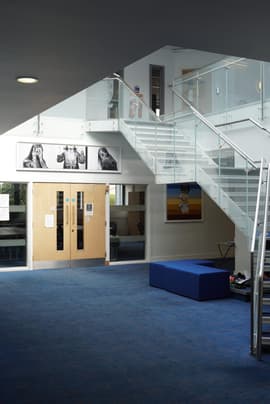 Students' destinations upon leaving Sixth Form
The variety of leavers' university destinations reflects the wide interests and talents of the Sixth Form.  56% of our 2021 leavers are headed for Russell Group universities, including Cambridge, Edinburgh, Nottingham, Birmingham, UCL, Newcastle and Durham.
STEM subjects are particularly popular university choices amongst Woodbridge's leavers, reflecting the strength of STEM teaching at the School. The entire breadth of subjects are also very well represented, with students going on to study subjects as wide ranging as Law, Aerospace Engineering, Medicine, Anthropology and French, 2D Animation and Stop Motion, Education with Psychology, Natural Sciences and Architecture..
With careers and university advice and seemingly limitless information on GAP years, the higher education evening held in January for Year 12 always whets the appetite for life beyond School.
University destinations and course choices information for our 2021 leavers is available below.
A note about league tables
Woodbridge is one of 68 leading independent schools who do not submit results to league tables. There are many reasons for this:
League tables encourage the deselection of young people at key points in their education.
Woodbridge believes in opportunity for all.
League tables award the same points for all subjects. Mathematics, the sciences, modern foreign languages, which many of our candidates study, are up to two grades more difficult than media studies, health and social science.
League tables encourage schools to force feed pupils an unnecessary number of A levels to boost a school's points score. There are very few university courses that ask for four A levels, and none that count general studies.
Our results speak for themselves and speak to our sense of inclusivity and excellence across the entire experience at the School.
Get in touch
To arrange an appointment to view the school, request a prospectus or make any other enquiry, please click below.
Set up for life
Want to book a visit, make an enquiry? Please feel free to get in touch
Sign up to receive the latest news and events in the Woodbridgian Weekly