Sixth Form: Results and Destinations
Every year, Woodbridge Sixth Formers celebrate their achievements together and look forward to a rich variety of bright futures. Their results open doors to the next exciting stage of their lives. Learn more about recent results and destinations below.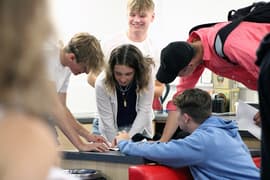 2023 A level results
The breakdown below represents grades achieved in terms of percentages:
21% A*
49% A*- A
70% A*- B
88% A* – C
Almost half (49%) of all grades achieved are A*- A.
One third of students achieved AAA or better.
More than half of students achieved an equivalent UCAS points score to AAB or better.
95% of students are already placed at their choices of university.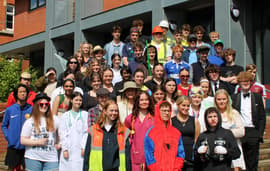 Case studies
You can hear more about and from our students, the journey's they've taken to achieve their A Level results, why they chose to study at Woodbridge and their university choices and offers, in our selection of case studies.
I was really well supported at Woodbridge, the teachers prepared us all really well and there was always someone available to support or help – both subject teachers and staff from the Sixth Form team.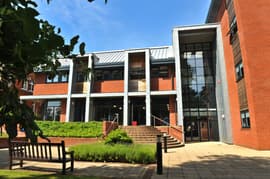 2023 leavers' destinations
The variety of leavers' university destinations reflects the wide interests and talents of our Sixth Form students. 44% of our students are heading off to study at a top 50 university, and 45% are going on to study at a top 20 university, including the University of Warwick, University of Exeter, and University of Bath. Three students who completed A levels at Woodbridge School are going on to study at the University of Cambridge.
Social Science subjects were popular university choices amongst Woodbridge Sixth Form leavers, as well as STEM; reflecting the strength of teaching in both areas. The entire breadth of subjects is also very well represented, with students going on to study subjects as wide ranging as Filmmaking, Marine Biology and Oceanography, Creative and Professional Writing, Law and Medicine.
Want to see for yourself?
In addition to our open days, we welcome visits from parents and children looking for the right foundation for life ahead. We'll be happy to show you around and answer any questions you have about our School, staff and the support we offer our students.
Set up for life
Want to book a visit or make an enquiry? Please get in touch.