Woodbridge School Pre‑Prep
A caring, lively, inspirational introduction to our School environment for children aged 4+. Our staff bring a sense of energy, fun and wonder to our youngest pupils and invest in them a true love of learning that will stand them in good stead for the years to come.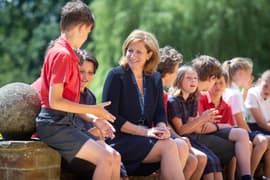 Welcome from our Head
Welcome to Woodbridge School Pre-Prep where the saying 'happy children learn best' is absolutely at the heart of what we do in an exceptional educational environment for children coming into Reception, Year 1 and Year 2; a place where children can flourish together and as individuals.
Understanding the extraordinary trust placed upon us to provide your child's first experience of school, as well as a safe, nurturing environment, children's happiness is at the core of everything we do. Working together as a family, with all the vibrancy, support and close community that brings, we work hard to ensure that those under our care are consistently encouraged to seek out adventure, rise to challenges, accept the value of mistakes and enjoy their and others' achievements.
Our School is a special place and I would be delighted to invite you to visit our community, and allow me to show you round so that you can see and feel for yourselves the atmosphere the children and staff create together.
Nicola Mitchell
Head, Woodbridge School Prep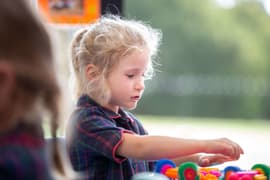 Day in the life
Woodbridge School Pre-Prep is a family with all the vibrancy, support and close community that follows. A place where children can feel safe in an atmosphere of kindness and shared experiences. During their time with us, your children will develop confidence in the value of their own natural curiosity and discover a passion for learning – attributes that are vital to success and happiness in our modern world. Our 'learning creatures' support each child's development through play and a deeper understanding of self; Busy Bee, Independent Iguana, Curious Crab and Teamwork Turtle help the children reflect on their learning.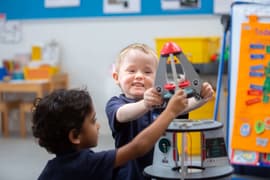 Learning
The Pre-Prep provides an exceptional environment where each individual child is able to flourish. As much about introducing children to school life and presenting a positive image of learning as it is about educational progress, their time here will be filled with new skills, insights and memorable experiences.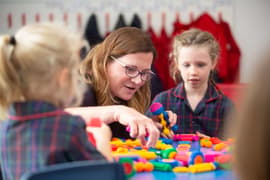 Beyond the classroom
Children are able to experience an exciting range of co-curricular activities and new interests from a young age, building their confidence and happiness. Many of these are integral to the School day, but children can further develop their love of particular activities – from music to gardening, chess and more – through a wide variety of after-school clubs.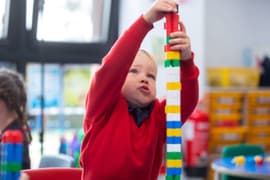 Communication with parents
When children first start at the School, we provide an information evening where we show parents our day-to-day learning approaches, which they can use to support their child at home. There are formal Parents' Evenings each term where parents receive a 'My Life at Woodbridge School Prep' short report, providing an opportunity for teachers, children and parents to reflect on the term's learning. On a day-to-day basis, parents can speak to teachers at either end of the School day and are welcome to visit the classroom with their child after School.
When I reflected on how remarkably happy, engaged and settled she has been throughout her schooling… It is a testament to the excellent provision, support and dedication of the School and staff.
Want to see for yourself?
In addition to our open days, we welcome visits from parents and children looking for the right foundation for life ahead. We'll be happy to show you around and answer any questions you have about our School, staff and the support we offer our students.
Set up for life
Want to book a visit or make an enquiry? Please get in touch.