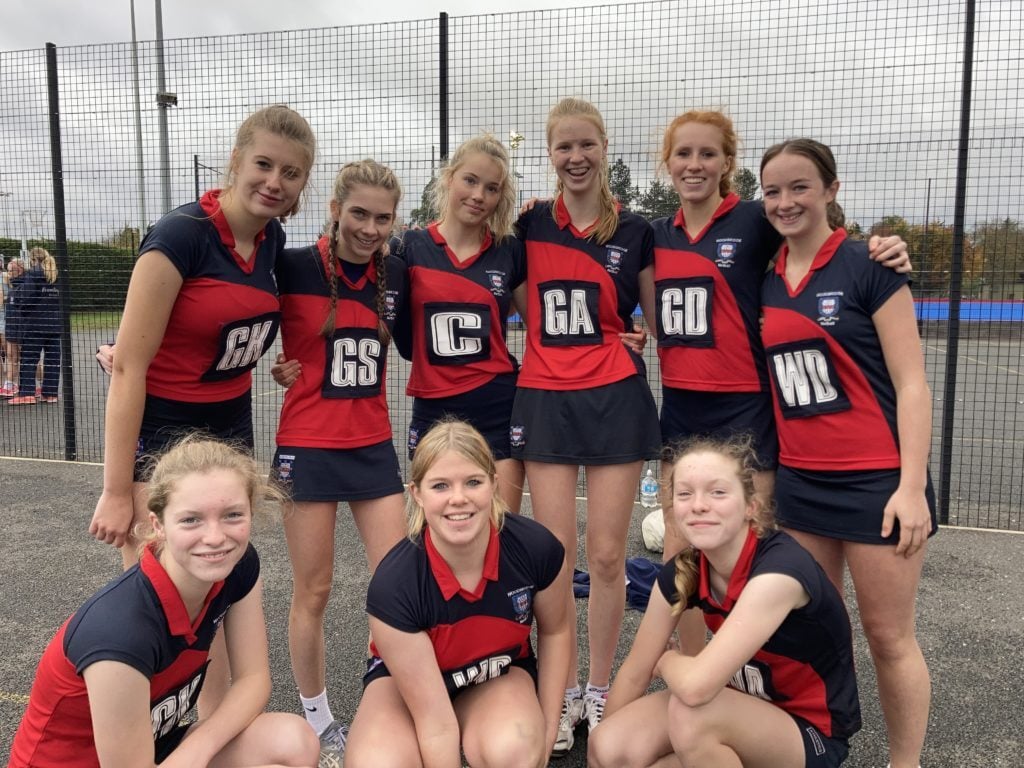 Competing in the County Round of the National Schools England Netball Competition last weekend, the U14 and U16 teams did themselves, their coaches and their School extremely proud by qualifying for the Regionals due to take place 29 January 2022.
The U16 squad were drawn against Ipswich School, KES and Aldevalley in their pool, but unfortunately KES had to withdraw due to Covid, meaning there were two tough games ahead! Playing well against Ipswich by matching them goal-for-goal the team was unfortunate in that the opposition managed to pull ahead taking a 5-12 victory. Digging deep and showing some real resilience meant the team followed this with a 15-5 victory over Aldevalley, meaning the next match was against Stowmarket in the semi finals.
Knowing that all that was needed was a win to gain qualification the match began. Stowmarket were tough competitors and gave us a great game, but we pulled through as victors with an 18 – 9 win. The final came and we saw the team really getting into their stride and putting up a great fight against Ipswich, and although the match was won by our opponents 10-14, we still qualified to go through!
An excellent performance was given by our U14 squad during their first game against Framlingham College, taking an 11-2 win. That standard of play and determination shone through in other much tighter matches which enabled the team to remain undefeated as they won against Culford 5-3, against Finborough 6-5 and Stowmarket 9-2 in the semis, qualifying for the final.
Playing against a very strong Ipswich School team with some of its players having a significant height advantage at both ends of the court. Initially finding it hard to gain their rhythm, Woodbridge found themselves down 9-1 by half time. But a second half victory was won, and although a defeat at the end, the side qualified!
The weekend saw fantastic achievement from all who took part, and Woodbridge can be especially proud since never before have two teams qualified in this round. Huge well done and thank you to all the supporters who came along.
In other netball news the U13 team won the South Suffolk league tournament, having travelled to Rushmere on Monday afternoon to play in the festival. Although the team hadn't had much opportunity to play together ahead of these matches, the girls played out their skills superbly across the afternoon – against some great opposition.
First up were East Bergholt and an early lead demonstrated our dominance in defence beautifully from Lyrah (Y8), Scarlett (Y8) and Bea (Y8) with Lily (Y8) and Charlie (Y8) attacking well while Eloise (Y8) and Millie (Y8) delivered some outstanding shooting to win 5-1. It was on to Farlingaye next where the team faced many familiar players but it's safe to say they left their friendships on the gate, and some great play from Margot (Y8) and Aurelia (Y8) saw them go on to win 13-10.
St Jos were next where the team were certainly challenged despite dominating areas of play. Thanks to some great shooting from Eloise (Y8) and Millie (Y8) and fantastic link-up play down the court, Woodbridge came out on top winning the match 10-8. Down to the final match of the event Woodbridge continued to demonstrate dominance, winning 9-0 against Ipswich High School.
Congratulations to all who competed and played, to Mrs Pilkington for all her encouragement, to the organisers and last but no means least to the support who turned up despite the cold weather to keep the teams motivated.