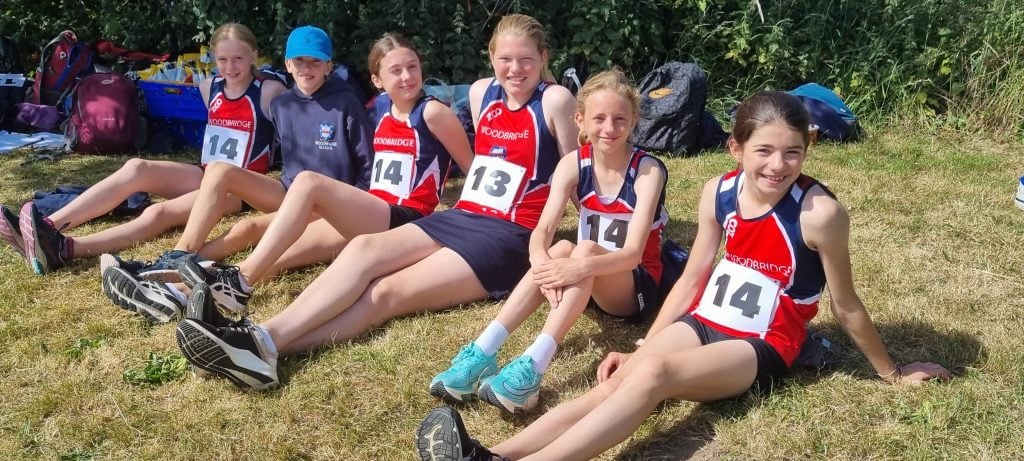 School athletes travelled to the Bedford International Athletic Stadium last Friday for the East Area Prep School Athletics Championships, and to the English Schools Athletics Track and Field Cup Regional Round East Anglia on Thursday.  You can read more about it in our reports from Head of Athletics, Mrs Scahill.
East Area Prep School Championships
Everyone was up early to travel to Bedford for the East Area Prep School Championships last Friday; 32 of our Year 7 and 8 students had achieved qualifying times and distances to compete against athletes from 50 other schools in the East region hoping to gain a place in the National finals at Nuneaton on Monday 4 July.
It was a sunny day and team spirits were high as the competitors enjoyed a great day with many personal bests and the majority of athletes coming in the top ten for their event. Huw won the shot, Romilly came second in the 800m and Jasper second in the 1500m to qualify for the Nationals.
Third placed athletes who just missed out on qualification were Felicity 1500m, Oscar javelin, Amelie discus and Eloise long jump.
Thank you to the staff helping and parents supporting and a very big well done to all the athletes who gave maximum effort and were a great credit to Woodbridge School.
Athletics English Schools Athletics Track and Field Cup Regional Round East Anglia
Both the Inter and Junior girls teams qualified for the Regional Finals of the Athletics Track and Field Cup to compete against teams from Cambridgeshire, Essex and Norfolk. A team of twelve/fourteen students have to cover all events between them, doing two events each (one track one field) scoring points for their distances and times. Juniors is Year 7 and 8 and Inters is Year 9 and 10.
An early start saw the teams off to Grays in Essex on Wednesday 15 June 2022. The Intermediate girls were slightly depleted with two team members missing however this didn't deter the rest of them, they showed great tenacity and competed to their best on what turned out to be a very hot day!
It was a mixture of results with personal bests and some scoring more points than in qualification, and some less. Year 10's Nancy was again the top scorer of the team with 47 points followed by Year 9's Ella and Year 7's Georgia with 29, and Year 9's Lilianna with 24. Their overall team position was 11th.
The Junior girls, with a full team, had more success and came 6th out of 12 teams. Top scorer for an individual event was Year 8's Charlie with 26 points in the 1500m. Top scorers for two events were Year 7's Romilly and Felicity with 41 points for 800m and relay. Not far behind were Year 7's Eloise and Lyrah, with 36 and 32 respectively.
Well done to everyone that took part, and to both teams competing on a hot day – and during exams.