Year 13's Nathaniel is celebrating being awarded a Choral Scholarship at Queens' College, Cambridge – one of only a handful students this year to have done so.
Nathaniel, from Kesgrave, will be starting at Queens' College in September 2021, to read Biological Natural Sciences, joining the world-renowned Chapel Choir on a Choral Scholarship under Ralph Allwood MBE, Fellow Commoner advising in Music at Queens' College.
Nathaniel has been having singing lessons at Woodbridge School since Year 7 – although he has been part of a performing arts company from the age of six. His favourite choral pieces are mostly modern, such as those by Eric Whitacre and Rihards Dubra – although his personal favourite is 'Håll Mig Kvar' ('Hold Me Fast' in Swedish) by Malin Gavelin. He also enjoys singing spirituals and carols, and – as a soloist – likes German Lieder by Brahms and Wolf, and English Art Song, by composers like Quilter, Finzi and Dring.
Nathaniel says of his achievement:
"Woodbridge School is what really started my singing journey, as I had never had proper lessons before coming here, and all the various singing ensembles, such as Chamber Choir and Chorum, have helped me to gain the experience to join larger, national choirs, such as the National Youth Training Choir and Rodolfus Choir. Much of the credit must go to Miss Weston, my singing teacher at the School, for all the hard work that she puts in.
"What I love most is singing in small groups and close harmony works, so that you can hear and feel the dissonances and extended chords in the music, which creates a lot of tension. We have also had the opportunity to perform in world-renowned venues, such as Snape Maltings, Ely Cathedral and Cologne Cathedral, which is amazing!
"Coincidentally, the Director of the Rodolfus Choir, Ralph Allwood MBE, is also the conductor of Queens' College Chapel Choir, where I will be singing come October, through my Choral Scholarship, and I am so excited!"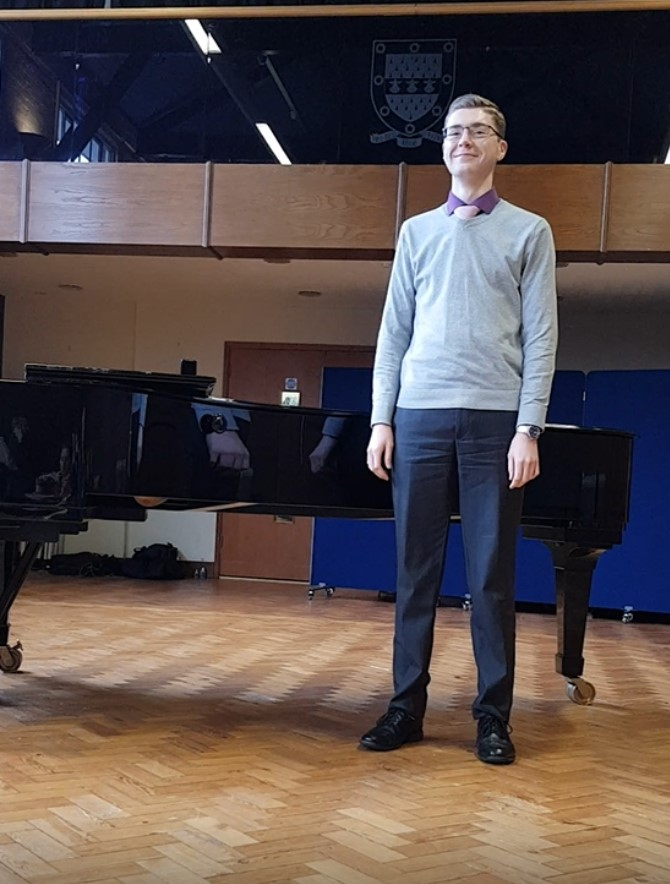 Nathaniel is also thrilled to be going to Cambridge to study Biological Natural Sciences, which he describes as "The perfect course for me, with ample laboratory time, interesting modules and the ability not to have to specialise until the Third Year because, as of yet, I still have little idea of what I want to study, ultimately, let alone pursue as a career."
Emma Kent, Director of Music at Woodbridge School, said:
"We are so proud and excited for Nathaniel. He is a credit to himself, his parents, Miss Weston – his singing teacher, and the Music Department. I know that he will relish this brilliant opportunity and wish him a heartfelt well done, from all of the Music Department!
"This is only the second time in my career that someone has achieved a Choral Scholarship to Cambridge – many have tried, but only a handful are chosen – and Nathaniel's tremendous achievement is a real tribute to Miss Weston and her work with the choirs here."
Anne Wright, Oxbridge Co-ordinator at Woodbridge School, added:
"I am delighted that Nathaniel has crowned his offer of a place to read Natural Sciences with a Choral Scholarship. He is an extremely talented musician and has contributed enormously to the musical life of the School, since he joined. I look forward to hearing him sing Evensong at Queens'!"
Nathaniel is also very excited to be performing as the soloist with the Woodbridge School Symphony Orchestra at its Gala Concert this Summer, playing Philip Glass' Violin Concerto No. 1.
"It is a challenging work, with endless amounts of very fast notes – which are going to take a lot of practice – but it is fun to play and hopefully it should go well and expose people to a style of music played less often at the School – 'Minimalism'."
Photo caption: Pictured, Year 13's Nathaniel with the National Youth Training Choir (centre, second row). [Credit: WOODBRIDGE SCHOOL]