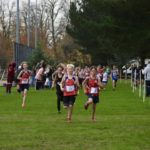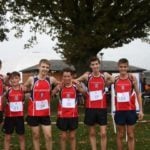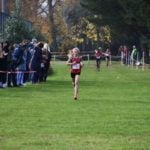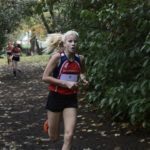 Last Saturday, Woodbridge School had the privilege of hosting the Regional round of the England Schools' Cross Country Cup. The Cross Country Cup is a prestigious England Schools' team competition in its 38th year, where teams of six from Year 7 and 8 compete for honours in the Junior Category and teams from a combined Year 9 and 10 compete in the Inter Category.  Any of the 8000 senior schools in England can enter the competition which has three rounds, County, Regional and National. Only the top 27 schools in England, three from each of 9 Regions, qualify to compete at the Nationals. Woodbridge School had all 4 teams competing in the Regionals on Saturday, after they had qualified in the County round. And what a proud day it proved to be, where all of our athletes raced to form, with some outstanding individual performances and some fantastic team news.
Looking at individual highlights first :
In the junior girls Ruby V picked up where she left off last year storming to victory in the first race of the day. Well done Ruby!  In the inter girls April H finished a strong third behind two young ladies who were 5th and 10th at the England Schools' Cross Country in March. Such was the standard of competition. Saving the best for last, our inter boys were outstanding at the front of the race with Woodbridge vests filling 2nd 3rd and 4th, with Charlie T followed home by George W and Kit E L respectively. Ultimately of course this is about the team and our junior teams both performed as well as we had hoped, with both the boys and girls teams finishing a credible 8th.  Our inter girls fought for every place and were justly awarded third place to gain their ticket to the finals.  And our inter boys closed their scoring with Henry D in 14th and were therefore well deserved winners on the day against the very best of Suffolk and Essex. An amazing achievement by these young men. You may well be aware that Woodbridge School is hosting the National Final of this event on Saturday 24 November. Many of the best school athletes in the country will be in Woodbridge to compete for team honours, and it will be an incredible spectacle not to be missed. How wonderful, therefore, to have two of our very own teams on the start line.
Full results from our excellent athletes on Saturday:
Junior Girls - 1st Ruby V, 26th Eloise R, 40th Issie M, 43rd Sophia W, 47th Millie J, Nancy A unfortunately had to pull up with an injury Junior Boys - 30th Jonny E L, 31st James H, 37th Edward B, 41st Moses M, 47th Jonjo W, 61st Ethan R Inter Girls - 3rd April H, 14th Molly M, 20th Jess E, 21st Bea T, 25th Amy G, 27th Anna J Inter Boys - 2nd Charlie T, 3rd George W, 4th Kit E L, 14th Henry D, 32nd Edward R, 34th Tom T. Well done to everyone that competed and many, many thanks to the Grounds Staff for all of their meticulous preparation, and to parents, staff and students, all of whom helped make the event a successful day.