Half term was sandwiched between two more busy weeks of girls' hockey matches; there was lots to celebrate and learn as well as some really special team moments. Read more about the matches and players in our reports from Mrs Rix, Head of Hockey and Tennis.
Woodbridge U15A vs. Langley – Independent Schools Plate Match
The U15A started the week leading into half term off with a top performance against Langley in their Independent Schools Plate match. After a bit of a journey to Langley the girls were up for this game after falling foul to not being awake after a long journey before! We went ahead and played some great hockey with support at the far post when shooting on goal and thinking about our deflections. Year 10's Lily and Eloise scored two good team goals. Langley were strong opposition but we managed to cut out their attack through great defending, with Freya communicating well to the players in front of her. A fab game and although there are things to work on, such as being more inventive in out attack, we are getting there. Well done girls!
Woodbridge Senior Teams vs Langley
On the last Tuesday of half term all three Senior teams took the pitch in home and away matches. What a great day having 55 senior students playing hockey for Woodbridge School!
The first team had their best performance of the season, with excellent build up play, good connections, feeding the forwards and making chances. Our defenders also had to be at their best again to not allow Langley to convert periods of pressure. Woodbridge ended up quite frustrated and unlucky not to score, being denied by the Langley GK. One such telling save came diving to the right keeping out a perfect reverse stick strike from Year 12's Charlotte. Congratulations to player of the match, Year 11's Lara who was an attacking threat in every position.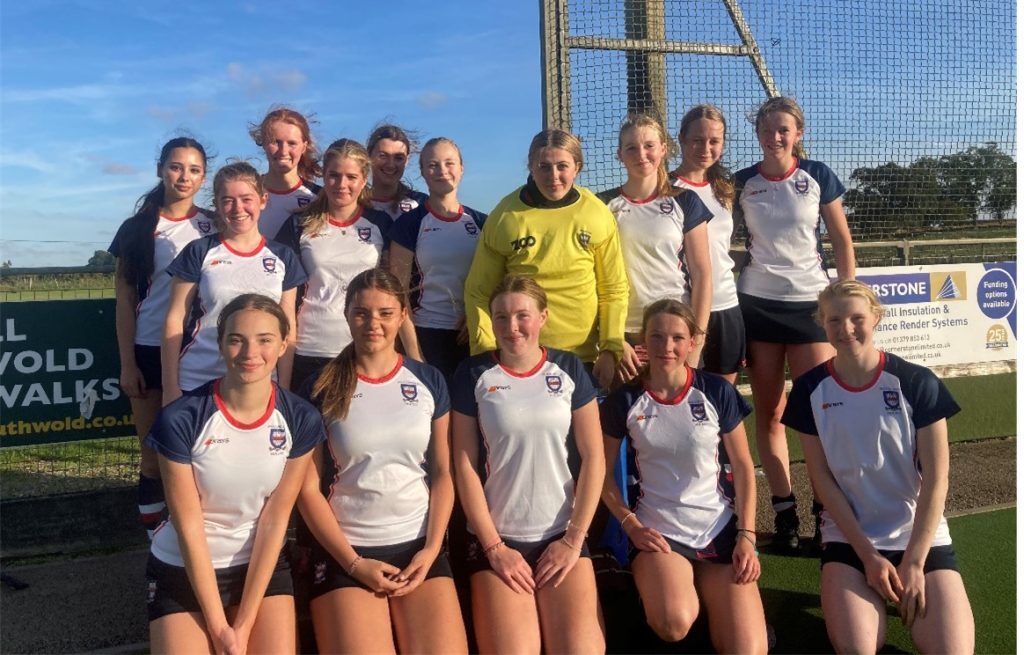 The second team also had a very successful day, proving too strong for their Langley opponents. After taking an early lead in the first half, there was no looking back. Goals were scored by Year 11's Nancy and Libby, and Year 12's Phoebe.
The third team hosted Royal Hospital School in their second match of the season, but with a crucial position missing – the curse of the missing goalkeeper! A fine display from Woodbridge but unfortunately without a goalkeeper the game was taken away from us. A first half that saw Woodbridge defending for long periods and keeping the hungry RHS attackers out, the floodgates opened and RHS scored three unanswered goals After a rousing team talk at half time a different Woodbridge team took the field with attacking prowess from Year 11's Amandine, year 13's Kitty and year 11's Eliza saw RHS under threat. Woodbridge started to move the ball wide and up the line quickly gaining success and after numerous attacks managed to get the ball into the goal from Year 11's Rose. A never say die attitude was evident, but the RHS goalkeeper was up to the task and managed to keep Woodbridge out. Players of the match as voted for by the opposing team were Year 11's Poppy and Alice S.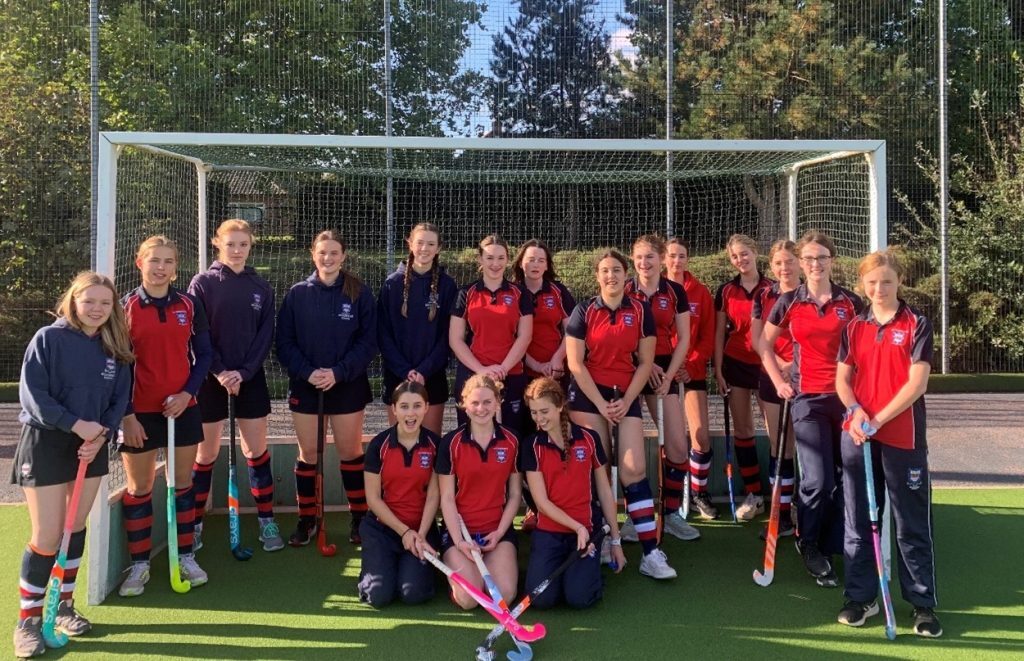 Woodbridge Juniors vs Orwell Park, Woodbridge Juniors vs Langley
Wednesday saw three of our Junior teams take on our great rivals from Orwell Park. While Junior 4, 5, 6 and 7 travelled to Magpies for matches against Langley.
The Junior 1st team performed at their best and dominated large passages of play against Orwell Park. Playing flowing passing hockey they were hard to keep at bay, creating chances and pressurising the goal. 0-0 and half time and all to play for and a great opportunity. The team managed to keep the opposition play makers quiet and we continued to play as a strong team. As time crept on it was clear the Orwell goal threat would come from penalty corners, and this is how they eventually, after numerous attempts, manage to break through the Woodbridge defences. Not the win we deserved but what a game and performance from our team! Congratulations to Year 8's Jemima B and year 7's India sharing Player of the Match spoils.
The Junior 2's dominated their match against Orwell Park from start to finish. The match was played in an excellent spirit with Woodbridge aiming to perfect their passing and work on decision making, with players also gaining experience in a variety of positions, with regular rolling substitutions. Congratulations to this team for a very mature performance and their first win of the season. Well done to player of the match, Year 8's Charlie.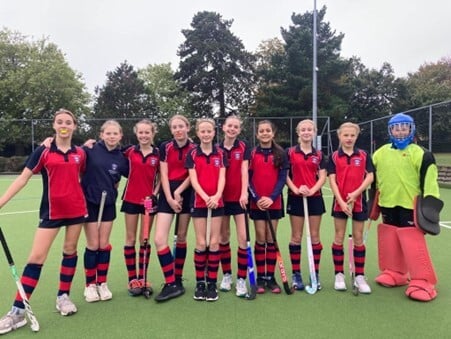 The Junior 3 girls continued their unbeaten start to the season with another convincing win playing fantastic team hockey. The passes flowed from defence to attack with marauding runs up both wings from Year 7's Rebecca, Kirsty and Evie as well as Year 8's Abigail and they in turn were providers to a host of goals from centre forward Year 7's Imogen and Year 8's Grace and Alice. The goals were spread across the team with Grace slotting in first, Evie following it up before half time and then Alice scoring twice and Imogen also scoring a brace. Our defence was calm and impenetrable with captain fantastic Abigail and another stellar performance from our Year 7 goalkeeper, Clem. A very happy Miss Hinton as well as nine smiling players and parents.
The four travelling Junior teams also produced the goods in well contested matches against Langley. The Junior 4 team set us off with a dominant display and win. Well done to goal scorers from Year 7, Sienna and Mariella (2) and from Year 8, Georgia (2) and Imogen. Player of the match was Year 7's Mariella.
The Junior 5 and Junior 7 teams played well in close draws while the Junior 6 team were disappointed with a narrow loss. A good day all together scoring seven goals, conceding just one. Well done to each of the Year 7 and 8 hockey players who have now all represented the school in matches.
School Hockey Competitions
With the opposition needing to cancel the scheduled fixtures on the Thursday before half term, we were treated to some high quality house matches. The Year 9 competition was won by Seckford, while Burwell took the trophy for Year 10.
Woodbridge Senior 2 and 3 vs Ipswich High School and Framlingham College
Half term provided a breather, but we got going with a bang straight away.
The Senior 2nd and 3rd team took on Ipswich High School U16A and Fram College 4th team respectively, both away matches.
Report from Mr Pineo for the 2nd team: After a slow start in which the team conceded two goals, the girls played some lovely hockey and look threatening. IHS had some very strong players and were able to counter most of the attacks, but they stuck to their task and all players tried to do the right thing. Year 12's Olivia was excellent throughout and should be proud of the way she played. Year 11's Lily had another good game in defence as did Year 12's Marina in midfield.
The 3rd team bounced back from their defeat before half term, now reinforced with Year 13's Kitt bringing much experience and leadership to the GK position.
Report from Mr Walsh: A cold, wet and dark Tuesday evening at Framlingham saw our first match under floodlights of the year. Woodbridge were in a buoyant mood after the short minibus trip. The game started frantically with end-to-end hockey but both defences coming out on top. However, Woodbridge managed to use their endless commitment to sneak a goal towards the end of the half from Year 11's Eliza. After the team had spotted areas for improvement at half time the second half was a feast of quick hockey and loads of attacking opportunities. Moving the ball forwards quickly and keeping forwards high paid dividends with Year 11's Amandine scoring two well-worked goals. Framlingham still had a number of attacking play and the Woodbridge defence managed to stop them from scoring and kept a clean sheet. Well done to Kitt who was voted player of the match by the opposition.
All Woodbridge Teams
On Wednesday after half term, every hockey player again headed for our 'second home' to play Norwich High School for Girls. Putting seven teams out is no mean feat, so thank you very much to staff, and especially those managing two teams on one day.
Woodbridge Juniors vs Norwich High School for Girls
The weather was not very kind, with rain peppering the players all afternoon. But this could not dampen the spirits of the Junior 1 and 2 teams. The Junior 1s dominated the first half of their match, being patient and playing perfecting passing hockey – using the whole width, heigh and depth. As has come to be expected, Year 8's Amelie leading up front and pressing set the tone for the rest of the team. Solid distribution and transfer play from Year 8's Jemima B, Jemima D and Ella B from the back, made for entertaining hockey. Year 7's Ella had another fantastic game outside midfield and is growing every match. Year 7's India on the other side of the pitch also delivered her best performance of the season. Captain, Year 8's Annabelle controlled the midfield and led from the front. Year 7's Lottie and Jasmine kept the pressure up with good positional play, decision making on the ball and precision passing. Despite no score, Woodbridge looked in control at half time and believed in their process. Goals in quick succession by Year 7's Ella and India, with Year 8's Amelie at the start of the second half sealed the win for Woodbridge and they could play with freedom. Well done to each of the team who have remembered everything learned before half term! What a game. Joint players of the match were Jemima B and Ella K.
Woodbridge Junior 3, 4 and 5 Teams vs Norwich High School for Girls
The Junior 3 girls maintained their unbeaten record so far this season with a draw, but it was a goal fest. Juniors 4 to Junior 7 were on the receiving end of great goal scoring but can hold their heads high for their play and learning lots in the process, ready for the next matches.
Woodbridge U15B vs Finborough
As we neared the end of the week, the U15B team played against Finborough. Despite the goalless draw this was an entertaining end to end match, with team coach Mrs P, still smiling from ear to ear from pride for her team. Well done to each of these players who gave their all. Word is that Year 10's Poppy was a star in goal making telling saves for the team.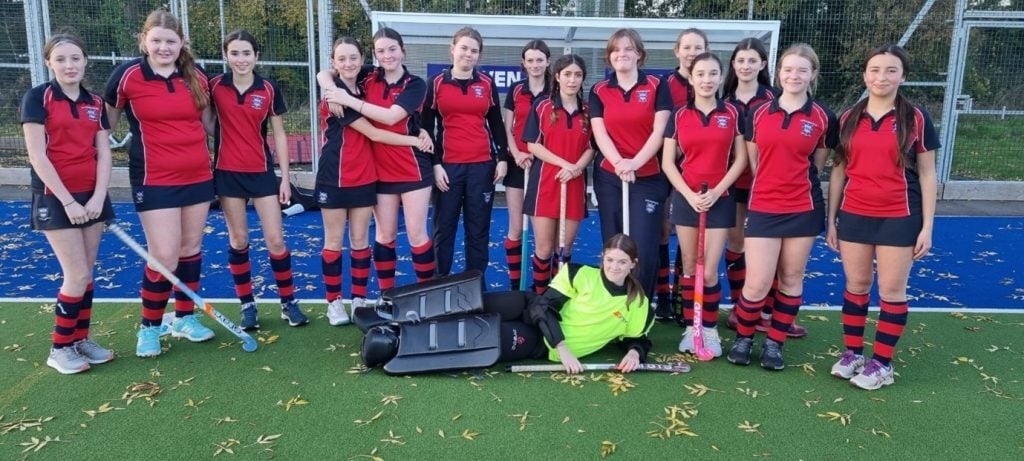 Woodbridge 1st vs Ipswich High School
The 1st team played their first evening match of the year when they hosted Ipswich High School. With fantastic support on the sidelines, the players rose to the occasion. They again showed good build up play, and seemed to control the areas of the pitch between the 23m areas. In defence they had to be at their best, and goalkeeper Year 12's Freya was at her best again. Year 10's Charlie joined the team again and was awarded joint player of the match with Freya; but this was a match in which every member of the team played their personal best of the season. A fortunate deflection goal before half time made the difference in the end to deny Woodbridge the win for being the better team on the day. Compliments from the opposition for the way in which Woodbridge dominated the second half will be a conciliation at this stage as the team keeps pushing to turn their growing good performances into the outcomes they so deserve for the work and application they are putting in.
Woodbridge U14 Regional Hockey Event
The week ended with the U14 team representing the school immensely well at the Regional Hockey event. They did Suffolk proud, achieve 4 draws, one win and one loss on the day. Conceding only two goal in their six matches showed how well the team worked as a unit to defend well and be hard to beat, in order to set up quality attacks. Highlights from the day, amongst many, are two slick short corner goals by co-captain Year 9's Eve, and great push back set piece seeing Year 8's Annabelle, Ella and Amelie M combining to get a PC (and subsequent goal) within 45 seconds of the push back in the team's second last match of the day. This was a group of players the school can be so proud of, being congratulated by umpires and organisers alike for the manner in which they conducted themselves on and off the pitch and the style of passing hockey they were playing, not relying on individuals by being a true team in every sense of the word.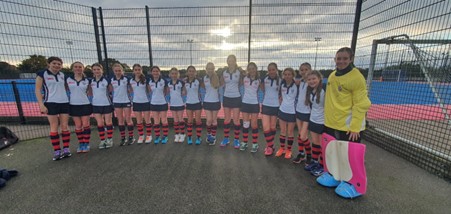 Thanks for every player who represented the school in matches and thanks to parents for support on the side of the pitch (or from afar to your daughters to make it possible for them to express themselves in sport.