It's been a busy few weeks for the newly formed CCF Signals Section.
On 7 February nine cadets drawn from across all three sections took their Radio User Assessment: this required the cadets to take three online assessments in the space of 2½ hours, scoring at least 70% in each to pass… they all did!
After this, Cpl Edward went to the home of the Royal Signals at Blandford, Dorset to take a one week course to fully qualify himself as a signaller.  At its conclusion it was announced that Edward was the top student on the course:  many congratulations to him on this excellent result.
After this success, Edward went straight into teaching the team that had been selected to take part in the National Signals Competition, Exercise Rolling Thunder.
This competition is hotly contested by signals units from all over the UK, with sixteen teams coming from as far away as Scotland and Northern Ireland to compete.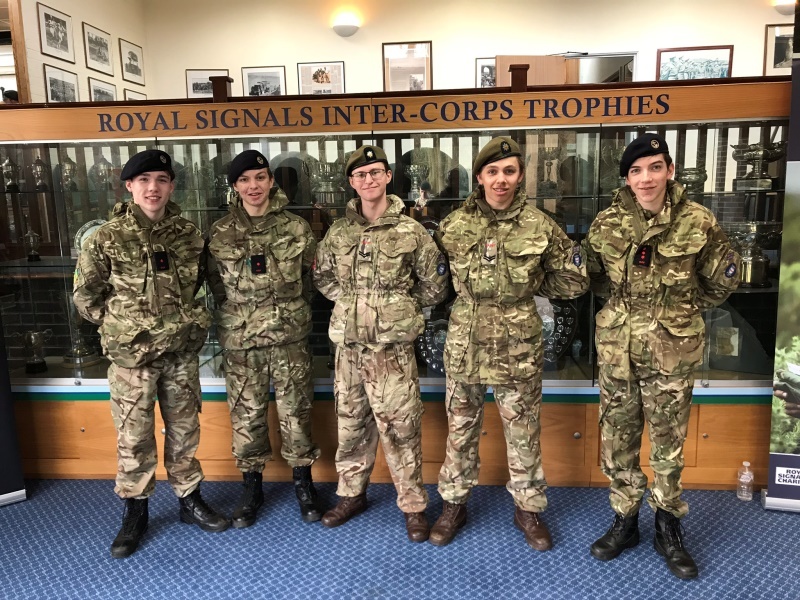 Our team, consisting of Cpl Edward, Cpl Toby, AB Josh, OC Tim and OC George, put their minds to the task with gusto and after a 5½ hour drive from school to Dorset they prepared themselves for a competition none had ever thought they would be in.
At the end of an exciting day Woodbridge School CCF came 5th overall, beating teams with much more qualified cadets in them, and in the Teamwork section of the competition the boys were awarded Bronze Medals.
Overall the cadets have shown that Woodbridge School is a force to be reckoned with; the organizing staff have said they look forward to seeing us at the competition again next year!