Dressage Show, Martley Hall, Saturday 5 February 
Parents from Woodbridge School organised and held a dressage show at the beautiful Martley Hall in Easton recently, in response to so few dressage qualifiers being held less than two hours' travelling distance away from School.  Organising and hosting a show for Suffolk and Norfolk schools, our team of extremely dedicated and efficient parents ensured the event ran smoothly and was enjoyed by all who attended. 
Although the day started bright and dry, the wind came in rather quickly and icy temperatures followed. However all competitors coped admirably in what some might consider to have been an Artic blast!
Woodbridge put forward four teams in both the Prelim and Novice categories, and the results were as follows:
Prelim Warm Up:
1st Sophia Y10 /Kells Diamond Lad 73.64%  
2nd Lois Y9 /Irish Dancer IV 71.8%  
3rd Edie Y7 /Beauty 67.27%   
Prelim Team:
1st Eve Y9 /Just Paddington 75.19% (PB for Eve)  
3rd Lois Y9 /Irish Dancer IV 74.23%  
4th Lucy Y11/Twngwndwa Benjamin 71.92%  
7th Issy Y11/Adolphus 71.15%   
9th Sophia Y10/Kells Diamond Lad 69.8%  
Novice Team :
2nd Lucy Y11 /Heritage Attica 71.88%  
4th Ada Y11/Heritage Juno 71.25%  
5th Ada Y11/Izzitop 70.20%  
6th Issy Y11/Dawn Chorus 70.2%  
7th Eve Y9/Tullibards Clover 70%  
8th Ada Y11/Up for a Party 69.58%  
Elementary Individual:
Joint 1st Ada Y11/Izzitop 69.28%  
3rd Issy Y11/Dawn Chorus 68.21%  
4th Ada Y11/Up For A Party 66.79% 
Special mention goes to Jasmine Y5 from the Prep on her pony Valendro Amber Dancer with a great score of 66.1%. Definitely one to watch! 
With the top two teams and top four individuals qualifying, they go through to the Nationals which take place in October. We're also delighted that Year 11's Oscar and his lovely horse Jaldo who sadly had to withdraw from the Novice, will still be eligible to contest the Novice with the rest of his team in October.
Forest Edge Show Jumping Competition, Sunday 13 February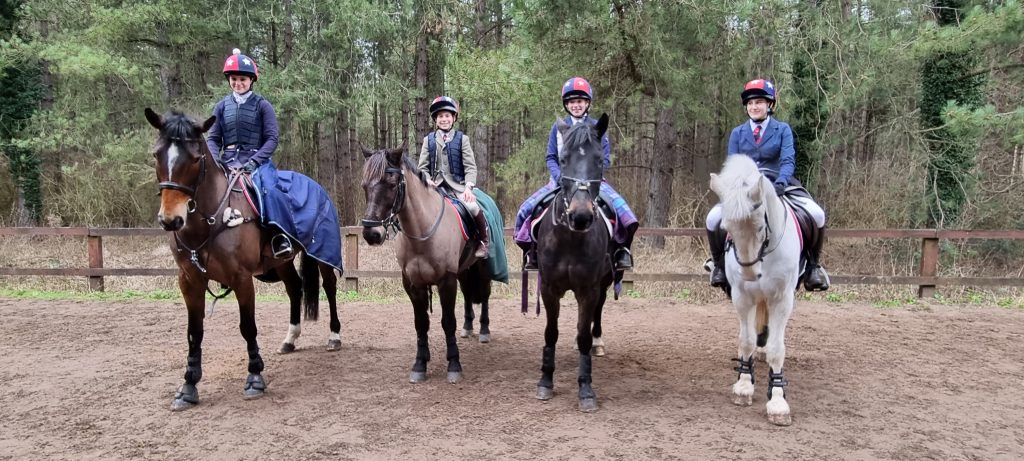 Sunday 13 February Woodbridge attended and competed in the Forest Edge Show Jumping Competition, with the following results achieved:
60cm Edie Y7 6th Individual 
70cm Zac Y7 4th Individual  
70cm Team 4th Harry Y7, Zac Y7, Edie Y7 
80cm Oscar Y9 1st Individual 
80cm Team 2nd  Oscar Y9, Zac Y7, Phia Y10 and Harry Y7 
90cm Oscar  3rd Individual 
90cm Team 3rd Oscar Y9, Lois Y9, Phia Y10, Issy Y11 
100cm Team 5th 
110 Ada 6th Individual 
These results mean that the 80cm team, as well as Zac and Oscar qualify for the Nationals which take place in Keysoe in October, with the 70cm and 90cm team plus Ada going through to the Plate Championships also at Keysoe in October.  Well done to everyone that took part!