After a twenty month absence due to Covid restrictions, boys' hockey fixtures made a stunning return to the sporting calendar this week on Wednesday.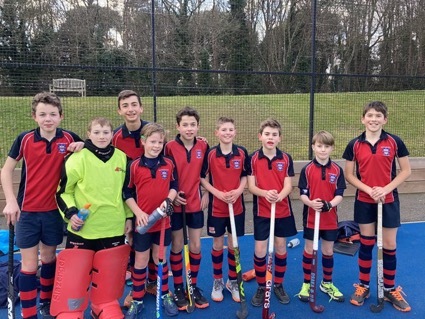 The Junior Boys Teams (combining Year 7 and 8 students to make up the teams) started their competitive season with a bang, playing some superb team hockey and achieving a very good set of results. But over and above this, they also had a huge amount of fun playing for each other and developing not only as individuals but as a team.
The five Woodbridge teams who faced up against RHS scored 12 goals and conceded only one. Well done to each of the players for their contribution to their team and the matches.
Junior 1:
Won 3-0.
Goal scorers: Harry T (Y7), Oscar P, Charlie L (Y8)
Player of the match: Charlie L
Junior 2:
Drew 0-0.
Player of the match: Theo (Y8)
Junior 3:  
Won 2-0.   
Goal scorer: Oscar R (2).   
Player of the match: Tibo (Y8) 
Junior 4:  
Drew 0-0.   
Player of the match: Henry P (Y8) 
Junior 5:
Won 5-1.
Goal scorers: Toby (Y7), Lade (Y7), Joshua (Y8), Noah S (Y7).
Player of the match: Toby C
In the absence of a competitive fixture against RHS the Junior 6ths and 7ths were split into the Lions, Sharks and Eagles to play a mini tournament. In a very spirited competition, full of tough tackling and a goalmouth incident, the Lions and Sharks went through to the final to play out a very exciting 1-1 draw.  On countback the Lions were announced as winners. Well played to all the boys who took part!