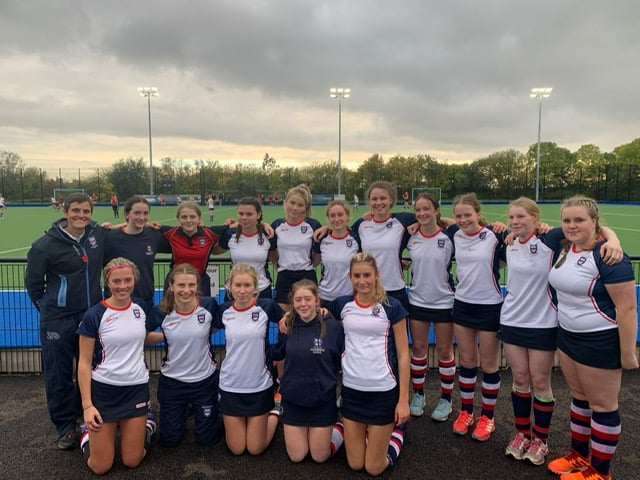 The junior hockey team made a clean sweep against Finborough at home this week; fantastic results with the junior 3s and 4s getting their first wins of the season this Wednesday with 4-0 and 3-2 respectively.  But it didn't stop there, the junior 2s won their match 2-1 and the junior 1s beat their opponents with a 5-1 win.  With hattrick heroes Honor (Y7) scoring three for the junior 3s and Bea (Y8) scoring three times for the junior 1s, there was lots to celebrate as our youngest players showed huge improvements during every game.  A final well done to Edie D (Y7) and Felicity (Y7) for scoring a brace each for their junior 4s and 2s teams. 
Over with the hockey 1st team, we've seen them go from strength to strength over the last month – not even the half term break was able to stifle their momentum and progress!  Just before half term they faced Norwich School 2nd team, and despite a somewhat below par performance, they still secured a 2-1 win after going 0-1 behind deep into the second half.  Co-captain Clara (y13) drew things level and a goal was won in the dying minutes courtesy of Vice Captain Molly (Y13) who saved the day. 
After some soul searching the team upped their game and since then we've seen the most wonderful performances. Two days later, the opposition was the mighty Culford. In what was probably the best and most exciting match yet on our new Astro, played under the lights which only added to the drama, we saw a fantastic end-to-end battle with goals by Libbie (Y11) and Ashleigh (Y13) but Culford hit back to make it 2-2. Our goalkeepers Issy (Y13) and Evie (Y12) were absolutely superb and got joint players of the match for their enormous contribution to putting the team in a position to win the game, denying Culford time after time, despite some amazing attempts at a goal. Woodbridge played harder than they've ever played before this season, and they reaped the rewards as Clara scored the winning goal.
Returning from half term break we hosted Ipswich High School where the team continued their great form and teamwork. Putting the effort in early in the match and throughout the game the result looked like a comfortable win – but it all came from hard work. The final score of 7-1 was certainly celebrated, with hattricks from Co-captain Ella W (Y13), a brace by Cecily (Y13) and a goal each from Molly and Clara to complete the scoring. A growing crowd around the Astro certainly helped keep the team motivated, and in return they were certainly entertained by the match.
Next was a visit from New Hall where we felt they were perhaps expecting lesser opponents – but Woodbridge were not to be underestimated. The first half was played at somewhat pedestrian pace, but our team still played super technical and tactical hockey. However our marking let us down somewhat as we went 0-1 behind so the second half was our chance to step things up a gear. The team were rewarded with a great team goal, slotted in by Cecily at the far post and after some strong attacking play by Libbie (Y11) on the opposite baseline, managed to draw the goalkeeper out. Molly was there again on hand to score the winning goal with a top low drag flick! It was the defenders and forwards that stole the show in this match, doing all they needed to and putting lots of practice and discussion about positioning and movement into their perfect match execution. Player of the match was Chloe (Y11) who is just getting better and better with every game.
Some new faces joined our team to travel to Cambridge this week to take part in the East Regional Qualifiers, representing the County as Suffolk Champions. Congratulations go to Ada (Y11), Issy M (Y11), Kaitlyn (Y11), Lucy (Y11) and reserve goalkeeper Freya (Y10). Despite the obstacles faced by the team leading up to the event, the team defied the odds on the day and produced memorable individual and team performances. The first match saw Woodbridge get revenge with a 3-0 win over Wymondham who had gotten the better of us earlier in the term on a rainy Saturday in Norfolk. With goals from Molly and Cecily with Issy making some telling saves in goal, there were lots of smiles after the first game – with more to come!
With 25 minutes to regroup, refuel and recover, all the remaining opponents of the day were completely unfamiliar to Woodbridge. But true to the team's normal way of handling things they focused on what they wanted and needed to do, their process and playing, and doing it well. They were ready for their match with Brentwood, and dominated for a large part of the game, being somewhat unlucky as decisions went against them during the match, but they kept plugging away to grind out a 1-1 draw.
The next match saw us defeat Saffron Walden CHS 2-0 with Molly scoring a brilliant but calm penalty corner.
Later in the day it was clear that the players were getting fatigued and their bodies taking the strain, but this team was on a mission and kept working for each other, not stopping once. Mill Hill was also unbeaten at this stage so both teams were understandably gunning for the top spot in the pool which would take them through to qualification for the East finals and chance at a spot in the National finals. The game was end-to-end, both teams testing the goalkeepers. Mill Hill won a couple of corners and using an unconventional routine (one which Woodbridge has employed themselves this season) managed to smash the ball into the goal. Woodbridge were 0-1 behind at half time, but the team just had to keep doing what they were doing, no matter how much energy had already been spent. With just eight minutes left Mrs Rix and Mr Walsh began discussing when to go to Plan B, going all or nothing for the win. A penalty corner goal by Molly quickly dropped thoughts of the plan though as we went 1-1. With just two minutes to go Mill Hill took the lead and it looked as though Woodbridge may finally come undone. Plan B was back on the cards and the team went into play with nothing to lose at this point. A penalty corner was won from the final attack on the match and as the final buzzer went up every member stepped up to make sure the ball didn't get any further than it was allowed to. But none of this was needed as the ball was injected perfectly by Ella S (Y12) and Molly put it into the top right corner of the goal with a fast, rising drag flick – it's just amazing when you 'win' it in the end, drawing the game.
Eight points on the day means Woodbridge won their Pool and in doing so qualified for the East finals which take place in a few weeks' time.
Well done to each and every player who played a part on and off the pitch, your contributions to this day will be remembered for a long time to come, and are an example to many Woodbridge School players who will follow in your footsteps.