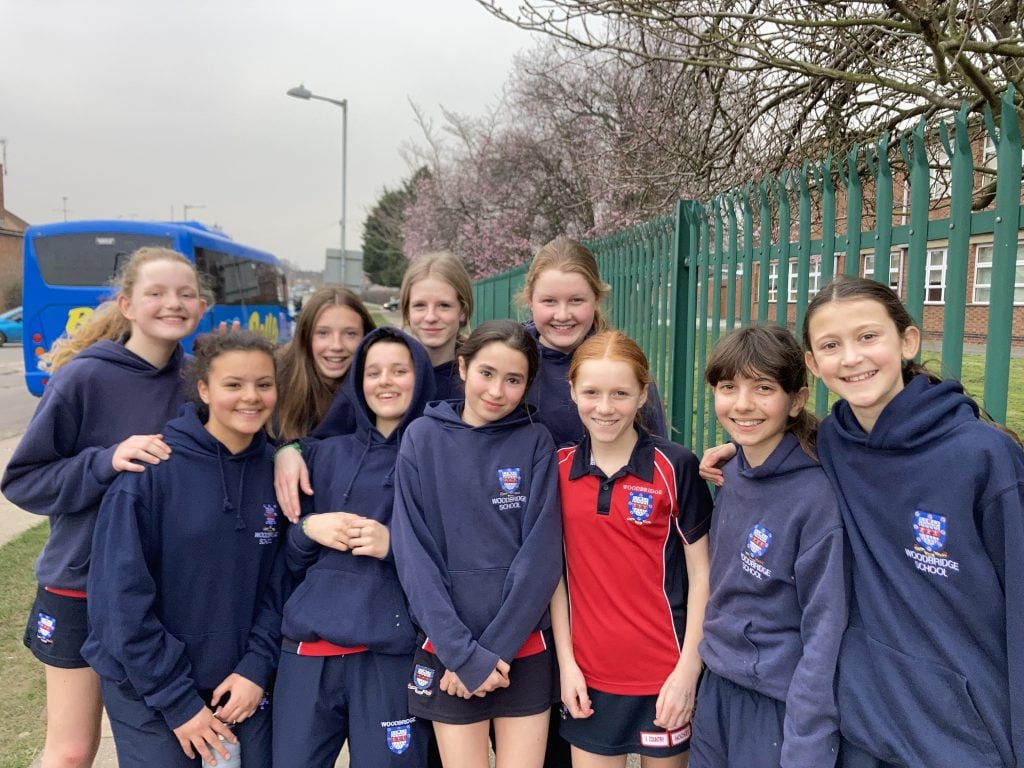 Our U12A, U13A, U14A, U14B, U15A, U16A and 1st netball teams played a number of matches at the end of last week and earlier this week, you can read our match reports for each below: 
U15A Woodbridge v St Jo's, Away, 7 March 2022, final score 32-12, Player of the Match: Georgie
Although a very convincing win by another of Woodbridge's very talented teams, the players themselves would agree that they could have won by more. Strong movement and shooting by both Charlotte H and Skyla in the shooting circle coupled with accurate feeding from Issy and Charlotte C saw the team leading 9-2 at quarter time.
Throughout the game a number of poor passing decisions led to the ball being intercepted by St Jo's who had a particularly effective GD. However, it was often the case that our own defence, Georgie, Nancy, Marina, Flo, Skyla applied pressure and forced an error from St Jo's enabling Woodbridge to turn the ball back over.
A dominant final quarter of 7-1 and Woodbridge won the match 32-1, with Player of the Match given to Georgie.
1st Woodbridge v RHS, Away, 8 March 2022, final score 14 – 41, Player of the Match: Emily 
This was by far and away the most cohesive team performance of the season so far and the score does not reflect how well the team played.  
RHS are an impressive side, but Woodbridge were particularly effective in defence with Molly, Lottie, Ella S and Evie closing down their attack and turning the ball over on a number of occasions.
Issy H and Emily worked hard in the attacking third and shooting circle combining well with Jess, Clara and Ella P to provide some good shooting opportunities.
A few less unforced errors and a bit more vision with some of our feeding could have seen further opportunities taken.
The final score was a loss of 41 – 14 but the team were pleased with an improved performance, and a huge well done to everyone that played. Player of the Match was awarded to Emily.
U12A Woodbridge v Orwell Park, Home, 9 March 2022, final score 20-3, Player of The Match: Felicity
For a young side this team are playing some super netball and having a very impressive season. Strong throughout the whole match, all of the players contributed well to the overall result.
Amelie, at GS, coped well with a GK who was doing her best to unsettle her, held her ground and timed her movement well to get free and score.
Izzy, Georgia, Felicity and Annie combined well in attack with some fast-attacking movement, accurate passing and accurate shooting from both Izzy and Georgia during their quarters at GA.
Our defensive combinations, Annie, Eva, Rosie and Phillipa read the game very well, closed down the attack, intercepted the ball on numerous occasions and in the second half on the game didn't allow Orwell to score.
Another win for the team 20-3 to continue their unbeaten run – well done to all. Player of the Match was given to Felicity.
U14A Woodbridge v Ipswich High School, 3 March 2022, final score 15-5 (shortened game) 
Two matches and two further wins achieved for this very talented team over the last week.  The match against Ipswich High School was shortened due to an injury on both teams around half time.  These led to the game being concluded at 3/4 time with a win to Woodbridge 15-5.  
 
U14A Woodbridge v St Jo's, 10 March 2022, final score 34-16, Player of the Match: Nina 
The team travelled to St Jo's for a league match last week; delivering a really strong team performance with everyone playing their part effectively throughout the game.  
The first quarter was reasonably close with both teams taking a few minutes to settle in and ending 7-4, but it was the second quarter when Woodbridge really delivered some impressive netball.
Woodbridge won the quarter 12-2 with some outstanding drives into the attacking circle and shooting from Lara, excellent vision and feeding by Georgia and Scarlet, lovely attacking moves and shooting from the eventual Player of The Match Nina and almost impenetrable defence from Georgie, Juno and Issy.
The number of interceptions, tips and turnovers throughout the match from the defence and indeed all players was exceptional. At half time Woodbridge held a commanding lead of 19-12 and although the second half was closer the players continued to perform and with some well-timed movement and accurate shooting from Emily in the final quarter the team went on to win the match by 34-16. A super result and a really super match – very well done to everyone that took part.
U14B Woodbridge v Felixstowe, 14 March 2022, final score 37-1, Player of the Match: Lily
The U14B team continued their winning streak with a 37-1 win over Felixstowe Academy this week.
It was a squad of 11 players to get everyone experiencing competitive game play, as most players regularly attend the two training sessions a week.
Ella played the two middle quarters (eight minutes a quarter) and with the other shooter scored 17 of the goals. She was instrumental in getting the ball into the circle and scoring many of the goals.
Likewise, Tabby, who has continually been nominated as Player of the Match this season, took a back seat playing two quarters.
Player of the Match by the opposition went to Lily who kindly stepped in part way through the third quarter to play for Felixstowe Academy when one of their seven players were injured.
Well done everyone that took part, a great game and great experience.
U13A and U16A teams update
The U13A team and the U16A team have had a couple of weeks of some fantastic netball.
The U13A team has won games against Ipswich High 29-8, Orwell Park 18-13, Westbourne Academy, in the league 41-4, and St Joseph's College 31-6. This squad of 10 have shown huge improvements both in their defending and attacking skills, with Scarlett, Bea, Liya, and Lyrah dominating the opposition's attack putting into practice delaying and domination in the circle. Our attackers of Aurelia, Margot, Lily, Charlie, Millie and Eloise have proved their worth working on driving onto the circle and their shooting has been on point and boosted our goals for score to 196.
The U16As have also had a good run of fixtures with recent wins over Ipswich high School 21-20 which was a real thriller and could have gone either way.  They also beat Claydon High School 28-3 in the League with everyone having a chance to play in different positions.  Moving to the end of the season we are hoping to put out our full strength squad that has been affected by COVID and injury.  Bring on the last games of the season!