"Bunting, bunting everywhere!"
Jack Absolute Flew on Stage This Week in our Seckford Theatre!
Jack Absolute Flies Again was performed by our Year 12 and 13 students on Wednesday and Thursday this week, to sell out audiences in our Seckford Theatre. It was Ms Mayes, Mr Williams and Miss Edwards 40th production as a team here at Woodbridge School, and it certainly was one to remember.
The story of Jack Absolute Flies Again was written by Richard Bean (who also wrote One Man, Two Guvnors) and Oliver Chris, and is based upon the 1775 comedy of manners, The Rivals, by Richard Brinsley Sheridan. Taking place in 1940s wartime Britain, Jack Absolute follows a group of pilots, old friends and family coming together – with their love lives clashing as a result.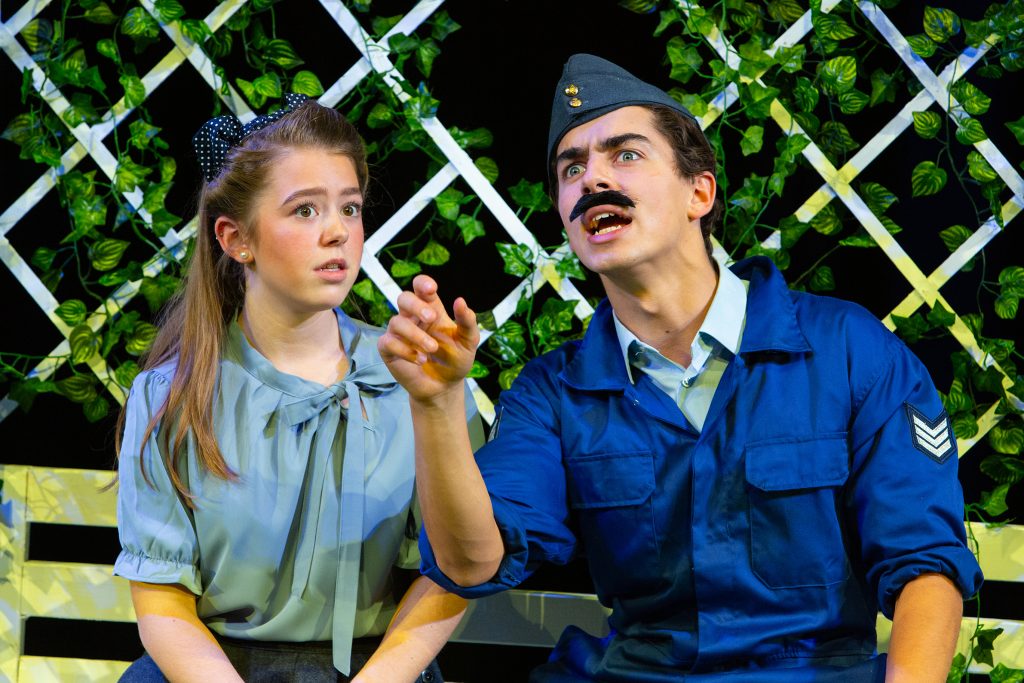 Our production team – from set design, lighting, sound, props, costumes and more – alongside our cast, transported audiences with their portrayal of this period in British history. The audience couldn't take their eyes off the stage; which was perfectly set using relevant props to transport you to different areas of the base throughout the play. Bright and colourful, the stage as well as the actors certainly had your attention from start to finish.
Across both performances audiences were initially introduced to Mrs. Malaprop (Year 13's Lala) who welcomes us to her home in Sussex which has become a fighter pilot base for the Blue Section, 'A' Flight, 634 Hurricane Squadron. Known for her malapropism, Mrs. Malaprop starts as she means to go on, telling us of her excellent 'electrocution' ('elocution')…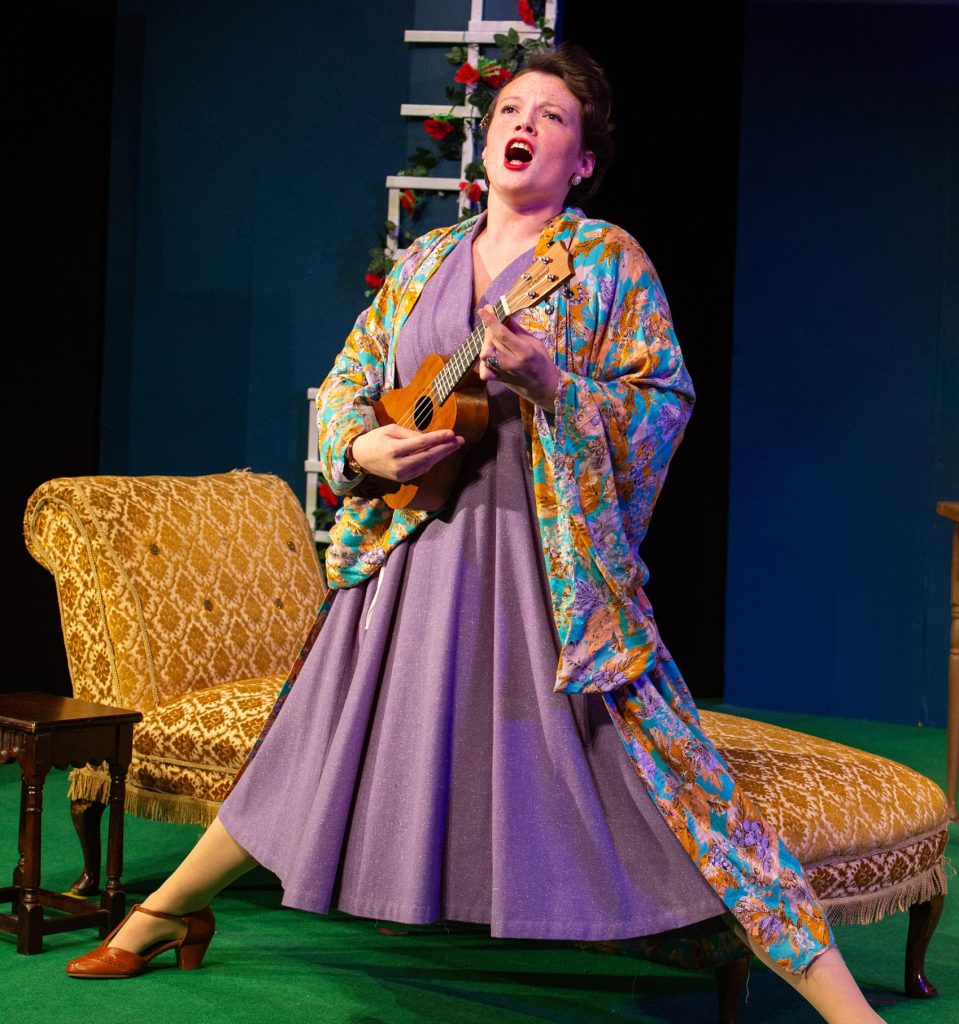 Soon after, we are introduced to Intelligence Officer Brian Coventry (Year 12's Finlay), followed promptly by the team of pilots who we would soon get to know for their unique differences. A fraught entrance by Hurricane Pilot, Roy Faulkland (Year 12's James), was followed by the loveable – but clumsy – Bob Acres (Year 13's Layo) from Australia and wannabe poet Tony Sheridan (Year 13's Rufus). Finally, after much anticipation, we were introduced to the Blue Section's Leader, Jack Absolute himself (Year 12's Xander), son of wealthy aristocrat (and owner of 'most of' Devon) Sir Anthony Absolute (Year 13's Oliver).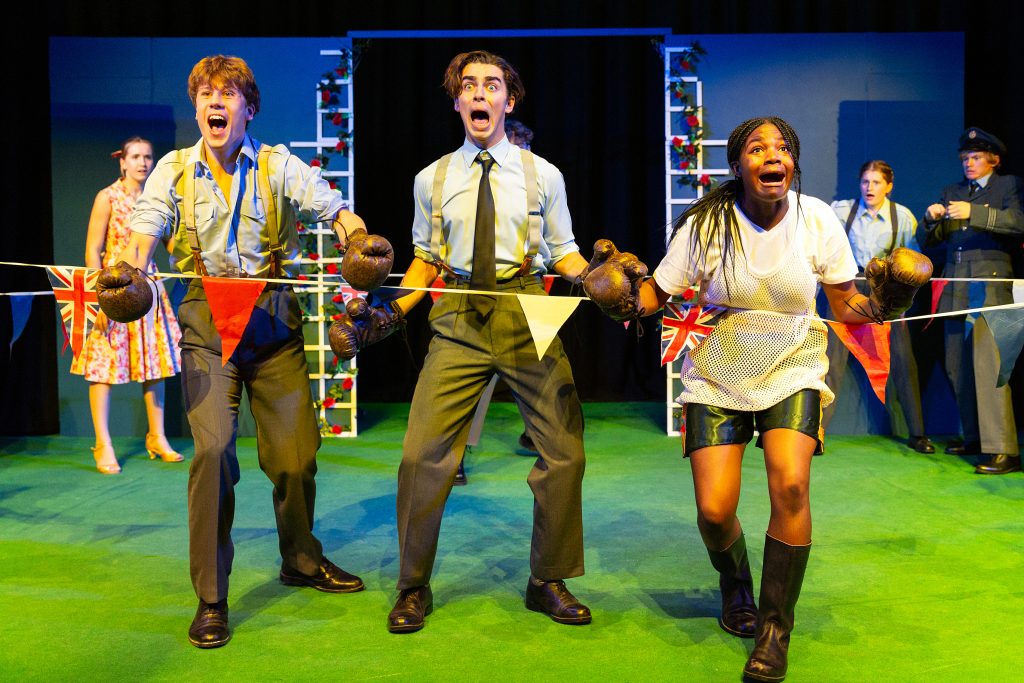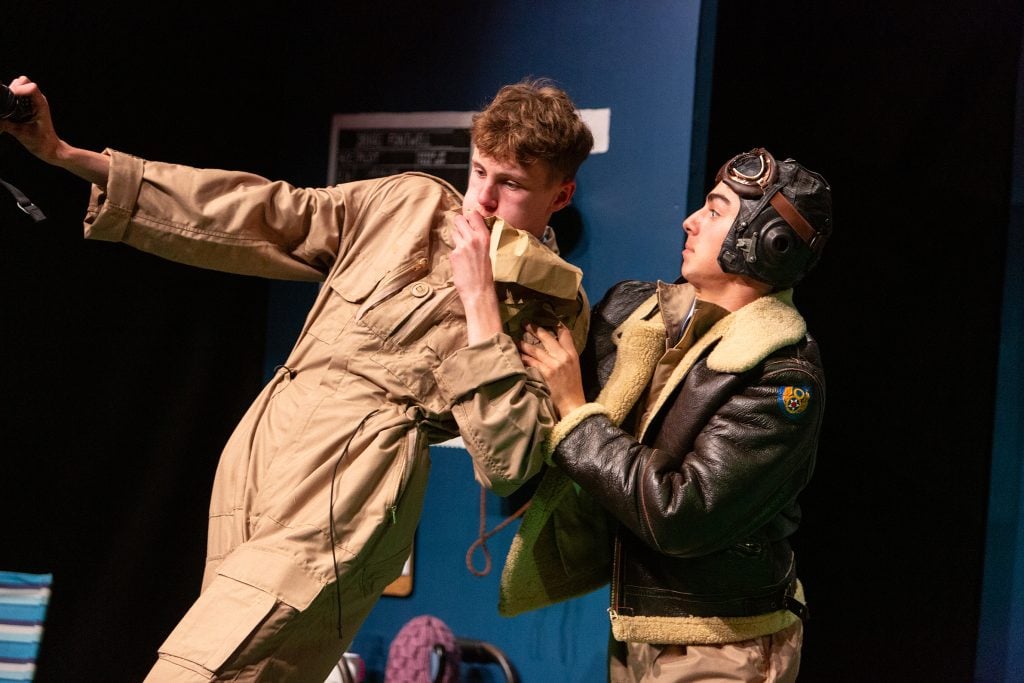 As the play progresses, Jack masquerades as Dudley Scunthorpe (Year 13's George), the Lead Mechanic/Fitter for the Blue Section, and charming northerner. All of this in aid of winning the affection of Lydia Languish (Year 13's Esme), an Air Transport Auxiliary and niece of Mrs. Malaprop. Lydia is fiercely independent and wishes to marry on her own terms and not on the basis of land ownership and wealth – little does she know in that moment that her aunt intends for her to marry Jack Absolute, following some low-level scheming by Sir Anthony Absolute.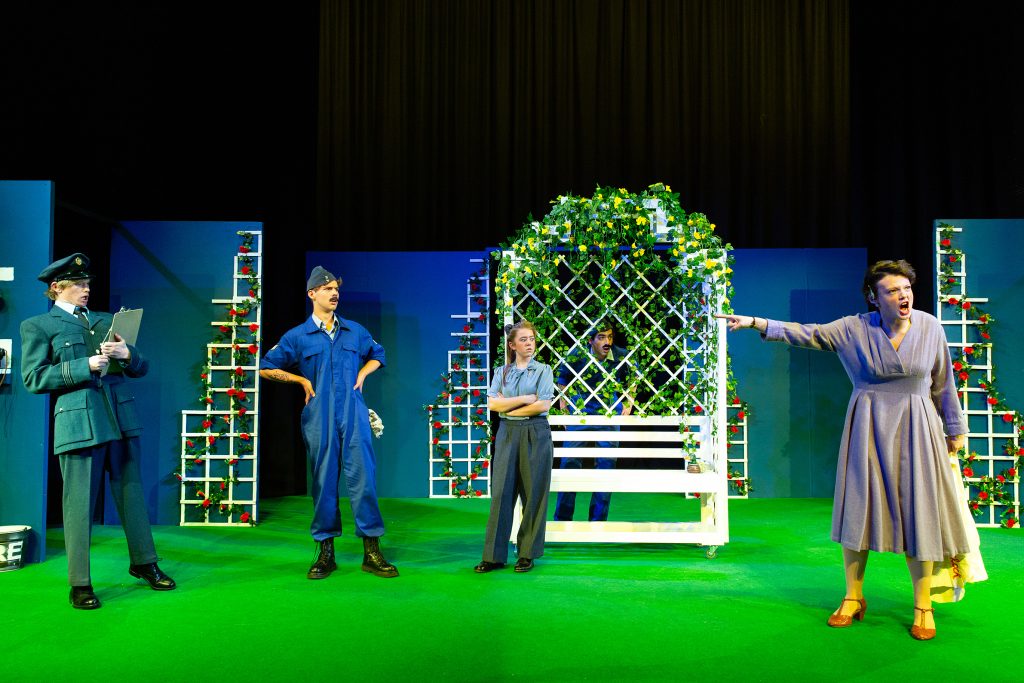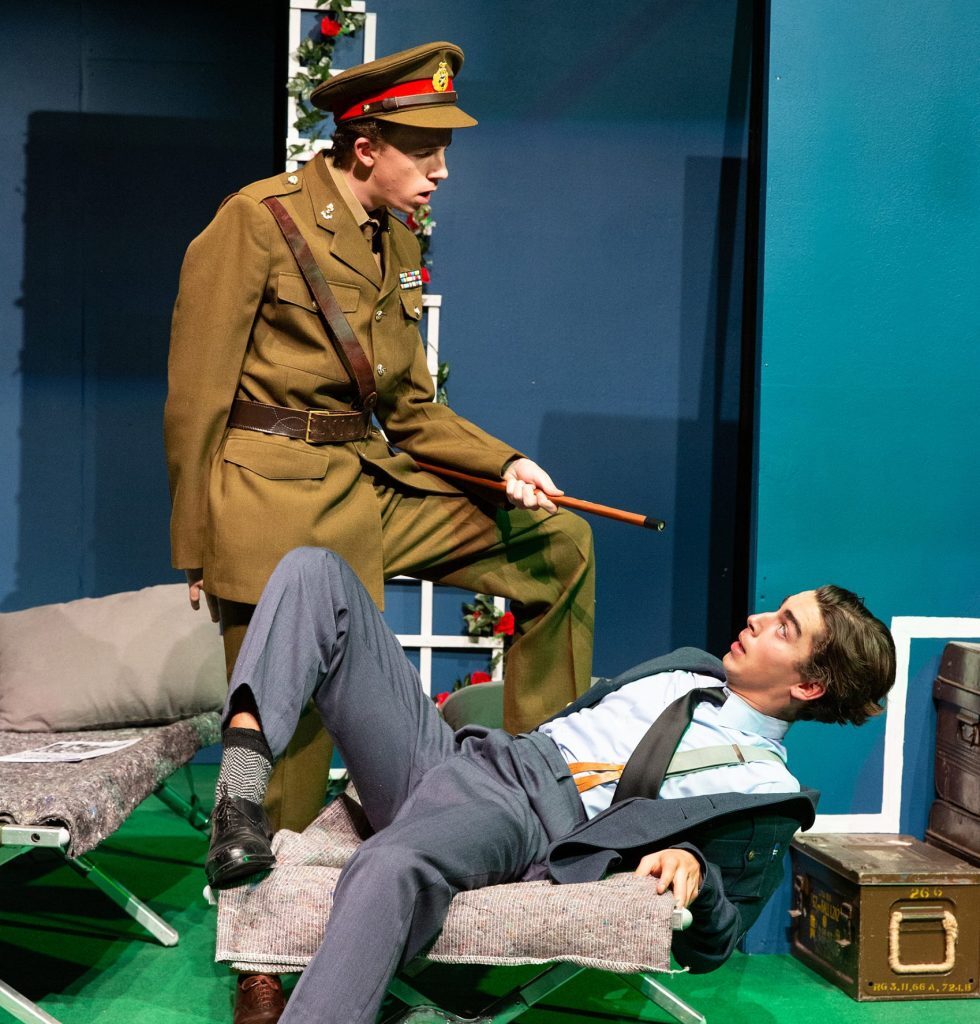 Lydia becomes at odds with Mrs. Malaprop's Lady's Maid, Lucy (Year 12's Rose), who is entirely smitten with Dudley Scunthorpe. We are soon introduced also to Julia Melville (Year 13's Eleanor), Chief Volunteer of the Auxiliary Territory Service, friend to Lydia Languish and girlfriend to Roy Faulkland, whose jealousy of Julia's actions whilst they were apart almost causes them to split up!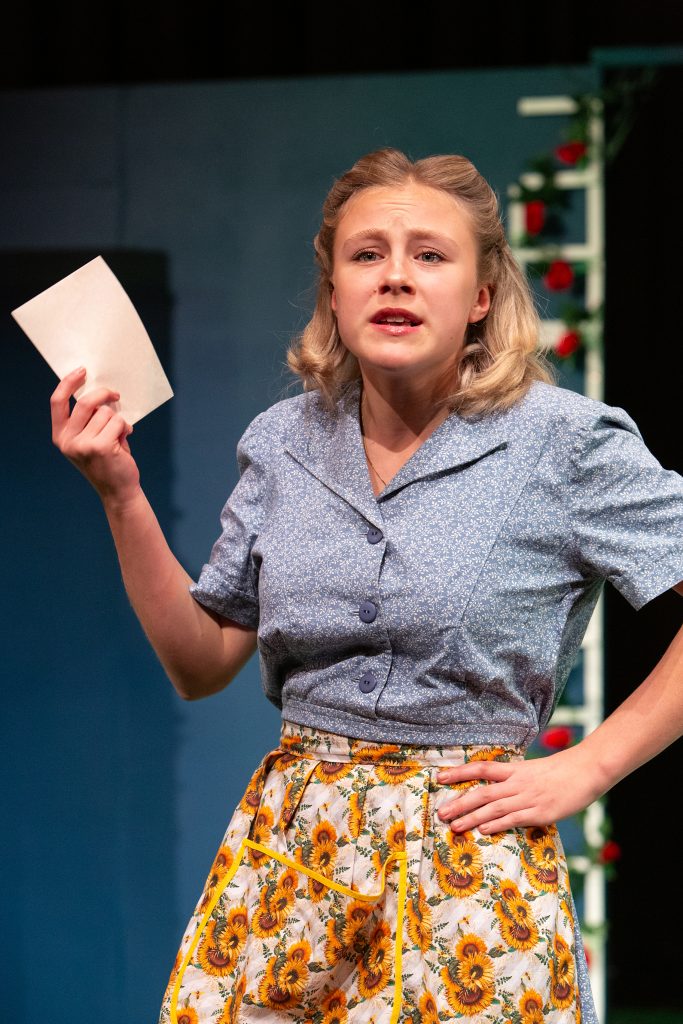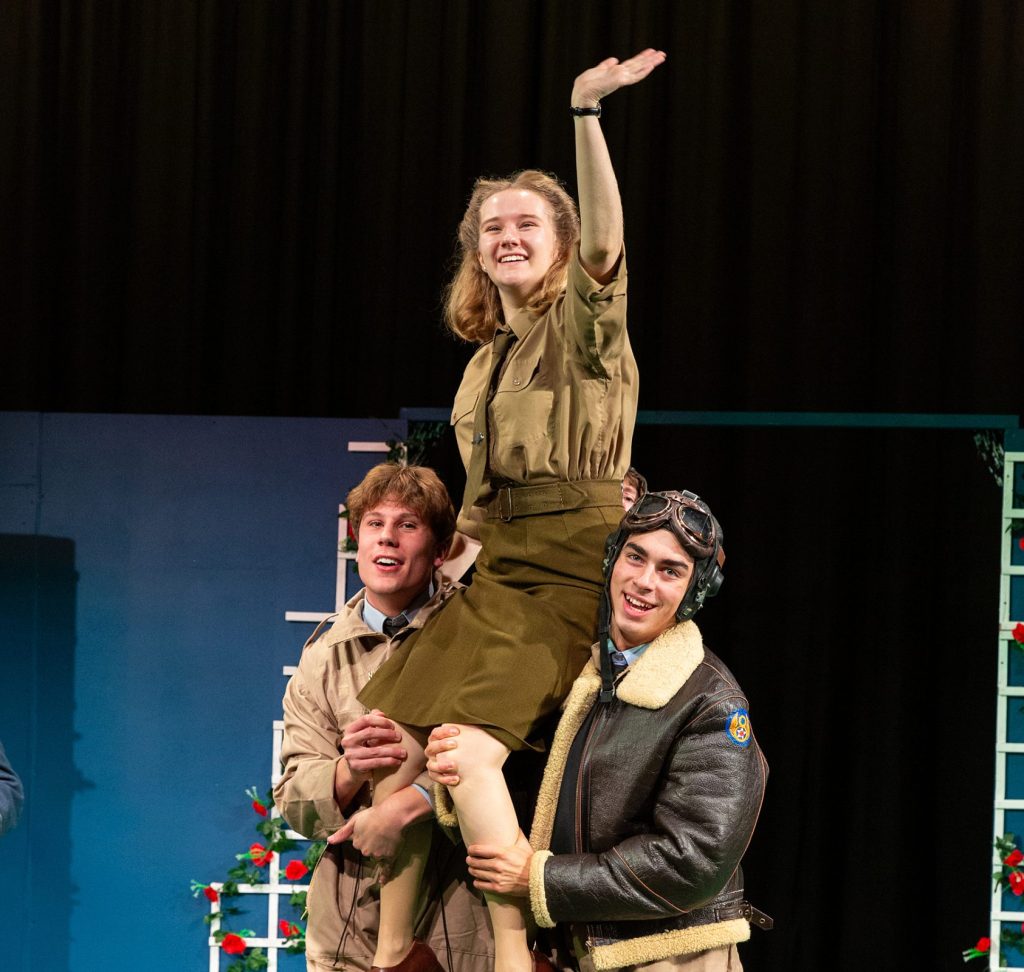 The cast were supported superbly by Hurricane Pilots Peter Kingsmith (Year 13's Florence), Stuart Sampson (Year 12's Phoebe) and Lucius O'Trigger (Year 13's Evelyn) – who we are introduced to later in the story, but who also played key roles throughout the performance; allowing the action to unfold at pace.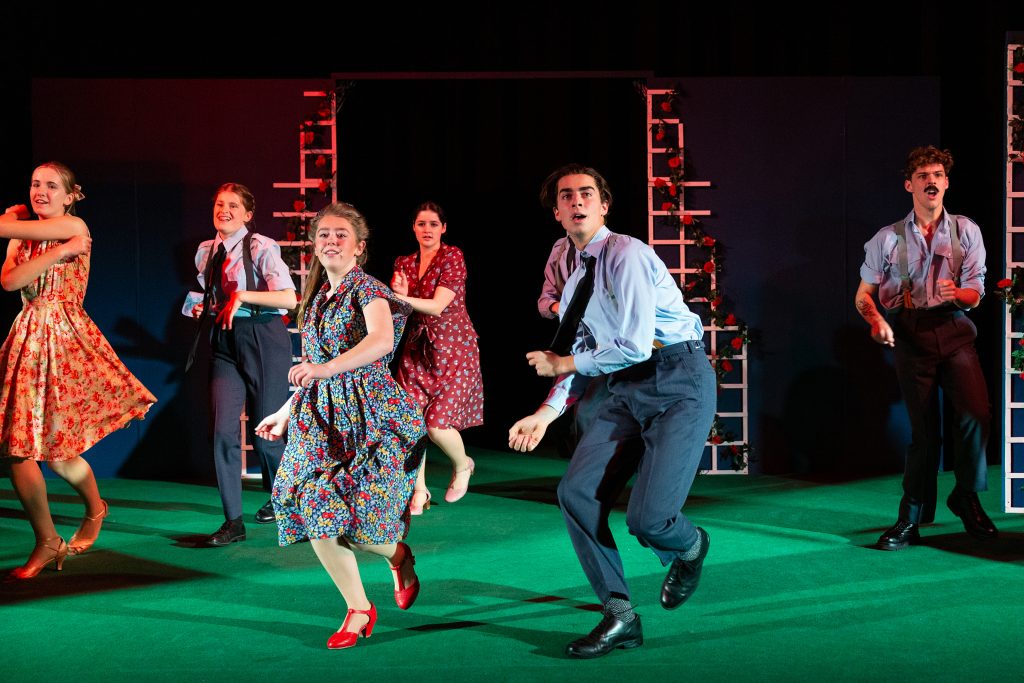 What appeared to be a love quadrangle at some stages throughout the production (caused entirely as a result of letters getting into the hands of the wrong people, disguises and more!) left everyone watching hopeful that everything would ultimately work out in the end.
All of this takes place in the first act of the play – a fast paced and exciting introduction to what became an even faster paced second act; full of further laughs but also some poignant, solemn moments.
Our actors were authentic and hilarious, meeting every cue, getting a laugh out of every joke, facial expression, and malapropism. There was even a dance sequence which was fantastically energetic; keeping in pace with the rest of the performance. Every moment had the audience's attention from start to finish – laughter rolled through the theatre, our cast genuinely entertaining our audience from start to finish, and that finish was greeted with a standing ovation both nights – as it so deserved!
It would be a disservice to all who took part to select just one moment in the entire performance that stood out, or one actor or person responsible for contributing to making the show what it was – an absolute triumph and treat for every sense possible. Many of our parents, friends and family from our School community commented that they would have gladly paid London theatre ticket prices to have seen the show, such was its success and quality.
Congratulations to absolutely everyone involved in this production, and thank you from your audience, it was such a treat! The actors involved in this production should feel incredibly proud of their performances.
Photo Credit: Mike Kwasniak.