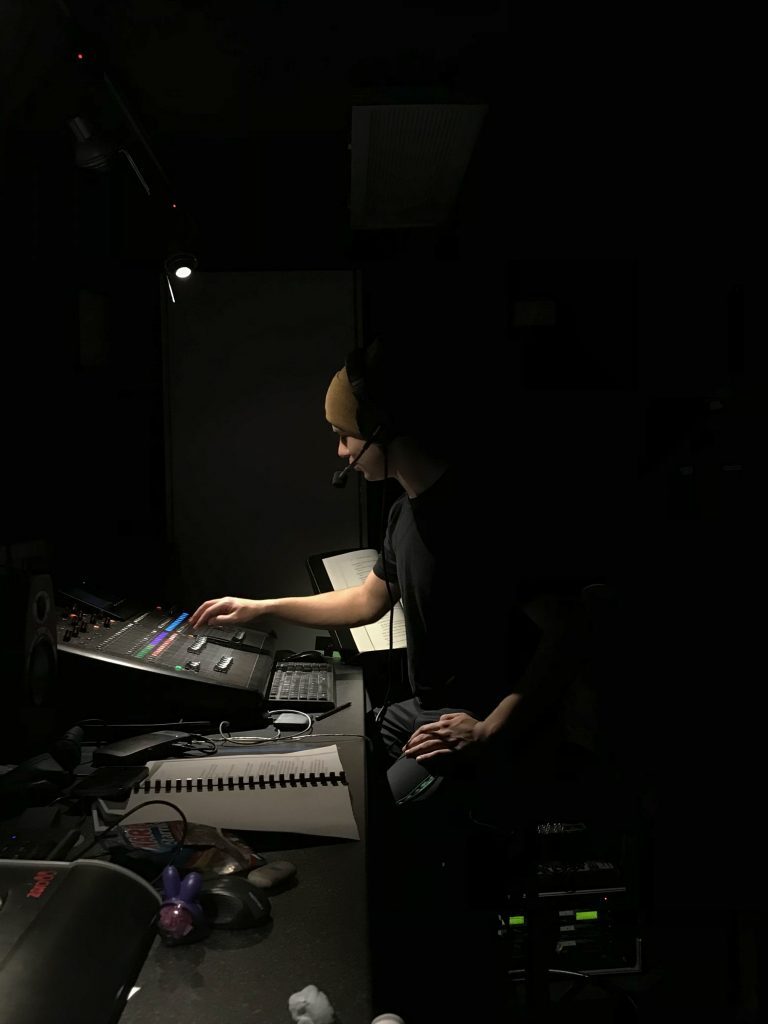 When it comes to putting on a whole School performance, you might be forgiven for thinking mostly of the hard work, commitment and rehearsal time the actors and directors put in – but there's so much more to putting on a production of the scale, nature and wonder that will be Grease! 
Behind the scenes (again, pardon the pun, if you've been following our series of reports and news on the production you'll know we just can't help but use it, it works in so many ways!) you will find students and staff delivering every other part of the show that's needed – without which the show just couldn't go on.
We've recently met with, interviewed and profiled two of the show's actors; and now we meet with Year 11's Ben who is providing technical support as a sound engineer in the performance.
Let's face it, without the sound engineer in a musical performance, it would be a very different production, a completely and utterly different experience for the audience, and that after all is what it's all about. The sound engineer is a huge part of bringing any performance together, working actors and other people supporting the performance, to make sure that all the senses are stimulated in the way we expect them to be when we watch theatre.
Sound engineers use and apply a range of skills and knowledge of acoustics to produce and manage sound; working with a mixing board, adjusting the sound that the audience hears and experiences (known as mixing the front-of-house sound), is just one element of managing sound on any production.
Ben explained what he'll be doing during the show, "Part of my role is not only to be responsible for fitting the actors with radio mics, but for making sure they're working, sound checking them and everyone using them." He continued, "The audience just wouldn't hear what they were saying or singing without a mic, the theatre is a huge and very open space; their voices would be lost, particularly to those sitting towards the back and far sides of the theatre. I'm also responsible for managing sound effects, working with the mixing board, something I've done a lot in the past and I really love – and the fact that we have an amazing theatre and technical kit, means everything's modern and easy to work with, we're really lucky."
Ben isn't studying Drama at School, which isn't unusual for many of the students involved with the production, behind the scenes particularly, as the show is open to the whole School. Ben has a lot of admiration and praise for the actors, and admits he wouldn't want to be on the stage despite having been part of Stage Coach and involved in productions at The Wolsey Theatre in the past.  He thinks that he has, in his opinion, "…the best seat in the house!" as he gets to see and hear everything as it happens and enjoy every second. "It's always great fun and there's so many opportunities to learn different skills and improve on others because we put on so many shows at School.  I love working on sound and behind the scenes, it's a great experience and I'd encourage everyone to get involved whenever they can." 
Anyone working on the show will undoubtedly need to employ skills such as team work, organisation, commitment, accountability and loyalty; skills that also translate to studying and working beyond School. A huge part of working on performances at School is to ensure those involved have the opportunity to learn or improve skills, as well as having lots of fun. The quality and number of performances at Woodbridge means everyone has the chance to get involved – in any part of the show.
At the time of writing this we have now sold out all evening performances of Grease, but tickets remain for our Friday matinee and are available at www.ticketsource.co.uk/seckfordtheatre