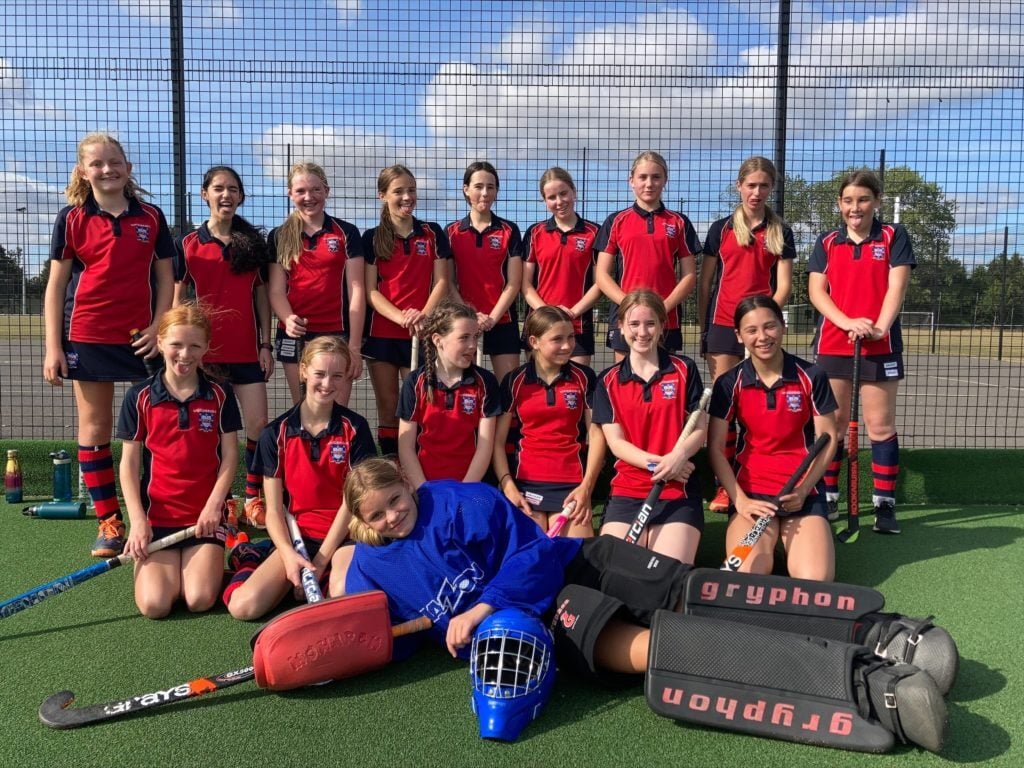 It's been a busy couple of weeks for our Hockey teams, with multiple Girls' hockey matches played – here's our update:
For our Juniors, the season started with a block fixture against Royal Hospital School; every student in Years 7 and 8 played and it was a real highlight of the School year so far as it was the first opportunity to play competitively since the season before last. The matches saw Junior 1s and 2s secure wins in both matches which were fast and competitive, but a great learning opportunity in terms of skills and development.
The U14A and U15B teams kicked their seasons off too, with the U14 and U16 County Cup respectively. Fast and furious, the pace and competitive natures of these matches provided an excellent learning curve for our teams. The U14s and U15s both secured third place; there were some outstanding performances on the pitch, beating Ipswich High School, RHS and St Joes.
U14B and U15B teams played away matches against Framlingham College, getting in their first 11-a-side matches played.
The School's 1st team showed incredibly character and team work at the U18 County Cup to win the event. Before this event some practice matches were held against RHS at the start of term which resulted in a 1-1 score, followed by a game played over four quarters against Ipswich School with a 0-4 result. Against St Joes the team found their full flow, securing an incredibly comfortable victory.
This last weekend saw a number of changes in the team, and despite a very good performance away against Wymondham the result was just not to be. Caught three times on the counter, Woodbridge could only pull one goal back and had no choice but to settle for a 1-3 loss.
The 2nd team also played a great game against Wymondham despite a slightly less experienced team.  Although the win went to the opposition the learning process for Woodbridge was very positive with some players shining through, looking to push for 1st team selection.
Last Saturday afternoon, in the lashing rain, the U14As took on Wymondham.  A brilliantly supported match despite the awful weather, the team were cheered on by parents and grandparents, which was great support for the players.  The U14s put on a great display of hockey for the crowd, moving the ball wide when attacking and getting in some great positions in front of the goal.  Woodbridge went into half time ahead by two goals thanks to Year 9's Lara and Georgia G. 
Wymondham came out during the second half, really going for it, and in a slight lapse of concentration by Woodbridge the opposition scored. It was a dangerous place to be with just ten minutes to go, however Woodbridge's Bea slipped through and scored a great goal to give that comfortable lead and the victory, ending in 3-1.
Earlier in the term the School's 2nd team secured a convincing win against Norwich High School for girls.
Coming now to earlier this week, on Tuesday the 1st and 2nd teams played against Langley, with 3-1 and 8-1 respective match scores. Our 1st team goal scorers were Ella, Clara, Molly, Ella and Ashleigh , while our 2nd team scorers were Ada, Issy and Elsa.