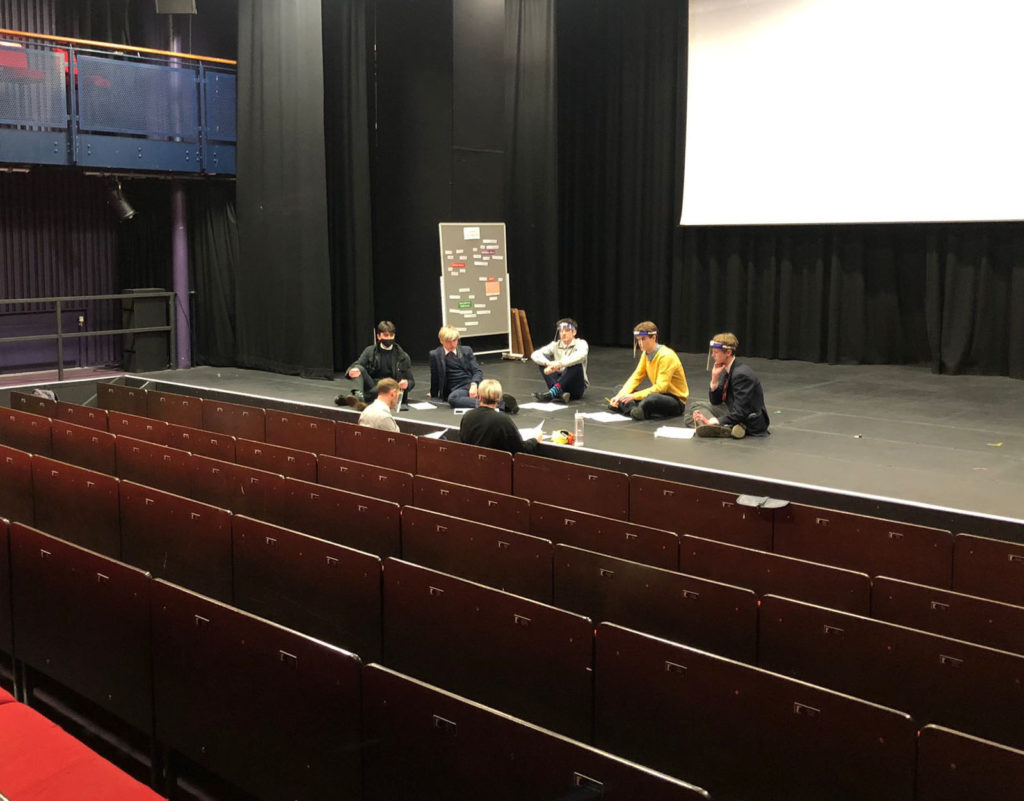 Returning from their Christmas break and diving straight into rehearsals, Grease really is the word for students in School right now. Rydell High is coming to Woodbridge School through the production and performance of the hit musical Grease this February.
It can be hard to fully explain the scale and depth of preparation for a show and performance of this nature, but the commitment of the staff and students involved is clear for all to see. Rehearsed and put together against a backdrop of ongoing school lessons, homework, sports and other clubs and co-curricular activities, and at this time of year especially, the students and teachers are also busy with mock exams.
Rehearsals began last year in September, and will continue to take place most days and at weekend between now and the first performance on 15 February. The rehearsals provide a wonderful opportunity to witness the organisation, dedication and preparation for the show, as well as have the chance to catch up with the T Birds and Pink Ladies. It's clear to see the hard work that's going into every part of this show, and watching the students go through their lines and staging has been incredible.
We recently caught up with two of the show's main characters – Danny and Rizzo – otherwise known at School and by their family and friends as Tom and Lottie.
Danny, played by Tom, Year 13
Tom's talent and range is clear, with past performances including Scrooge in the School's most recent performance of A Christmas Carol to Lady Lydia in The Red Shoes and the lion in The Wizard Of Oz – to name but a few! Tom has ambitions of continuing to perform beyond School, with hopes of securing a place at University where he can be sure of extra-curricular drama activities. Commenting on playing the part of Danny in Grease he said, "Danny is the only part I auditioned for, and as this is my last show at Woodbridge so I want to make sure I deliver a memorable performance!" He continued, "Anyone who hasn't already been part of a production at School really should think about getting involved, it's helped me with confidence, independence, discipline and time management – as well as being really, really great fun!"
Rizzo, played by Lottie, Year 13
Another talented young actor who has regularly taken part in productions at School including The Red Shoes and The Sound Of Music, Lottie loves performing and finds that coming to rehearsals is a great break from study and can be a truly positive experience in lots of ways. She mentioned, "There's such a great sense of community in drama, and I really feel this as well as the end performances are unmatched." She continued, "Through performing, I've made friends with people in School who I otherwise wouldn't have and those relationships have continued beyond the shows." For those of us familiar with Grease will agree that Rizzo is possibly one of the strongest and most interesting characters in the show, and Lottie agreed that she's a very relatable character to play that's challenging her in the most positive way.
With rehearsals set to continue, we look forward to profiling those involved in the many other elements of performance production including props, technical and stage management.
You'd better shape up if you want tickets to the show, available from Monday 17 January 2022 at 9.00am from www.ticketsource.co.uk/seckfordtheatre