Friday 23rd November
We had a great day with nine children competing in the NSEA pop-up dressage competition. For many of the team it was their first time ever competing in dressage, and team manager and trainer Miss Lucas was very proud of how well they all presented, and represented the school. The tests were recorded at Newton Hall and will be sent via YouTube to be judged.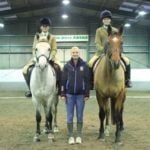 Photo: left- right
Lottie, Miss Lucas, Maddy
Saturday 24th November
We had a fantastic show at Forest Edge with the jumping team of Alex, Haydn, Perdi and Ada. All went clear in the 80-90cm to achieve a very good second place overall. They then competed in the 90-95cm Windsor Q in which they came fourth, with Perdi placed fourth individually as well.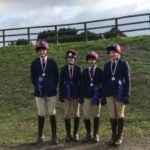 Photo : left to right
Haydn, Perdi, Alex, Ada
Sunday 25th November
To complete a hugely impressive three days, the team then competed brilliantly at Topthorn EC in the NSEA grass routes and RPL league, an event proudly and expertly hosted jointly in association with Woodbridge School. It was great to have all levelled riders competing at this show from 40cm- 90cm. Everyone rode fantastically and looked very smart. Well done to Eve (second individually in the 70cm RPL) and the team of Eve, Oli, Nancy and Lily who finished third overall.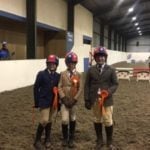 Photo: Left – Right
Eve, Lily, Oli.