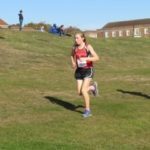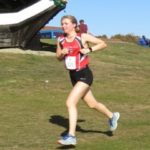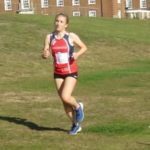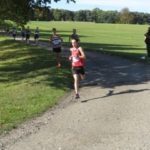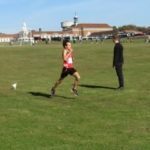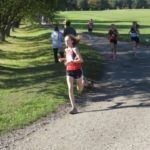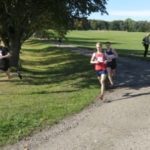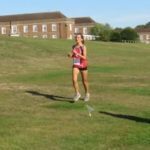 Suffolk Schools Qualifying Race
On a glorious sunny day at RHS, team Woodbridge arrived with 34 boys and 33 girls all in the Woodbridge vests ready to compete against the other 1700 children from 52 schools who had ventured out with a common desire of finishing in the top 50 to earn a place in the next Suffolk Qualifier.
The afternoon started with over one hundred competing in two senior races: in the girls' event Amy and Sarah ran extremely well to finish in 4th and 7th respectively, while for the boys Nathan finished 2nd and Alex 4th, all four running with great control, taking their time to work through the field and finish in the top 10. Chris was not far behind, also finishing strongly to end in a well-deserved 16th position.
Racing next and suitably inspired, the minor girls and boys put in some outstanding runs of their own: Eloise 3rd, Rose 4th and Lara 10th (Rose and Lara both a year under age!); Sasha and Georgina 19th and 22nd; Millie a fantastic 29th, much to her own surprise!; Sophia showed incredible fighting spirit to finish 37th despite a big fall requiring first aid after the finish; Nancy A who must be thanked for helping poor Sophia came in a strong 69th, with Nancy N just on her tail 72nd. Phoebe and Bea both finished the race strong in 96th and 112 respectively.  The minor boys also excelled with Ethan and James both finishing in the top 10 (8th and 9th) and Jonjo close behind in 16th. John, Jack and Will ran in a nice little pack at the front of the race, ensuring qualification for the next round in positions 23rd, 24th and 36th, while Arthur, Oscar and Oliver joined them in the top half of the race (65th, 69th, 75th). There were about 700 minors competing overall to give an indication of how well ours did.
The Junior girls saw Ruby 1st  and Amy 4th finish in the top 10, with Ruby running away with the race by an astonishing margin. Anna made another top 20 finish with 14th and Isobel and Ella made the top 50 in 22nd and 47th. Libbie came in 57th and with Kitty 71st , Madeline 86th, Wilhelmina 95th and Iris 96th all breaking the top 100 it was an excellent performance of group running.  The junior boys performed well, too.  Henry was in excellent form finishing a strong 3rd with Ed just behind him in 11th. Jonny proved that running is definitely in the family with an impressive 22nd and with Moses finishing in 41st Woodbridge will have a solid number of representatives in the next round. Ronald was unlucky to just miss out on his place finishing 51st, whilst Senen in his first race finished a creditable 82nd. Samuel finished well in 116th, and Edward came 131st despite becoming ill while running (Tom 126th and George 124th helped him around the course and supported him through the finish – great teamwork).  Once again all our runners were in the top half of their races, with 600 juniors competing on the day.
The Inter girls saw the second winner of the day for Woodbridge as April strode around confidently and made it to the finish line a good 50m in front of her nearest rival. Jess ran better than ever to finish an excellent 7th and even surprising herself; Bea 10th continued where she left off last season with another excellent performance whilst Charlotte 16th, Emily 23rd and Ashleigh 25th ran strong races to confirm their places in the next round of the Suffolk trials.  The Inter boys rose to the challenge equally well: Charlie 2nd was closely followed by Kit 3rd and George 6th, all three finishing effortlessly; and Tom 18th and Barnaby 22nd worked hard together to ensure a top 25 position in what was Barnaby's first race for school.  300 athletes competed at Inter.
All in all it was a fantastic day of running, with lots of positive improvement and some outstanding performances.  Overall out of 65 runners 38 have so far made it through to the next round with a few more potentially joining them.  The school also had a record 18 top 10 finishes this year and all should be congratulated for the hard work and dedication that it takes to perform at this level.  As a school we won both inter categories and were second in both junior categories (but first combined); the minors had no team event, but judging by the results would have been top three or better, and would almost certainly have won the girls' event.
The next round of the Suffolk qualifiers takes place at Ipswich High on Saturday 1st December so we will hopefully have even more positive news then.