Junior 1 Girls – Report from Dom Walsh
Our Junior 1 Girls cricket team were in action this week, scoring 142/6 v King's Ely 65/6.
After some disruptive rain, the Junior 1 Girls team got off to a flying start with year 8's Bea and Year 7's Amelie putting on a partnership of 62 runs.
A little fight back from Kings Ely didn't do enough to stop Woodbridge from scoring freely with Year 7's Francesca and Year 8's Eloise putting on a nice partnership to help us finish on 142/6 off 20 overs.
It was a bowling display to be extremely proud of with all bowlers being very economical and restricting Kings Ely to 65 runs from their 20 overs, well done to Year 8's Lily for taking two wickets.
A great win to start the season, well done to everyone that took part.
Outstanding performances from Year 8's Bea with 29, and Year 8's Lily with 2 overs, 1 maiden, 4 runs and 2 wickets!
Junior 2 Boys – Report from Ian Simpson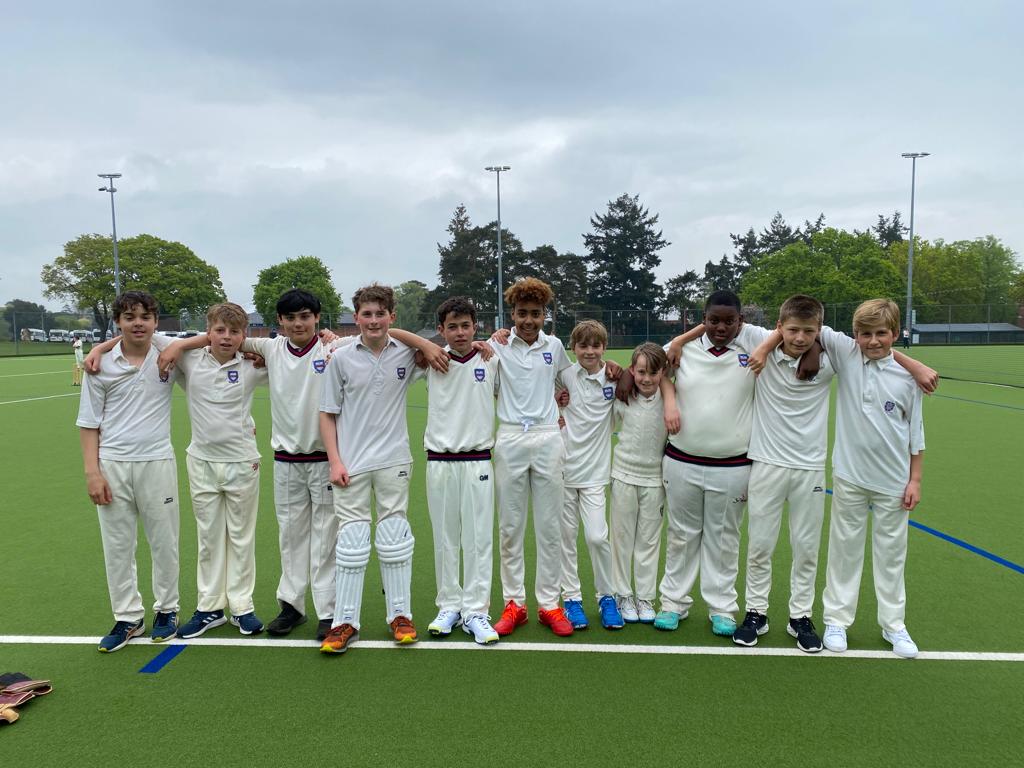 Also in action this week were our Junior 2 Boys cricket team, playing against King's Ely in the rain unfortunately.
Playing only 12 overs, the pressure was on for the opening batsmen to score runs quickly so that we could post a strong score.
Unfortunately we lost two quick wickets with Theo (Y8) and Harry (Y7) departing with single figure scores, however Edward (Y8) and Charlie (Y7) then set about restoring the balance and ensuring a solid platform was laid for the next batsmen. Charlie eventually departing for a rapid 23, including a lovely 6.
When Charlie departed Arlo (Y8) entered the arena and set about increasing the run rate, smashing boundaries all over the place, including a majestic 6 over the bowlers head. At the end of the innings Woodbridge had accumulated 94 runs with Arlo unbeaten on 32 and Edward unbeaten on 22.
The challenge now was to restrict Kings Ely and apply pressure with some excellent fielding. Arlo set a very tactical field and this ensured not many runs were conceded early, with Charlie only going for one run in his over and this was ably supported by Liam (Y7), Angus(Y8) and Theo who all only went for 3 runs in their overs, restricting the Opposition to 68 in total.
A great team performance to start the year and a great building block for the next game.
Junior 3 Playing against King's Ely on Wednesday too were our Junior 3 Boys cricket team, all Year 7 students.
This team started the season extremely well. On a very wet day we put the opposition into bat in a reduced format of 10 overs. As it was such a shortened game everyone was given the opportunity to bowl one over. The bowlers bowled an excellent line and length, restricting the opposition to 62 off 10.
Bowlers of mention were Arthur L who took 1 wicket for 2 runs and Toby C and Oliver Y who both bowled one over for one run. Mention must also be made to Oliver M's excellent wicketkeeping.
The openers of Toby and Oliver R set about chasing the total. Importantly both played the ball on merit, keeping the good ball out and hitting the bad, Toby hitting the shot of the day with a superb back foot drive. They managed to bat through the innings to allow us to win the match by 10 wickets (with 2 overs to spare). Toby scored 15 not out and Oliver scored 22 not out.
The match was won by 10 wickets – well done everyone!
Importantly each and every one of the team played superbly and looked a professional unit, and I look forward to the remainder of the season.
Senior Girls (U18)  – Report from Matt Davis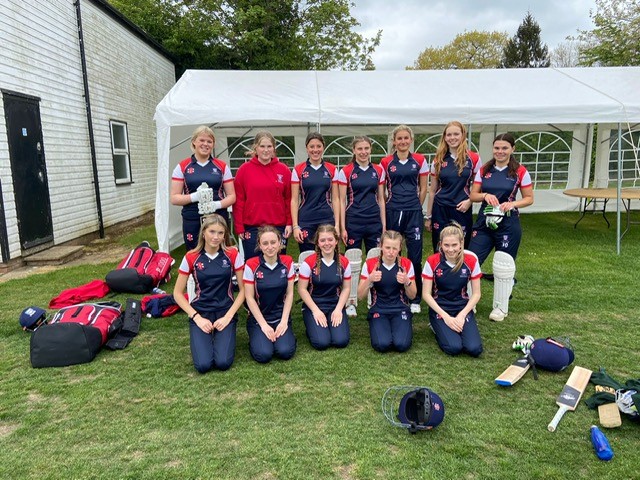 Our Senior Girls U18 team played their first ever match, and it was against King's Ely this week. A great match, resulting in King's Ely taking the win by 5 wickets. None the less, it was an opportunity to play together for the first time as well as learn and progress
The weather in the early part of the cricket season can always be a bit on the chilly side but it was great to be able to host King's Ely for this match.
Woodbridge batted first and promptly lost two wickets in the first two balls – an inauspicious start!
Fortunately thanks to Clara (Y13) , Esme (Y11) and Ruby (Y11), and their determined and gritty battling, Woodbridge bootstrapped themselves up to 118 for 9.
With the ball Woodbridge managed to dislodged a few of the Ely batsmen but in truth they were always ahead of the run rate.
Well played to everyone who took part – and special thanks to Mr Burns and Mr Pineo who officiated with aplomb.