Cricket this week saw our Junior 1 Girls and 1st XI Boys play matches.  Read more about these matches, players and final scores in our match reports below, as well as a report from last week's Junior 1 Boys and U14A Girls match.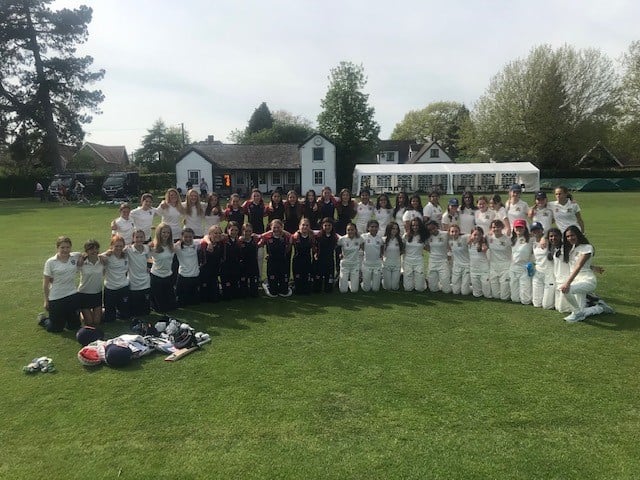 U14A Girls Woodbridge vs Bancroft's – Match Report From Matt Davis
The U14A Girls Cricket team beat Bancroft's last week by two wickets, with the final score Bancroft's 88 for 9 off 20 overs, and Woodbridge with 91 for 8 off 19 overs.
The best day of the year so far saw the touring side from Bancroft's visit a very sunny Suffolk for this 20-20 match.
Bancroft's batted first and scored a creditable 88 for 9 from their 20 overs. Lara and Ella both chipped in with two wickets apiece and Lily, Nina and Tabitha all bowled well in this first game of the season.
Woodbridge were always just ahead of the run rate in the chase but only managed to click off the runs with one over to spare. Ella was retired on 36 with Juno and Eve adding a 22 and 17NO respectively.
The match was truly an excellent advert for school cricket and the game was played in good spirit.
Bancroft's went away after a delicious match tea to continue their tour of Suffolk and we were pleased to have hosted them. Well done to everyone that took part.
Junior 1 Girls Woodbridge vs Bancroft's – Match Report From Dominic Walsh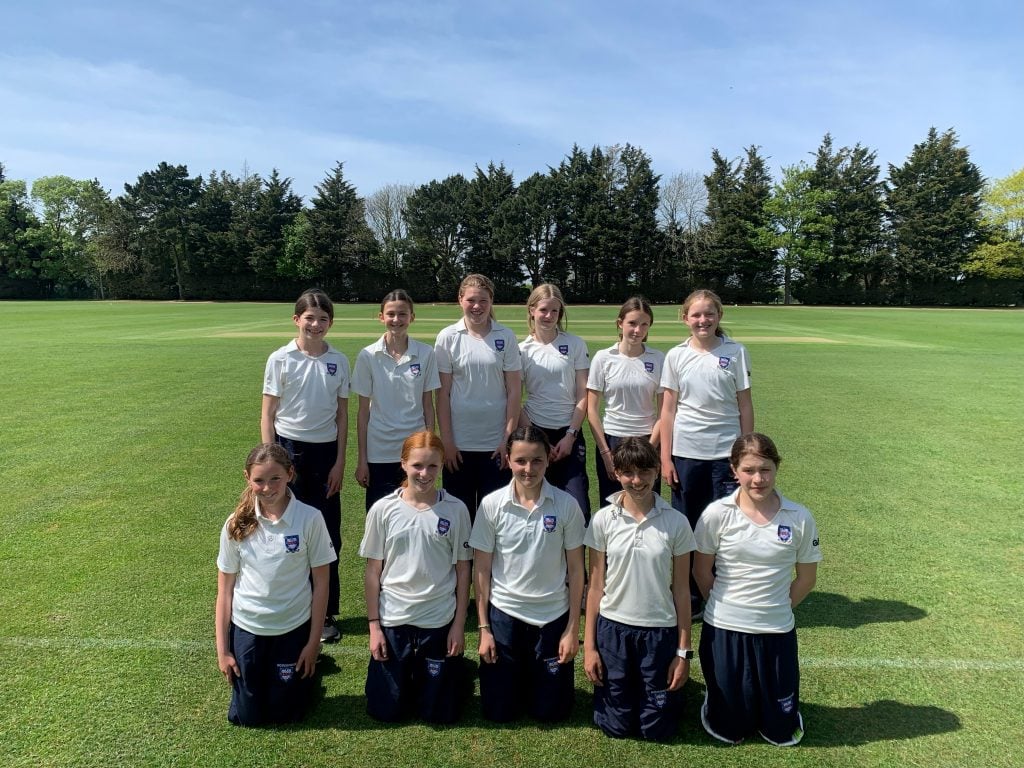 This week saw our Junior 1 Girls team beat Bancroft's with a final score of Bancroft's 89 all out, Woodbridge 117/4. Well done to the Girls Junior 1s for making it two wins in the week.
Coming off the back of a rain-interrupted game on the Wednesday, the girls were up for a sun filled game of cricket. Woodbridge were bowling first and once again it was a fantastic performance all round with some stand out performances from Year 7's taking 2 wickets for 10 runs.
The following also took a wicket in the innings; Year 8's Lily, Eloise and Charlie and Year 7's Amelie and Francesca. There was some great fielding also with a lovely catch from Y7's Rosie and run outs from Y8's Lyrah and Y7's Amelie to round off the innings.
Woodbridge started the run chase slowly and at the halfway stage the game was in the balance but Y7's Amelie who opened the batting managed to keep her cool and score an unbeaten 31 runs to lead Woodbridge to the victory.
Well done to all members of the team.
Woodbridge Junior 1 Boys vs Kings Ely – Match Report From Ian Simpson
The Junior 1 Boys found themselves batting to start their season at home to Kings Ely last week, in a 15 over a side reduced match. 
A few early wickets for King's Ely got them off to a strong start, but some excellent shots and composure from Sam – who finished 58 not out (48 balls) – along with some contributions throughout the batting line-up, saw Woodbridge post 105/7 from their 15 overs.
 
With a good score on the board, the two opening bowlers (Year 8's Charlie and Oscar) set the tone with some very economical bowling, with the latter producing a pearling Yorker to take the first wicket of the year.  These two were supported by Year 8's Joe, Tom and Oscar, all of whom looked threatening and kept it tight through the middle phase of the chase.  
With a couple of good run outs along the way, Woodbridge restricted Kings Ely to 86-4 after their 15 overs.
A great win to start the year, with outstanding Performances from Year 8's Sam 58* (48) and Charlie 3-0-8-0.
Woodbridge 1st XI vs RGS Colchester – Match Report From Ian Simpson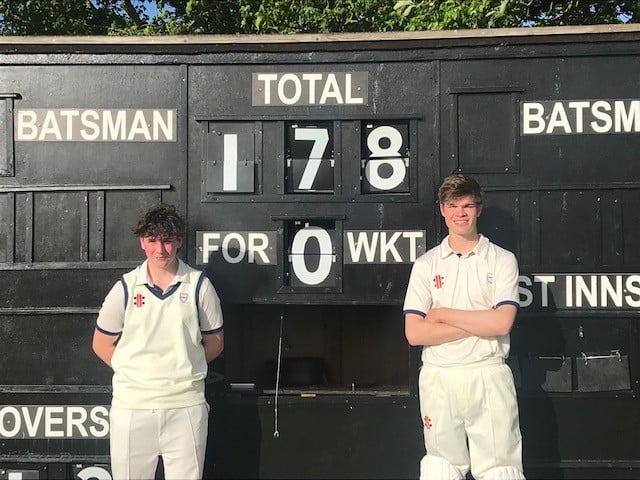 The School Record Partnership saw our 1st XI beat RGS Colchester in a cracking cricket match this week.
Year 13's Tom and Year 11's James combined to set a new record opening partnership for Woodbridge School of 178, setting the scene for a 9 wicket victory against a very strong RGS Colchester side. Tom and James opened the batting and chasing 189 for victory set about the task sensibly, with great stroke play some excellent running between the wickets. Needing just over 7 an over from the start of the innings the score ticked along, with both batters playing some excellent shots when the opportunity arose.
Tom reached his 50 in the 10th over of the reply and continued to score at 5 runs per over for the entire innings, ending on a magnificent 126 not out. However, whilst James was the understudy to this magnificence, his role in the partnership cannot be underplayed. Running hard to turn 1s into 2s, nudging the ball around the field to alternate the strike and when appropriate hitting some wonderful 4s past the bowlers' ears!!
Unfortunately, James was dismissed with the winning total just 11 runs away. On stepped Year 11's Fazil to smash two boundaries to win the game and ensure a celebration.
I cannot underplay the partnership between Tom and James!! A record for Woodbridge School and certainly one that will stick in the memory of outstanding cricketing performances of any schoolboys that I have witnessed.