Category:
Woodbridge News
Year 10 Graphic Communication students took part in a publishing competition for local charity Just 42.  They were set a brief to design a new newsletter for the charity to send out to their supporters.  The students worked hard during lessons for about four weeks to research the charity, and then come up with a design that represented the charity but was also clear and easy to read.  Caroline Rutherford at Just 42 was highly impressed with all the designs, and said that the students had made a real effort to understand exactly what the charity is about. It was a hard decision, but Charles Sutton was the overall winner of the competition.  Caroline said they were mostly impressed by his simplistic approach to the project, and that the overall layout was clear and easy to follow.  Well done Charles!
Putting together a string of impeccable performances, Zara Lye won the under 18 Novice at Poplar Park at the Horse Trials on Saturday 12 and Sunday 13 March with a best dressage score of 24.5 (75.5%), and clear Show Jumping and Cross Country rounds. She also won the prize for best Suffolk U18 rider by winning the class. Next stop is Belton International on Friday 31 March for her first GB Junior Trial. Many congratulations to Zara on her outstanding achievement.
Congratulations to our Abbey and Senior School pupils who have won an outstanding number of accolades at the Sudbury Festival of the performing arts. The results are as follows;
VERSE SPEAKING
Commended certificates were awarded to:-
Rosie Stennett, James Maggs, Polly Scoggins, Beatrice Liddy, Tilly Houchell, Nina Chapman, James Blackmore, Oliver Laxton, Isla Richardson, Evelyn Saunders, Caitlin Maggs, Alice Sharratt.
Distinction certificates were awarded to :-
Ruby Field, Amora Minhas, Chloe Macmillan, Amy Thornley, Eleanor Parsons, Imogen Melrose, Oliver Reid.
Outstanding certificates were awarded to :-
Sasha Reid, Alexander Sharratt.
Third Place in their age group – Ruby Field
Second Place in their age group – Chloe Macmillan, Eleanor Parsons, Oliver Reid
First Place in their age group – Sasha Reid, Amy Thornley, Imogen Melrose, Alexander Sharratt.
PROSE READING
Merit and Commended certificates were awarded to :-
Amora Minhas, Ruby Field, Evelyn Saunders, Caitlyn Maggs, Chloe Macmillan, Amy Thornley, Polly Scoggins, Beatrice Liddy, Eleanor Parsons, Alexander Sharratt, Oliver Reid.
Distinction Certificates were awarded to :-
Sasha Reid, Alice Sharratt,
Outstanding Certificates were awarded to :-
Oliver Laxton, Imogen Melrose.
Second Place in their age group – Alice Sharratt
First Place in their age group – Sasha Reid, Oliver Laxton, Imogen Melrose, Oliver Reid.
SOLO ACTING
Merit and Commended certificates were awarded to:-
Alexander Sharratt, James Blackmore, Polly Scoggins.
Distinction Certificates were awarded to:-
Sasha Reid, Caitlyn Maggs, Chloe Macmillan, Oliver Laxton, Alice Sharratt.
Third place in their age group – Oliver Laxton, Caitlyn Maggs
Second Place in their age group – Sasha Reid, Alice Sharratt, Chloe Macmillan.
DUOLOGUE ACTING
Tilly Houchell & Ruby Field – Merit
Lily Cook & Sasha Reid – 1st Place Distinction.
DUOLOGUE POEM
Fergus Gathorne-Hardy & James Blackmore – 3rd Place Commended.
Rose Jackson & Beatrice Liddy – Commended.
Amy Thornley & Polly Scoggins – 3rd Place Distinction.
Lily Cook & Sasha Reid – 1st Place Distinction.
SOLO MIME
Merit and Commended Certificates awarded to:-
Evelyn Saunders, Caitlyn Maggs, Chloe Macmillan.
Second Place in their age group – Chloe Macmillan.
SPEAKERS' CORNER
James Maggs – 2nd Place Merit.
Evelyn Saunders – 1st Place Merit.
BIBLE READING
Isla Richardson – 3rd Place Commended
Alice Sharratt –  2nd Place Distinction
Oliver Laxton – !st Place Distinction.
Alexander Sharratt – 1st Place Commended.
SIGHT READING
Amy Thornley – 2nd Place Commended.
Alice Sharratt – 1st Place Distinction.
Alexander Sharratt – 1st Place Distinction.
SHAKESPEARE
Commended Certificates awarded to:-
James Maggs, Chloe Macmillan, Isla Richardson, Oliver Reid.
Distinction Certificates awarded to:-
Oliver Laxton, Alexander Sharratt.
Third Place in their age group – Chloe Macmillan, Alexander Sharratt.
Second Place in their age group – Isla Richardson.
First place in their age group – Oliver Laxton.
MUSIC AND SINGING
Unaccompanied Folk song  1st place  with Distinction – Chloe Macmillan
Set piece  2nd place  Commended – Chloe Macmillan
Song from the shows  Commended – Chloe Macmillan
Saxophone grade 1   2nd place Commended – Chloe Macmillan
AWARDS
Sudbury Newstalk award for Junior Prose Reading  –  Oliver Laxton.
Sudbury Newstalk award for Senior Prose Reading –  Imogen Melrose.
Sheila Kiddy Award for Most Promising Junior – Alice Sharratt.
Wardale Williams Cup for Excellence –  Alexander Sharratt.
Palmer Thomas Award for Bible Reading – Oliver Laxton.
Patricia Brindley Trophy for Duologue Verse Speaking – Sasha Reid & Lily Cook.
JUNIOR CHAMPION – SASHA REID
SENIOR CHAMPION – ALEXANDER SHARRATT
Alexander and Oliver were the only two Woodbridgians amongst a very accomplished field in the senior speech and drama section of the Festival; Oliver won his prose reading class and came second in his verse speaking class with distinction; Alexander won the Senior Speech and Drama Championship Salver for the highest aggregate marks in solo acting, verse speaking and prose reading across all senior classes and was also awarded the Wardale Williams Cup for Excellence. Huge congratulations to both pupils on their outstanding achievements.
Oliver and Alexander were invited to perform (along with 4 others from The Abbey) at the Gala Concert  in Sudbury.
The concert showcases the very best of performances from the whole Festival.
At the end of the concert, 2 very special awards are presented.
One of these is The Suffolk Free Press Anniversary Cup, given, on the recommendation of the adjudicators to the most promising performer aged 15 years or under, in Music, Speech & Drama, or Dance.
This year it was awarded to Alexander Sharratt.
This was a remarkable achievement to add to the fact that in the two major Performing Arts Festivals of Suffolk, Woodbridge School and The Abbey now have the reigning Junior and Senior Speech Champions in both.
The Abbey pupils also achieved an outstanding haul of accolades at the Sudbury festival, with 21 pupils achieving awards across a wide range of categories.
Score: lost 5-22
Woodbridge 1st XV took on Old Swinford Hospital in the semi-final of the national cup on Wednesday, 8 March 2017. From the kick-off, OSH were deep into Woodbridge half of the field. Woodbridge quickly took the ball and made some good half breaks to gain yards through Hugo Kelleway and James Bellhouse, however the breaks were short lived as the big and physical OSH team added more and more pressure on to Woodbridge line. Throughout the first half, Woodbridge lived off scraps of possession as the OSH pack started to dominate the game, however outstanding defence from William Wells, James Bellhouse and James Brown ensured that we were only 15 points down at half time.
The half time team talk focussed on open space, playing quicker, trying to catch OSH out in the wide channels, and going faster and faster, making sure we played away from their big pack, away from contact. The boys increased the tempo and the intensity, and throughout the second half spent most of the time in the OSH half, pressing and pressing. Unfortunately halfway through the second half, OSH scored again, bringing the score to 22-0. However this did not deter Woodbridge, who came back more physical and more passionate than ever.
With the crowd roaring us on, Hugo Kelleway and Tom Innes started to pull the strings. James Bellhouse, James Brown, Kieran Saxton and Tristan Hilger were now running hard into space; the crowd started to feel that Woodbridge might just turn it around, and Hugo squeezed in for a try making the score 22-5.
In the last 10 minutes we pressed and pressed, but unfortunately couldn't break through again, to leave the final score 22-5. The Woodbridge players were fantastic; dedicated, passionate and committed throughout the game.
We would like to take this opportunity to thank all the parents that have watched throughout the cup run; supporting so passionately from the touchline, and also Wednesday's crowd which was fantastic and gave the players such a boost, and pride, in their performance.
Lastly thank you to the boys who have trained, worked and played so hard to represent the School throughout the year. To reach the semi-final of the National Cup is an astonishing achievement and they deserve all the plaudits.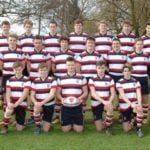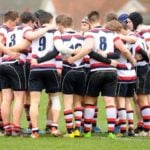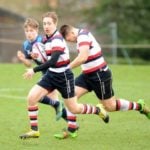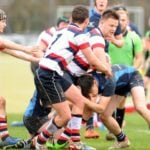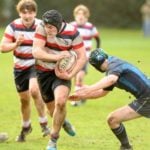 Score: Won 3-0
The first team travelled away to Saint Felix on Tuesday 7 March. Our players put in some excellent play in defence, and some direct running up front enabled Chris Henry to break through, after a strong tackle on the goalkeeper, to score the opening fantastic goal.
At half time the score was 1-0, but it didn't reflect the dominance of Woodbridge  in the match so far. During the second half, with a slight change of system, we were able to change the game and pushed forward with goal number two, and then a third in quick succession from Seb Lamb and Freeman Lok.
All 14 boys  represented the first team extremely well on the day, and never stopped working hard to secure the School its first football victory in over 25 years! Very well done to the team, and we look forward to our first and second teams playing Royal Hospital school next week.
10 am, slipping and sliding alongside thousands of others under a heavy sky in the rolling Leicestershire countryside… and that was just walking the course at the UK Inter Counties Cross Country championships! As usual Mark Goddard and Dr Wharam were assisted by an absolutely superb parental support team and it was fantastic to see the Woodbridge runners making up such a sizeable proportion of a Suffolk team who were looking to punch well above their weight.
The UK Inter Counties is an elite competition between the very best in Britain with 44 counties (Wales, Scotland and N Ireland are divided into larger districts) fielding their best 8 runners in each age category.
First up the U13 boys. Following the mudfest of the Nationals at Nottingham, and then the excitement of taking the first three places at the East Anglian Prep Schools Finals, this was their third demanding weekend in a row. Did George Wharam, Charlie Turner, and Kit Evans Lombe still have anything left in the tank? And how would Edward Rufford, as a Year 7 running 'a year up', cope in such a big and talented field?
Charlie and George worked together moving steadily past their competitors, up and down the hills through the gooey mud; 60th, 50th, 40th, 30th, and still they pushed on pacing it brilliantly … 22nd for George Wharam, 27th for Charlie Turner. Kit Evans Lombe was 94th and Edward Rufford came an excellent 262nd that bodes well for the future. Suffolk just missed out on the medals with 4th place, an incredible achievement for such a small county. What a start for Woodbridge!
Next the U15 boys. Two weeks ago at the Nationals, Nathan Goddard edged into the top 20 for the first time with a brilliant 18th but the UK Inter Counties would be harder with some very good Welsh and Scottish runners expected to push him further down the order. With an impressive 29th Nathan was first back for Suffolk continuing his excellent run of form. George Rufford coped well with the mud and hills to finish 240th.
Inspired by the success of the boys it was now the turn of the U13 girls. Bea Thomas was second back for Suffolk in 152nd. Amy Goddard in Year 7, competing 'a year up', ran with maturity and intelligence to finish an excellent 177th.
The U15 girls were determined not to be outdone. Sarah Barker led the way for Suffolk in 48th, another National top 50 on what she described as one of her hardest ever courses.  Amy Graham dug in to come a well-deserved 158th whilst Milly Buckingham paced it well and finished an encouraging 251st. To give you an idea of how fast the runners come through, Amy Graham, at 158th was just 27 seconds from breaking into the top 100!
So, yet another exceptional day for Woodbridge's endurance runners! Eleven pupils ran for Suffolk against the very best in Britain, with four in the top fifty. Already being talked about as a national centre of excellence for endurance running the school has plans to develop this further.
Next weekend is the English Schools, the last race of the cross country season. A tough one as nearly all our runners will be a year young for their age category but confidence is high and rightly so.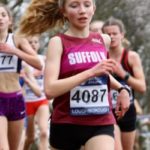 Jennings and Darbishire – Holmes and Watson, Jeeves and Wooster, Ant and Dec (no – they were taken by our very own Joshua and Adam, or was it Adam and Joshua?)… Laurel and Hardy?  Yes – a better fit.  What fun we the audience had, and, not withstanding a little necessary nerves, what fun the readers had too.  Bea, Tanya-Yasmine and Elise in Year 7; Jack, Henry, Hugo and Alexander in Year 8; Medomfo, Arthur, Annabel and Tom in Year 9; and Ant and Dec and Josh and Adam to round the story off.  Was there a thief?  Was the laundry ever laundered (because any ill-gotten gains could no longer be)? Was the egg still on the tie? And did the hic haec the hoc?  What is certain is the Jennings won an event at Sports Day (and Darbishire may have done so too), and that it was all caught on camera (not just any camera… a gazillion smasheroo or some such) by Lord Field Marshal Sir Trumpington-Topsy-Turvy KCMG DCO MC and bar.  I think that was his name….
Spiffingly splendid – our most heartiest congratulations to the winners Tanya-Yasmine Huq, Henry King, Arthur Bartlett and the overall champion Tom Scoggins, and our thanks to hosts Josh Cole and Adam Wildbore, judges Ella Jerman-Riddell, Madeline Upton, Laura Lindsay-Smith and Miss Crossland, and organisational supremo (with a flair for some perfectly chosen pictures) Dr Renshaw.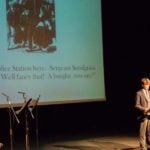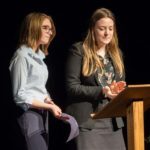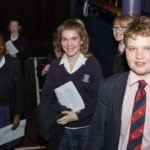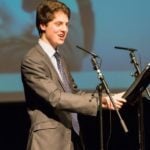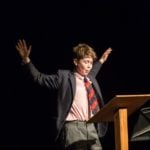 Woodbridge travelled to RHS to compete in the Suffolk Sevens hoping for a chance to qualify for the East of England finals at Franklin Gardens. It was a tough afternoon with 18 teams wanting to claim the two places available from the two winners pools.
Woodbridge started well and defeated Ipswich with tries from John Hendry (3) and captain Mak Zie. Jack Christie converted for a 22-7 win.
Next were Thurston and a whole squad rotation allowed for a comfortable win with tries from Tom Turner, Will Franklin, John and Mak. Jack added two conversions. Two late tries in the dying seconds flattered Thurston's score but a 26-14 win was achieved. Woodbridge were now through as winners of their group and were in the A league finals.
The next pool was a tough one with one team claiming the right to play at Franklin Gardens. Finborough drew first blood before John equalised just before the half time whistle. Finborough pulled ahead soon after with another try and Woodbridge were almost out. In the final minutes John scored and Jack converted for a 14-12 lead. Mak sealed the win with a great burst through close to the line and Jack converted for a 21-12 win.
Woodbridge now had to play Colchester RGS straight after their tight encounter against Finborough. The lack of a break proved too costly and after a few minutes Colchester were gifted 3 quick tries. Woodbridge, after playing some fantastic Sevens were now reeling and the dream had disappeared despite a consolation try late in the game from John. So close at the end but we had fallen just short of the main goal of the afternoon. Finborough then took advantage of a tired Colchester but Colchester just eased them out to win the group. Despite the disappointment the squad remains buoyant having played some great Sevens in preparation for the next tournaments.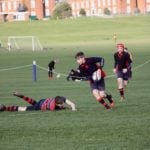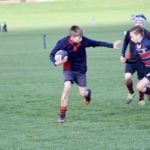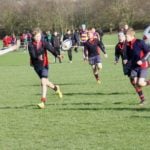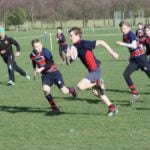 Woodbridge School hosted the East Anglian Preparatory Schools' Cross Country Championships for the 3rd time keen to continue with their recent successes over recent years. The weather was far from kind but at least brightened up as we approached the later races.
The Under 10 races started proceedings with many of the runners in their first race for the school. Georgie Phillips (12th) finished as the top Woodbridge runner but consistent runs from Sophia Waterer (15th), Rosie Hunter Blair (16th) and Charlotte Hattan (24th) secured a runner up position to Kimbolton.
The Under 10 Boys highlight were three top 10 finishes with Henry Vincent claiming a gold medal with his win, Luca Di Paola finishing 5th and Jonjo Walker (10th). James Hattan (22nd) played a great supporting role as Woodbridge were pipped by 2 points to lose out to Kimbolton and therefore claim another team runner up position.
The Under 11 Girls' event was a very competitive affair with a number of schools vying for the team award. Ruby Vinton blasted the competition away with a great victory and gold medal and after runs by Ada Marson (18th) and Maddie Buchanan (20th), Woodbridge were hoping for a top 3 finish. Unfortunately Kimbolton had secured the team win and both Norwich School and Town Close were close on their tail.
The Under 11 Boys had three Woodbridge top 10 finishes with Ed Buckingham having a great run to finish in silver position with great team support from George Na Nakhorn (7th), Tommy Burrows (8th) and Josh Turner. Their teamwork ended in a victory for the Under 11 Boys' team with Norwich in 2nd place.
The Under 12 Boys and Girls had fantastic races and were both crowned team winners which was a great achievement. The boys narrowly pipped Ipswich School by 1 point and the girls Gresham's by 2 points. Amy Goddard led from the start in the girls' race and deservedly took gold with Anna Jackson (7th), Ella Pitt (13th) and Lucy Clare (15th) giving the team a great score. The boys had Henry Dinwiddy taking silver and Ed Rufford (4th), Tom Martin (11th) and Sam Bolus (19th ) combining to ensure an Under 12 team clean sweep.
The Under 13 Girls' team performed very well with their altered team which showed great strength in depth after many runners were unavailable for selection due to other sporting interests. All three girls came in with top 10 finishes with Bea Thomas (5th), Emily Whyte (9th) and Cecily Royal-Dawson (10th). Unfortunately only a team 3rd despite their runs with St Felix and Ipswich pipping them by a few points.
The Under 13 Boys were the favourites at the start, following their win earlier in the year to become National Champions. The boys did not disappoint and left the opposition in their wake. All four athletes finished within the top 7 with Charlie Turner and George Wharam finishing joint first and Kit Evans Lombe right behind them to take the bronze medal. Tom Harper in 7th rounded off an excellent team performance and the end of the Championships.
These great results placed Woodbridge well throughout and showed how strong Cross Country is becoming at Woodbridge under Mark Goddard's tutelage. With great plans ahead to develop upon this Woodbridge are keen to lay the foundations for the future years coming through. With 4 team wins, 2 second places, 1 third and 1 fourth finish Woodbridge regained the Overall girls' trophy for the 3rd year running and the overall boys and Overall Championship Team award for the 4th year running.
Once again we need to thank Mark Goddard for all that he has helped the athletes achieve, and also with his time in planning the event with Mr Lubbock, Miss Sanders and Mrs Richardson. The Woodbridge staff were once again incredibly hospitable and worked hard behind the scenes with car parking, marshalling and scoring. Many Year 9 & 10 Cross Country athletes supported as marshals giving their time freely on a Sunday as did a number of Sports Leaders. The end of another successful championship and again a great result for Team Woodbridge.