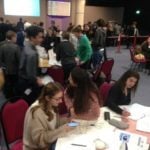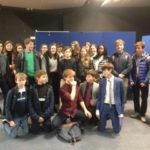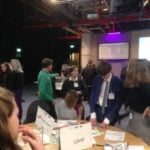 We had the opportunity to take our Year 10 business students to BT global headquarters this week to engage in an Enterprise day.  The purpose of the day was to put students into a controlled commercial environment where they break out into small teams (each team representing a company) and compete to make the most virtual money in the day.  To achieve this the students have to work together in their respective teams completing milestone tasks including:
Building and selling virtual cars; achieved through the accumulation of car-part tokens that can only be completed by trading/negotiating with other teams.
Raise initial capital (for the car parts) with a start-up loan; needing them to understand what a loan is and that it needs to be paid back through the online bank.
Raise initial and ongoing capital by trading in shares; trading in of all the other companies, using our online share-trading software.
Maintain the company bank account; using BT's online banking software.
Raise additional capital by paying for then completing physical team activities and a variety of reasonably complex quizzes and questionnaires; these activities provide a "return on investment".
Complete a mock-government paperwork exercise.
 Delivering a short presentation (in the Dragon's Den style); two people pitch for a couple of minutes to a panel on "why their company is investable".
Negotiating with "The Union" when their "car factory workers" go on strike; the outcome has a cost, the better the negotiation the lower the cost.
 Generally manage each other in the team (lead by a Chief Executive Officer and a Chief Financial Officer) and handle/negotiate all the other teams competing.
According to the placings one of our teams,  Lovol came second in the competition.  However the organisers acknowledged an error in their otherwise excellent procedures that made the "first" team results invalid.  Congratulations to all our students below and particular pride and respect for our winning Woodbridgians headed up by CEO Jack W.
| | | |
| --- | --- | --- |
| | | Team |
| Barnaby | | Lemon |
| Hugo | | Lemon |
| Lakisha |      | Lemon |
| Abby | | Lemon |
| Sam | | Lemon |
| Reace | | Lemon |
| Tilly | | Lemon |
| Thomas | | Lemon |
| Katie | | Lemon |
| John | | Lemon |
| Eleanor | | Lemon |
| Gabrielle | | Lovol |
| Thomas | | Lovol |
| Dino | | Lemon |
| Jack R |          | Lovol |
| Frederick | | Lovol |
| Lauren | | Lovol |
| Jade | | Lovol |
| Elsa | | Lovol |
| Jack W | | Lovol |
| Ashleigh | | Lovol |