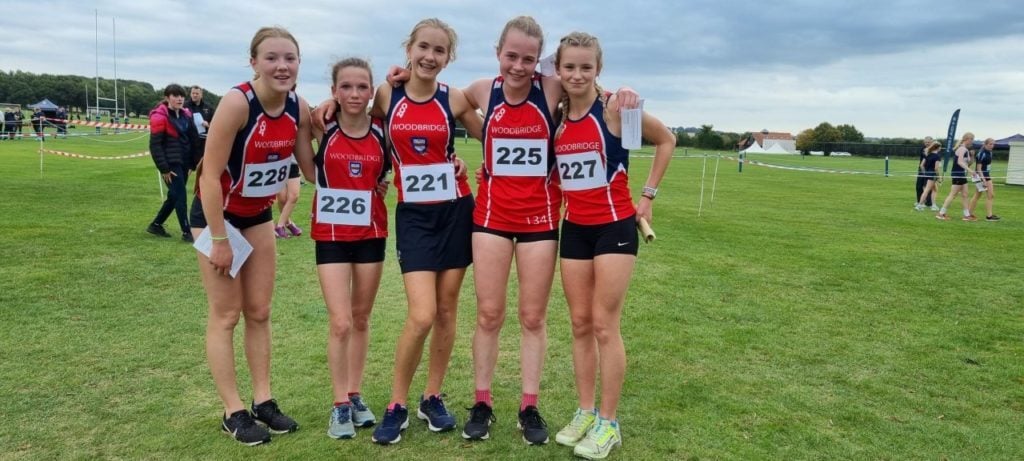 The first of three Suffolk Schools' Cross Country trials took place on Thursday 14th October, with nearly 50 Woodbridge School cross country athletes travelling to RHS to compete.
It was a cracking day, the students' performances were exceptional with over 90% of our athletes finishing in the top 50 of 150 runners, qualifying for the second trial which takes place on 27th November.
Full results can be seen at www.suffolkschoolsathletics.info (using the download button and not the view button, on the cross country page).
Although largely an individual event, our team performances were noteworthy indeed; more than 60 Suffolk schools entered the competition, which for the first trial is competed in two halves to cater for the number of students racing.
Assuming there are 30 schools in our South East competition, for the ease of analysis, the team results were as follows, looking at the top 4 finishers from each school in each age group.
Minor Girls : 1st 
Junior Girls : 1st 
Inter Girls : 1st 
Minor Boys: 4th 
Junior Boys :4th 
Inter Boys : 3rd  
We did not enter full teams in the Seniors.
Eight medals were won for top three individual finishes as follows:
Minor Girls: Felicity (Gold) and Alice (Silver) 
Junior Boys: Angus (Bronze) 
Inter Girls: Ruby (Gold) and Eloise (Bronze) 
Inter Boys: Henry (Gold) 
Senior Girls: April (Silver) 
Senior Boys: Kit (Silver) 
From the first trial we estimate that over 15 athletes are in contention for the Suffolk Schools Country Team, to compete at the Anglian Schools Cross Country Championships which we're thrilled to be hosting in February 2022. And between 7 and 10 of those athletes being in contention for the reduced Suffolk Schools Team to compete at the prestigious Englis Schools Cross Country Championships in Kent next March.
Huge congratulations to every athlete that took part, and a huge thank you to staff and parents for attending and giving such fantastic support on the day.
Cross Country athletes have a busy November ahead of them, with a number of them competing at the National Cross Country Relays in Mansfield on Saturday 6th November.  We can also look forward to all six Woodbridge School age group teams competing at the regional round of the English Schools Cross Country Cup in Southend on 13th, followed by the second Suffolk Schools Cross Country Trial on 27th.