Category:
Woodbridge News
We were delighted to welcome British baritone, international prizewinner and operatic star Garry Magee as adjudicator for this year's Singing Competition.  He brought a charmingly balanced and engagingly frank style to his commentary, offering brilliantly pithy hints and advice to our many singers alongside great praise and enthusiasm for what they are already achieving.  The Thursday evening romp through the best of Show music (Mary Popping, Oz, The King and I, Les Mis, Cats, Chitty, Lady, Annie, Evita, Wicked, West Side…. and on and on!) highlighted both entertainment and musicianship, with familiarity allowing the audience almost (but not quite) to sing along.  Thereafter, Friday concentrated on a far wider repertoire across all ages, genres and moods.  But for Mr Magee it was still vital to 'tell the story' – singing is a primal activity, and one only does it if one has a message to deliver…. otherwise why bother?  His is a very well made point, and with performers visibly relaxing under his benign gaze, many wonderful stories were told.  And he couldn't have put it better at the end: "I've had a blast and been very impressed with you all – well done!"
Bravo to all the singers, and in particular the following category winners:
Songs from the shows: Junior: jointly Nathaniel Gunn and Lauren Wilkes; Senior: Lucy-Eve Wright. Treble Solo: Freddie Simpson. Junior girls' solo: Ella Reynard.  Intermediate solo: Nathaniel Gunn. Lieder class: Gabriella Zins. European song: Madelaine Felton. Junior Duet: Nina Varadarajan and Ella Walker. Senior ensemble: Martha Carey, Poppy Fletcher, Bethany Wakefield and Miranda Woods Ballard. English song: jointly Owen Butcher and Gabriella Harvey.  Opera and Oratorio: Gabriella Harvey.
The overall champion and recipient of the Singing Cup was Gabriella Harvey.
The Match started with great pace and intensity,  with Woodbridge immediately on the front foot and on the attack, the forwards and backs working well together. The inevitable opening appeared and Hugo Kelleway dummied through a static defence to race over in the corner and make it 7-0 after 5 minutes. Straight from the kick off, and following a great set piece play and 'quick hands' to Rupert Clogg on the wing, another try was added: 12-0; 10 minutes; Woodbridge cruising and in complete control: keep composed, play to a structure and the game would be over by half time… But the opposition fought back, and the game became a little messy for the next 25 minutes, with lots of turnovers, lots of dropped balls and some muddled thinking meant that for the rest of the half Woodbridge remained broadly penned in despite some excellent work from James Bellhouse and Tristan Hilger late on.  The second half would need fewer mistakes, and better preparation and organisation.
Kieran Saxton obliged first with two barnstorming runs, barrelling over numerous opponents to put Woodbridge into a fantastic field position. A poor defensive kick to Hugo Kelleway; a catch in the middle of the field… side-step one, then two defenders, chip over the defence, speed through, catch his own kick, outsmart the full back and ….score under the posts! Even his own team mates stopped to applaud a fantastic individual try. 19-0.
Next, our defensive lineout to put into practice recent lessons, with Fynn Kiley leaping like a salmon under the support of Belhouse and James Brown, winning the opposition ball, offloading to Tom Innes who passed to the now marauding Saxton who swatted aside tackle after tackle before finally succumbing to about five in one hit! But the ruck was won quickly and Tom Lomas jinked expertly to squeeze over in the corner leaving two defenders on the floor bamboozled by the speed of his hips and feet. 26-0.
The game effectively won, what could Woodbridge add? A quick tap penalty, a driving run by Bellhouse, 20m more gained by the irrepressible Saxton, quick ball at the ruck, and a Kelleway dummy and dive to score under the posts. Conversion made. 33-0.  A great second half performance driven by an outstanding display by Kieran Saxton.
Woodbridge play Beaumont School next, date and time to follow.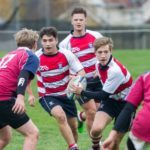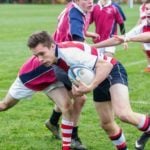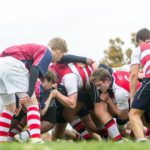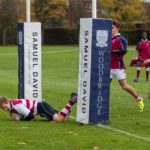 This month's thought piece from John Brett in the EADT Education section.
 To ask a class of 10 year old children what they think about Brexit or Donald Trump is to unleash a frenzy of opinion, debate, argument and comment such as you could not possibly imagine. Think Prime Minister's Questions, only much, much worse! Children are fascinated by the world into which they are growing and often quite perplexed by the way in which 'grown ups' conduct themselves and by many of the decisions they make. In the age of seemingly limitless access to unregulated information, it is small wonder that children struggle to make much sense of the world around them.
For many schools, Global Awareness has now become a vital part of the core curriculum, employing as it does important skills of discernment, creative thinking, collaboration and communication in the understanding of global issues. Through it, pupils are able to explore issues that have traditionally been absent from the curriculum and are encouraged to consider how we know what we know by looking at sources, statistics and stories, as well as considering their own personal values and identities.
Such opportunities are a far cry from the educational framework of just a generation ago. The world of work, including global awareness, and the school curriculum are now inextricably linked in terms of giving pupils the necessary tools to really make the best of the opportunities they will face in a few short years' time. This now strong and important connection, is giving all curriculum subjects licence to explore new areas of understanding, application and context. The skill of oracy for example, the ability to express oneself fluently and accurately, has never been more essential in modern global business communications and schools can begin to develop this skill from the very early years building up confidence and self-assuredness along the way. The 'try three before me' teaching technique is another good example of how modern teaching can help children to develop skills of cooperation and collaboration that one would find in the workplace. If you have a problem, don't go straight to the boss for an answer, try to find three ways of solving it first. If you still can't solve it, then you can legitimately ask for help!
The world will always throw up unexpected, unpredictable, bewildering scenarios with which we have to cope and manage. That we know this to be the case, should give us all the clues we need in terms of helping children build a strong platform on which to build their futures.
After an hour long bus journey we arrived at New Hall knowing how hard we would have to work, given New Hall's tough reputation on the hockey field. We quickly got our heads in the game, managing to keep possession and ensuring that the ball rarely left our attacking half. This resulted in an impressive goal through a series of intelligent passes in the D with Rowena Wilson-Smith finishing it off – bringing us an advantage. The New Hall side quickly fought back with a sense of urgency to equalise, but there was nothing they could do to get through our strong defensive players, especially Eleanor Berridge, who managed to hold off their attacks, even with two short corners against us. Half time approached and the weather turned.  Back on the pitch for our second half the rain was torrential but it failed to dampen our team spirit. The second half ended with Woodbridge 2nd XI triumphant. Both teams played with power and determination but ultimately we had the upper hand.
The team got off to a shaky start having arrived late for the game, but the girls turned this around quickly with a really professional attitude, and after the warm up the girls were ready to play.
The team started off well with some great play between the midfield and defence, and keeping the majority of the possession. But St Joseph's weren't going to make it easy for us, their players making it had for us to break through to the other side of the pitch.
After a team talk, the team knew what needed to be done to gain the upper hand,  and did so extremely well. The forwards moved higher up the pitch creating more space in the midfield,  allowing the midfield players more time and space to play the ball and pick passes. Once into their stride, the Woodbridge players played some excellent hockey, with Millie and Tess scoring to finish off the game.
It was a fantastic team performance, resulting in a 2-0 win for Woodbridge.
A great game and some great goals, hurray! We played really well, put some good defending with some great attacking play and Iris Morton put us ahead in the first half after lots of near misses!  The second half saw a great goal in the corner by Emily Outen and another one by Anna Jackson – tremendous! Final score 3-0 to Woodbridge.
Well done all and player of the game was Anna Jackson.
The Junior first team produced a dominating performance against RHS, winning 6-1.  It was a physical match from the start with some pushing and shoving but the Woodbridge girls managed to stand their own.  Olivia Buchanan was outstanding and made her mark on the match within minutes. RHS could not cope with her power and speed on the ball.  Olivia put the Woodbridge team ahead with a great strike at a short corner. Unfortunately the celebration was short lived as RHS took advantage of Woodbridge's lapse in concentration and defensive disciplines and scored their own goal a minute later.  After this Molly Marshall and Ella Walker never gave them another sniff in defence. With outstanding marking, confident stepping up, good tackling and accurate distribution they set the tone for the rest of the match.  Woodbridge played great passing hockey as a team and produce excellent hockey to watch. Positional play and decision making were at a very high level. Bea Thomas was brilliant in her work in the press and putting RHS under pressure and then leading well again to attack.  Woodbridge peppered the RHS goal with shots and penalty corners, bringing the best out of RHS' very good goalkeeper.
Olivia scored another goal before half time. This was followed by Clara Simpson scoring from a well-executed penalty corner variation.  After a deserved rest at half time, Woodbridge continued their fine form and passing play.  Olivia Buchanan scored another 2 goals before Ella Walker scored the final goal after every player having a part to play, transferring and passing well. Clara Simpson received the ball in the D, having assessed her options well, and swiftly moved the ball to Ella at left midfield, who slotted a perfect effort into the far post.  Perfection!
Well done to every player: Molly Marshall, Ella Walker, Annabel Nicholass, Jessica Elmer, Olivia Buchanan, Issy Eaton, Katie Norman, Clara Simpson, Bea Thomas and Emily Whyte.  Player of the match went to the unstoppable goal scorer of the day, Olivia Buchanan.  Thanks to all the parents and staff who supported the match.
Padre Cook has many years of service in the forces behind him, and so brought a telling intimacy to this year's Service of Remembrance.  The poppy, its frailty and beauty if one considers the European variety; its deadly potency to rip asunder and take over the self if instead one dwells on the opium variety.  Theatres of war that leave behind ghostly remnants of international interference.  Graveyards that honour the fighter, the medic and the chaplain side by side.  Peace that must not simply be hoped for, but must be fought for and preserved through strength of purpose.  No easy messages: but warfare and loss, and the reasons for them, deserve our proper contemplation, however difficult to hear, and however much we may need to debate the strategies we employ to mitigate them.  Our cadets paraded, the flags dipped in honour, the wreaths were laid, we prayed for the departed, and the lone trumpet sounded over Woodbridge as the maroons burst overhead.  Never forget.
It may have been a damp November day but somehow the cross country athletes from Woodbridge School brushed that aside with considerable ease. Spirits were high, with all four teams competing following their wins in the Suffolk leg. Anything seemed possible. We were up against seven counties including the might of Oxfordshire and Buckinghamshire.
The fact that Woodbridge School had never had a Team qualify for the National Finals gave the task ahead some context. 21 Teams (top three from each of the seven counties) would be reduced to three for Nationals in each of the four races.
First race of the day was the Junior Girls (u14) and although the team had worked hard and were likely to finish as a fairly compact unit, we were not expecting this young group to qualify.
How wrong we were!
Bea Thomas ran an exceptional race and every athlete raced for the line making every position count. The result – A Trip to Nationals by finishing third, beating 4th by just two points.
Individual results were Bea Thomas 5th, Molly Marshall 15th, Amy Goddard 20th, Issy Eaton 34th, Cecily Royal-Dawson 35th, Anna Jackson 66th.
Congratulations Junior Girls!
Second race was the Junior boys (u14), our strongest team and the one where we genuinely felt we had our first chance of qualification. We were not disappointed as the Woodbridge vests soon made their way to the front of the race and the boys finished second, a single point behind the school that won.
Charlie Turner was the star performer running an exceptionally well judged race to close in on the lead pack and then power home for second place.
Individual results were Charlie Turner 2nd, Kit Evans-Lombe 7th, Henry Dinwiddy 15th, Will Franklin 22nd, Edward Rufford 32nd, Tom Turner 47th.
Congratulations Junior Boys!
Next up were the Inter Girls (u16). Perhaps an outside chance we thought. Better than that the girls qualified for Nationals in a strong second place. Sarah Barker and Amy Graham worked their way through the field and were full of running in the closing stages to claim 3rd and 4th respectively. Special mention should also go to Charlotte Dinwiddy who ran a brave attacking race to finish 23rd.
Individual results were Sarah Barker 3rd, Amy Graham 4th, Charlotte Dinwiddy 23rd, Milly Buckingham 31st, Sophie Graham 38th, Victoria Burrows 40th.
Congratulations Inter Girls!
Final race of the day saw the Inter Boys (u16) line up. Whilst the Team realistically knew qualification was unlikely, the boys had trained well and were keen to improve on last years 7th place.
With Nathan Goddard leading from the front with another of his powerful displays for 2nd place, the boys packed well for the team to come home in 5th place.
Individual results were Nathan Goddard 2nd, George Rufford 19th, Daniel Davies 28th, Alex Evans Lombe 29th, Tom Harrington 35th, Nathaniel Gunn 42nd.
With that effort is has to be – Congratulations Inter Boys!
So off to Nationals we go. Formby, Lancashire on Saturday 3rd December.
With some 4000 secondary schools in England only 25 make it through to the Nationals and Woodbridge School will be in three of the four races.
We are one of only three schools in England to qualify more than two teams – Now that is something!
Poor lad.  He had it all.  Loadsamoney and much else besides.  Women too.  So much for all that, when Death came for a visit.
The morality play that is Everyman has been with us for over 600 years, recasting itself to every new generation sometimes simply through its staging and sometimes more fundamentally through a reinterpretation.  Carol Ann Duffy's 2015 adaptation is taut with disquiet and laced with unsettling references to our generation's louche, destructive underbelly.  The Sixth Form cast (plus Everyboy!) did extraordinary justice to her message in a performance that was mesmerising, witty, abrasive, and electric in its energy and capacity to shock – like a static jolt when one least expects it which almost hurts, yet leaves one cautiously excited for the next.  I don't relish an encounter with Death such as this (the reckoning would not go so well, for one thing): all Cockney-mocking swagger, with a grim certainty to her every action that the Kray's might have been pleased to employ.  No wonder Everyman, brilliantly tortured, by himself as much as by her, wheeled to no avail in search of respite. God's resigned despair seemed all the more depressing as a result: helpless in the abject failure of her glorious project – save for her ability to call in Death to make amends.  Family and knowledge, goods and deeds, friends and fairweather came and went, leaving Everyman to his fate, and the audience to its thoughts: we should do better, be better, check our account for a little more on the credit side, and look well beyond our own tiny horizons.  How timely.  Frighteningly so.
Brilliant – in performance, in staging, and in direction.  My congratulations to cast and crew on a stunningly compelling hour's entertainment (such a lighthearted word for something so powerful).  The images, and the message, will live with me for quite a while.