With over 150 goals scored and just 33 conceded so far this season, there's plenty to celebrate in netball for Woodbridge. Below you'll find match reports for our U15A, U14A, U12A, U12B, U12C/U13C teams, including final scores, Player of the Match and highlights from the games.
U15A Triangular Fixture Woodbridge v Ipswich High School & Kesgrave, Monday 7 February READY
Our U15A netball squad welcomed IHS and Kesgrave for a triangular fixture on Monday 7 February; each school playing a 3 x 8 minute match against the other two teams.
Both IHS and Kesgrave were unknown quantities as Woodbridge have yet to play them in the league, and after a slightly below par performance recently against Westbourne, it was really important for players to step up and play the level of netball this very talented squad is capable of delivering.
And deliver they did! The team were dominant in both matches, their attacking play was fast moving, well timed and demonstrated some excellent vision, with penetrating through balls from Issy and Nancy in centre court roles through to our attackers. Our shooting trio, Charlotte H, Skyla and Charlotte C, were on absolute top form, converting opportunities with ease.
Defensively the entire team were strong which making life very difficult for the opposition to move the ball down court, and regularly turning the ball over in the centre third. When the ball did reach our defensive end comprising Florence, Georgie and Marina, they were there applying the pressure, regularly intercepting and forcing errors.
Overall it was an excellent afternoon of netball with two convincing wins for Woodbridge. Our Player of the Match was Charlotte H. Well done girls, overall results below:

Woodbridge v IHS – Third scores 5-5, 11-6, Final result 18-9
Woodbridge v Kesgrave – Third scores 11-6, 21-8, Final result 36-10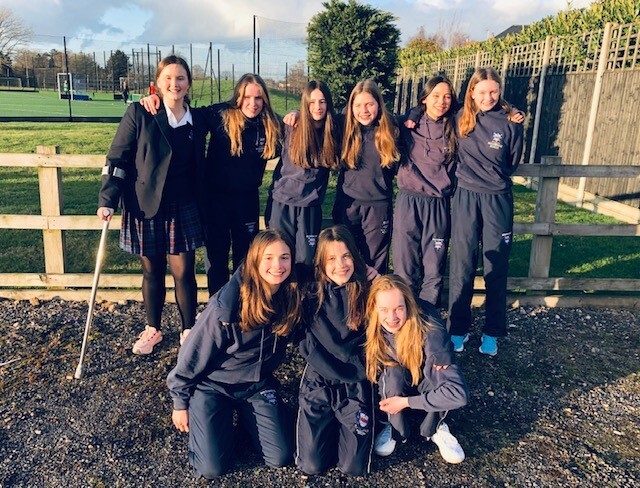 U14A Woodbridge v Ipswich School 25 – 1, Thursday 10 February
Meeting with Ipswich School's U14 team recently was not only a fantastic win for Woodbridge U14As but a very strong whole squad performance. Ipswich have considerable height at both ends of the court, but it was pleasing to see that the tactics we had worked on to combat this worked to good effect for the majority of the game.
The first quarter was tight, both teams settling into the match with the end score a marginal 4-3 to Woodbridge. But Woodbridge dominated and pulled away in the second quarter; our attack was well thought through and fast paced, led by Lara who had the freedom to run following a change of opponent. Excellent play from Scarlet, Georgia and Emily, who with patient work around the circle edge, were able to take advantageous shooting positions and produce well converted shots.
By half time Woodbridge were leading 13-6 and the second half was much closer, meaning it would have been easy for Woodbridge to lose their heads under the pressure – but they didn't. The team continued their effective attacking play with Nina now in at WA, feeding the circle incredibly well. The team battled hard and were immense in terms of defence throughout the court, particularly in the defensive shooting circle where Juno kept the tall shooter under pressure while Georgia, who was playing a tricky tactical role marking her GA and also dropping back onto the GS to stop a front ball, turned the ball over a large number of times.
Additional defensive pressure from Issy and Scarlet made life very hard for Ipswich, and although we lost the last quarter, the team had done enough overall to win the match 25-21. Player of the Match went to Juno, but well done to all the girls, it was a truly impressive game in terms of how it was handled.

Special mention to Rosie who is a key member of the U14A squad, but who we have sadly lost for a short while due to a horrible ankle injury – wishing her a speedy recovery and looking forward to having her back on court.
U12A Woodbridge v Fram Prep 14 -10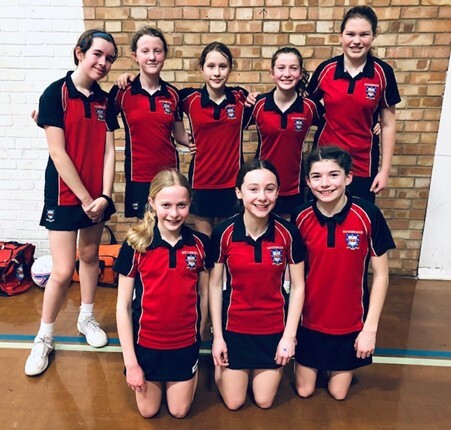 Last Wednesday Woodbridge U12A team played Fram Prep's Junior 2nd team, which was made up of both Year 7 and 8 girls. Matches were played back-to-back due to the gusty winds, and as a result were cut short to three of eight minutes, as we had to fit six matches in during the afternoon.
With height on the opposition's side, Woodbridge knew they needed to ensure they came forwards for the ball and continued to drive forwards until the ball was safely in their hands. The first third saw the ball travel to each end, but unfortunately the shots were not happening. However, once the shooters got their eye in, it was a different story, and Woodbridge went ahead by one goal 4 – 3.
During the second third, Woodbridge found their feet and started to turn over Fram's passes; Pip, Eva and Rosie made some super interceptions to prevent the ball being distributed to the opposition's shooters and Annie, Georgia and Felicity controlled the centre court by driving forwards to receive the ball, passing it into our shooting circle. Amelie and Izzy's movement in the attacking circle improved as they began to dominate their defenders and not allow themselves to be dominated. Rebounds were also chased down to ensure possession of the ball, and although tiredness throughout the game was clearly evident with a number of our team having been busy with musical rehearsals and performances, this did not stop the team putting their all into the game and coming away with a brilliant win, 14 – 10. Player of the Match went to Georgia, but well done to all the girls!
So far in all matches, Woodbridge have scored 150 goals and have only conceded 33, which is just fantastic. Well done everyone, we look forward to our matches against Ipswich High School on the Wednesday after half term.

U12B Woodbridge v Framlingham College Prep School 9-7
Due to adverse weather, this match took place in the dome and so needed to be shortened to thirds. To add to this, unfortunately, the Woodbridge team was missing three significant players for this match who were greatly missed. However, the girls did not complain about the fact that they were playing out of position and rallied enthusiastically to the task in hand.
In the first third the Woodbridge girls took time to settle, giving the ball away too easily and finding difficulty feeding the circle. Framlingham took the advantage and won that third 3-0. In the second third, Woodbridge worked hard to regain composure, were more organised and found the rhythm to their game. The passes managed to find our shooters resulting in three goals being scored.
In defence, Honor, Chloe and Amelia stayed tight to the opposition limiting the sore to just one goal. Woodbridge won the second third 3-1 as finally the Woodbridge team really found their flow. With fluid passing from centres Esmee to Grace, to Frankie and into Emilia, shooting was extremely accurate; Grace and Emilia scored six goals during that third. Again, the defence worked hard with Esmee intercepting many balls in the centre court play, but Framlingham did manage to score three goals. The final result was 9-7 to Woodbridge, with Chloe receiving player of the match.

U12C/ U13C Netball match v Framlingham 10-6
Another match that had to take place in the dome due to bad weather, and shortened to third, the U12C/U13C netball team took on Framlingham at home on Wednesday, securing another win for the team!
Woodbridge showed their breadth of skill, with shooters Rocky, Sukie, Mila and Isabelle all absolutely on form; unfortunately Teddi was unable to play. Captaining the team, Ella played extremely well in mid-court, working hard and linking play. Jemima also has a good game, making some very strong passes to her team which opened up the play. Likewise, defender Laura executed some fine passes, while Olivia was solid as ever in her role as GK, and Martha was also effective in her defending role, plus it was great to have Evie back having recovered from her recent injury. Mila was awarded Player of the Match by the opposition, but it really was very much a whole team effort and we look forward to our next match.