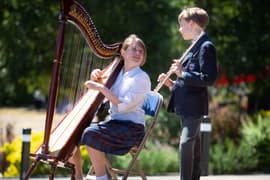 The chance to impact lives forever
In the past, the Direct Grants scheme (first introduced in the 1940s) allowed young people from all walks of life to obtain a good grammar school education, bringing greater diversity and opportunity in equal measure.   
This and subsequent schemes have long since been removed by the government. While the Seckford Foundation stepped in to provide funding, its resources do have limits. We now also need to raise new funds to enable us to offer new bursaries to help more talented young people achieve their full potential.
I would not have been able to study at Woodbridge without the bursary I received, and the wider encouragement in my personal and academic development made a huge difference to me. I am extremely grateful to all who made it possible for me to attend as I can now say, with great confidence, I would not be where I am today without Woodbridge School.
Make a difference
Have you, a member of your family or a close friend benefited from life at Woodbridge School? Or have you seen how businesses or other organisations have been positively impacted by having an Old Woodbridgian on their staff?
If you'd like to enable us to continue to deliver life-shaping tutoring, guidance and experiences, simply get in touch with our Finance Department and a member of staff will be happy to talk over your intentions and the next stages.
There could even be the opportunity to put your name to a Bursary Award, such as with the Richard Ward Bursary For STEM Excellence available to Sixth Form students.
Want to see for yourself?
In addition to our open days, we welcome visits from parents and children looking for the right foundation for life ahead. We'll be happy to show you around and answer any questions you have about our School, staff and the support we offer our students.
Set up for life
Want to book a visit or make an enquiry? Please get in touch.