Last week, 55 students and several teachers from Year 9 and 12 embarked on their Spanish study trip to Salamanca, Spain. As well as taking in the sights, sounds and flavours of the Province, including staying with host families, students also learned Spanish for four hours every morning. Mr Morton reports on the trip, alongside Year 9's Erin, and Year 12's Lucy.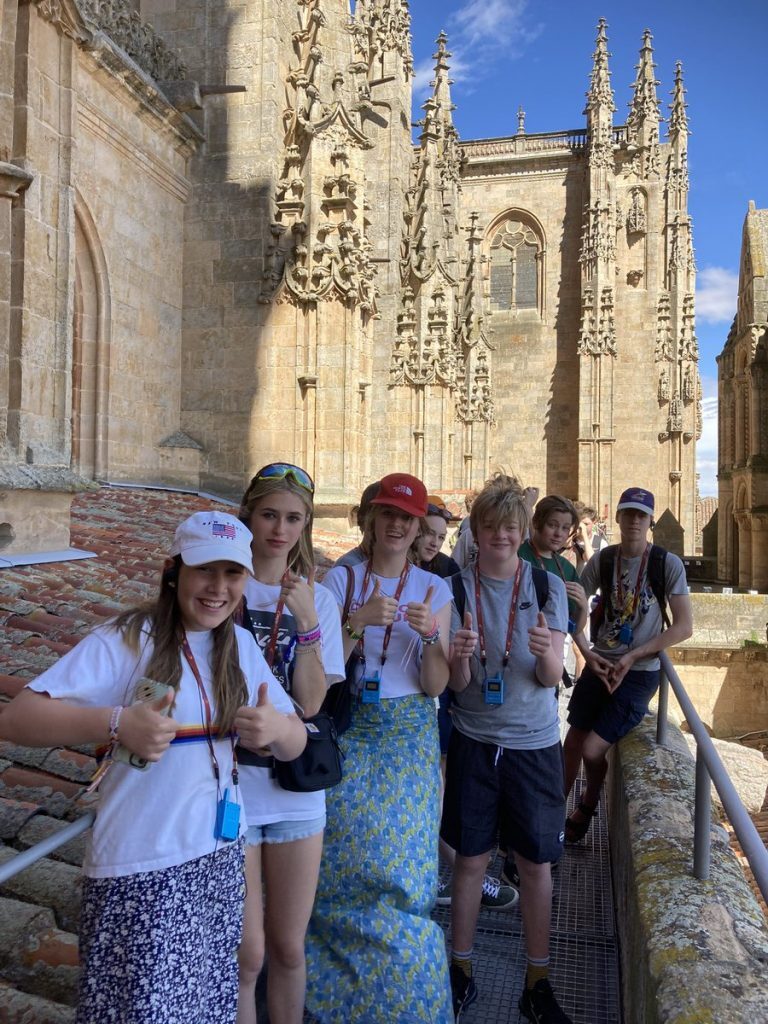 Mr Morton, Spanish Teacher
The Year 9 Spanish intensive groups and the Year 12 A Level students had a thoroughly enjoyable week in Salamanca, a 'golden' city just to the west of Madrid. It is said to have the purest form of 'castellano' Spanish in Spain and is also famous for one of the oldest universities in the world and its jamón! The staff all agreed that the students behaved very well and were fantastic during the week and a huge credit to our community. We look forward to returning in June 2023 with the next cohort!
Lucy, Year 12
After going on the trip to Salamanca in Year 9, returning in Year 12 was an opportunity I'm glad not to have missed. The combination of having more freedom to explore the city, choosing our activities more selectively and being able to understand the language better, made the trip even more enjoyable than before. As well as joining certain activities with Year 9 students, such as visiting Salamanca's two cathedrals, extra experiences such as being taken on a tapas night by our Spanish teachers and playing the popular Spanish sport, 'pádel', contributed to making this year's trip more special than before.
Erin, Year 9
We stayed in Salamanca for a week full of activities, lessons and touring some beautiful landmarks. Leaving our host families after breakfast at 8.00am, we walked over to Colegio Delibes – the school we attended from 9.00am to 1.00pm to learn Spanish in the form of two lessons: grammar and communication. Afternoons in Salamanca were spent with our host families eating home cooked lunches, having some free time to explore the city and then meeting outside later on to take part in activities such as touring the city, cooking, visiting museums and the market, a photo rally, tapas tour, salsa dancing and more. Each night, after these activities we had the chance to have up to two hours of free time each night to explore the city on our own (and definitely do some souvenir shopping). We met back up at the Plaza Mayor afterwards to walk back to our flats for dinner and a much-needed night's sleep. Although, on Tuesday, because of our tapas tour which consisted of visiting three different bars and trying some popular tapas dishes, we were out in the city much later (until around 10. 15pm!) and got a chance to see the stunning lights switched on in the Plaza Mayor when the sun had set. Overall, the trip was packed with fun and new experiences organised by our lovely teachers – by the end of the week we were all completely shattered!