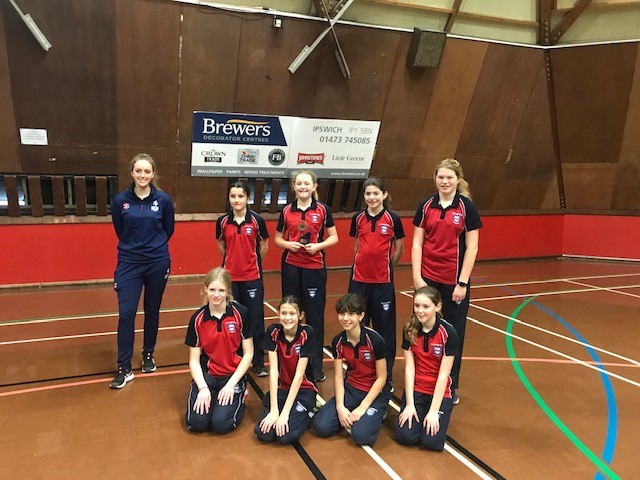 The under 13 girls took part in the Suffolk Regional Indoor Cricket Competition on Thursday 3 February, having had only one 20 minute indoor cricket training session under their belts!  But the girls entered the first game against Holbrook with a view that they would enjoy the morning and learn from the experience. 
Lily started the day with a wicket and continued in the same vein throughout the day, bowling straight and with fantastic accuracy! Backed up by a team which included Aurelia, Frankie and Amelie who took wickets in the first game, restricting Holbrook to just 40 runs. In the chase, Lily, Georgia and Lyra made sure that we made the total in quick time.
The second game against Farlingaye saw the opposition making quick runs, but our accurate bowling made sure they only made 82.  This target was a difficult one, but with Lily, Aurelia, Eloise and Lyra all retiring from scoring 15 runs, we reached the score with several wickets remaining and just three balls to spare. It was an excellent team batting and bowling display! 
The girls' last game was against St Josephs and saw Lily take early wickets again, supported by the whole team with our accurate bowling that ensured St Josephs were limited to just 60 runs. The batters strode out and four overs later the game was won. 
With these results the team won the regional competition and will now go on to represent the region in the Suffolk Country final.  Not bad for a team with only 20 minutes of indoor cricket training hey? Well done girls.