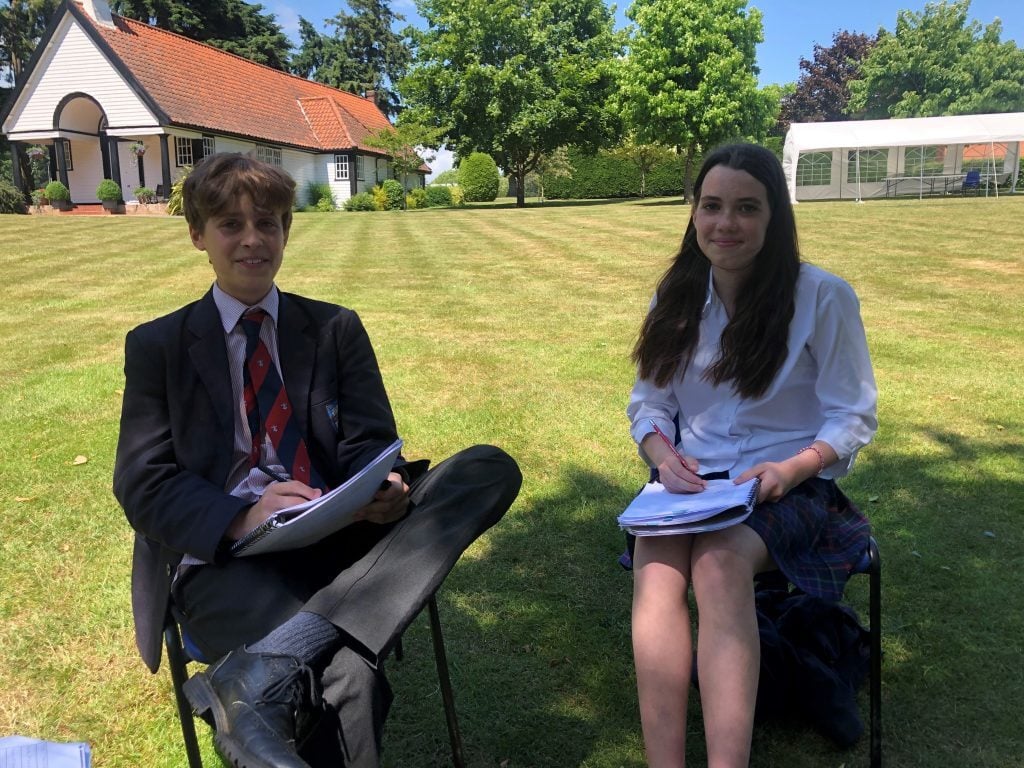 Rehearsals are in full swing for this year's production of Shakespeare On The Lawn comedy Twelfth Night, and we recently had the opportunity to meet and chat with two of the show's main characters; Sir Toby Belch and Viola –  Year 9's Fergus and Georgia to all in School. 
Meeting regularly over the next few weeks ahead of the production performance on Tuesday 5 and Wednesday 6 July, small groups of students get together at different times to rehearse on the lawn under the shade of the trees just outside the School Chapel. Along with Miss Mayes and under her direction, actors/students not only go through their lines, but discuss their characters, stage direction and translate some of the Shakespearean language where required, to ensure everyone understand exactly what is happening in the scenes.
Georgia, who joined Woodbridge in Year 5, has a real passion for Drama and was extremely excited to be offered the part of Viola in the production commenting, "I was so surprised to be offered the part! I've acted in productions such as The Wizard Of Oz and the Lion King in the past, but to be involved in a Shakespeare production is wonderful – especially having the opportunity to perform outside on the lawn, it's really very special. It was really exciting auditioning as no one was going for a specific part, so yes, I'm really happy with being asked to play Viola."
Fergus, who joined Woodbridge in Year 1 also shares that passion and enthusiasm for Drama having performed in a number of School productions, and also in The Wizard Of Oz and The Lion King as well as Fame! Invited to play Sir Toby Belch he commented, "I love my part, there's so much I can do with him, and he's great fun to develop – he has a real edge and could be described as a comedy character. We don't get to audition for specific parts, so to be chosen for this is a real compliment and I think had I been asked what part I'd like Sir Toby would have been one I would have chosen."
Every year's Shakespeare On The Lawn is special, but this year we will be inviting a number of OWs who performed the first time Twelfth Night was performed on the lawn in School, so it looks set to be quite an occasion. Filled with energy and enthusiasm, Year 9's production is sure to be a delight for all involved as well as those watching.
Tickets are available from Seckford Theatre | Twelfth Night 5- 6 July – Seckford Theatre and those coming to watch are encouraged to bring a picnic to enjoy as they watch the performance.