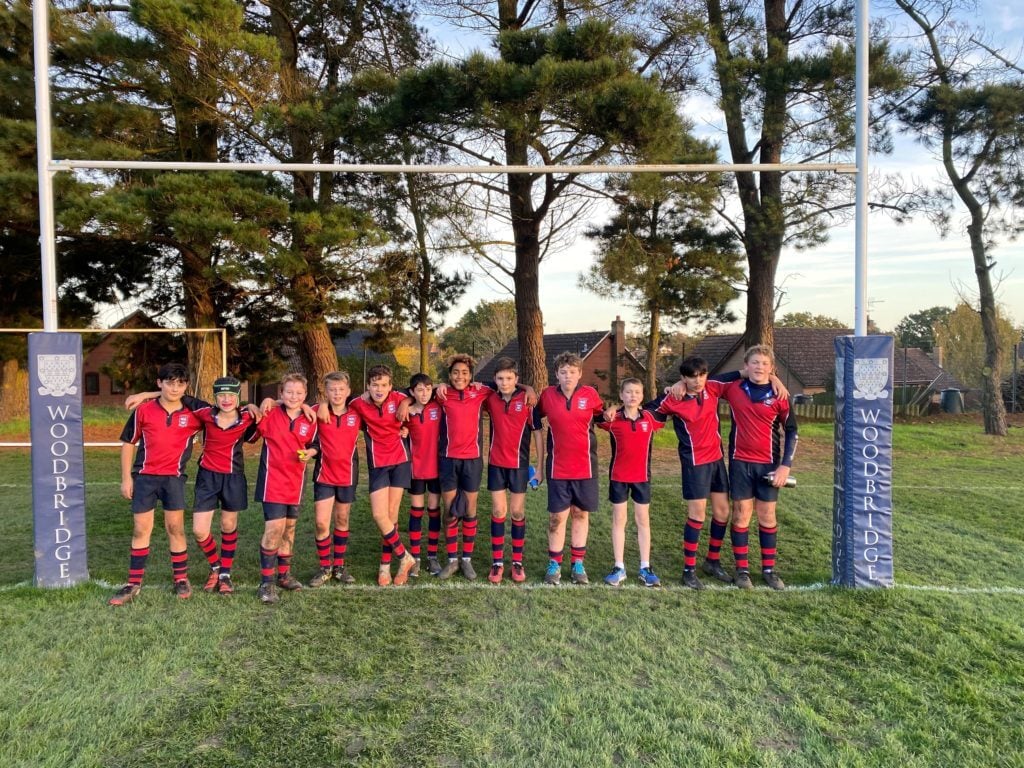 We start our rugby round-up reporting on our U12A match against Colchester Royal Grammar School last Friday afternoon where the team celebrated their first win of the season with 10 tries to 8. It's fair to say that having been on the receiving end of some losses this season, it was important for everyone that the game started strongly, so it was disappointing to miss two tackles from the kick-off and concede a try literally within seconds (eight!). But credit to the team who began to tackle, kept a high defensive press, turned over a few balls in the ruck and then found some space and form with ball in hand. Tries were scored at both ends of the pitch and the travelling support was treated to a very open game of rugby that was well handled by our host referee. Woodbridge squeaked home by 10 tries to 8, hopeful that spirits will now have received a boost for the rest of the season.
Last Wednesday saw our U13A team play Orwell Park, where the score was 8-3 in favour of the competition. In very wet and windy conditions the team were faced with, quite frankly, a group of giants to play against. However, even though the team went three tries to nil down, they worked extremely hard, focusing on tackling and moving the ball away from contact as quickly as they possibly could. This resulted in two excellent tries ahead of half time, leaving the score at 5-2. With simple messages given to the team to focus on being aggressive in defence, tackling and moving the ball away from contact, the first ten minutes saw a strong attack, moving successfully from one side of the field to the other. It was only down to some desperate defending that more tries were stopped successfully, however, after the longest period of play in U13 history the team eventually scored making the game 5-3. But there were three late tries from Orwell Park, ending the match in 8-3. Great effort from all players and some valuable lessons learned.
This U13A team also faced Colchester in a match on Friday after a long trip on the team bus. There were three of four phases of attacking play ahead of losing the ball, and unfortunately the opposition had several enormous players playing two man rugby which quickly saw three tries in a matter of minutes from the opposition.  However, having realised what was happening pressure was applied quickly through tackling before any pace was gathered; this meant they could be stopped in their tracks! The next 40 minutes saw some superb play with domination from Woodbridge, by passing and using phase play – three tries to their one, being stopped several times on the try line. Sam (Y8), Jasper (Y8) and the entire back line were particularly impressive, creating attack after attack and making several quick counter-attacks all whilst defending like trojans. Theo (Y8) and Rowan (Y8) also made several outstanding and brave tackles during the match, and with only 30 seconds left on the clock, Colchester scored their last try as Woodbridge coughed up the ball pushing for a final try. With tenacity and determination in bucket-loads, the team put in an impressive effort. 
Meanwhile the U12B team beat Culford 7-2 in their latest match at home this week, a much-needed victory having lost earlier in the season to this team and a far better account of themselves was needed given they were on home turf. The match saw what can only be described as a definite increase in intensity, physicality and ability – from both sides. One might describe the match as looking and playing like 'big boy' rugby, with no quarter given! Stong and agile running from Lade (Y7) and Monty (Y7) gave Woodbridge a lead by half time, but it was an aggressive and heroic display by George (Y7) that really caught everyone's eye. A well-played match on both sides in a combative game of B team rugby.
Other matches included the U13B team who left with a win against Culford 9-8 after what was clearly a very close match, and the 1st XV team played Kings Ely bringing home 8 tries for 6 and take that win too.